Lauren Boebert is decidedly pro-gun.
So much so that she runs a restaurant with servers who exercise their open-carry rights called Shooters Grill.
It's located — where else — in Rifle, Colorado.
Lauren Boebert, mother of 4, didn't plan on becoming the poster girl for #opencarry http://t.co/Zxo33hGG71 http://t.co/ojc0a1EJtQ

— Pallavi Gogoi (@Pallavi Gogoi) 1412272604.0
Boebert's passion for the Second Amendment led her to make a three-hour drive to Aurora, the Denver Post said, where Democratic presidential candidate Beto O'Rourke was conducting an outdoor town hall Thursday not far from where a mass killing took place at a movie theater in 2012.
The paper said Boebert, 32, took note of O'Rourke's declaration — "Hell, yes, we're going to take your AR-15, your AK-47" — at last week's Democratic primary debate.
'Hell no, you're not'
So, with her Glock handgun holstered at her side, the Post noted, Boebert didn't waste her chance on the mic to speak to O'Rourke: "I am here to say: Hell no, you're not," she told him.
And quite a few folks in the crowd didn't like it, as they jeered and hollered at Boebert.
To his credit, O'Rourke asked his fans to "be respectful" and let her finish.

She then asked the candidate how he intends "to legislate evil, because it is not the gun — it is the heart of the man."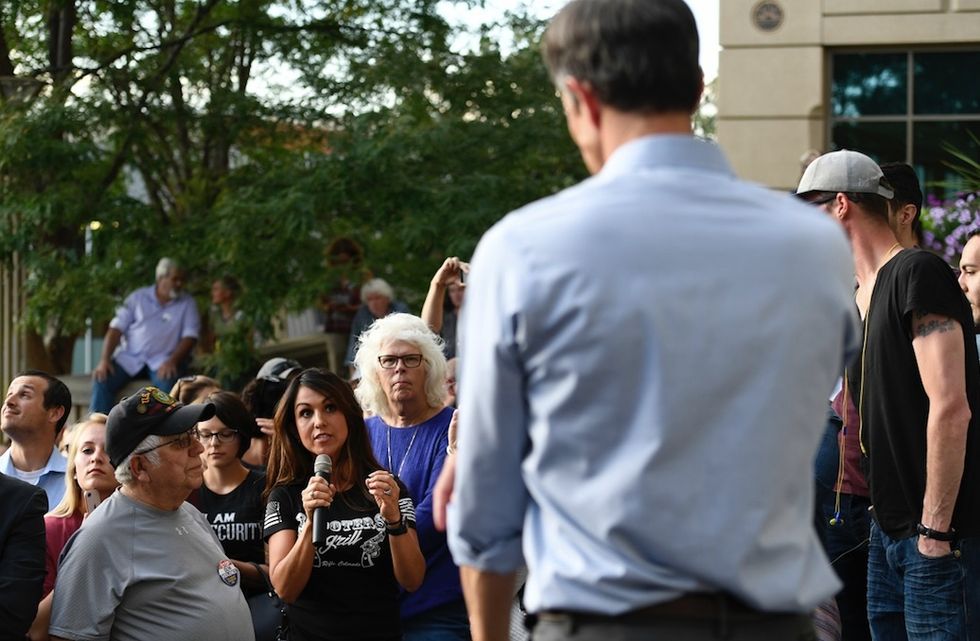 Photo by Helen H. Richardson/MediaNews Group/The Denver Post via Getty Images
The heckling and groaning from the crowd grew louder. So Boebert raised her voice a tad, and O'Rourke again had to help quiet her detractors.
"I was living in Aurora during Columbine happened," Boebert said. "I had just recently moved when the Aurora shootings happened yet I have very close ties here. Yet all of those people were there defenseless."
"No, they weren't!" a heckler hollered back.
Boebert pressed on: "They had no way to defend themselves against a crazed shooter. So I want to know how you intend to legislate the hearts of men and leave American citizens like myself, American mothers, I have four children — I'm 5 foot zero, 100 pounds, cannot really defend myself with a fist."
Oh, they didn't like any of that — and the crowd really got on her, and O'Rourke had to step in again.
'I don't have my AR-15, I have my Glock — don't worry, sir, I have your back'
But Boebert had a classic retort to one male heckler: "I don't have my AR-15, I have my Glock — don't worry, sir, I have your back."
She added to O'Rourke that gun restrictions will only hurt law-abiding citizens, as criminals don't obey laws. Boebert also reminded O'Rourke of his "criminal history" — presumably his 1998 drunk-driving arrest that allegedly involved him attempting to flee the scene of the crash — which the crowd also didn't appreciate.
"Burglars do not like armed defense, yet that is a right that shall not be infringed in America," she added.

"Boot licker!" someone in the crowd yelled at Boebert.
Here's the clip:

A woman confronts Beto O'Rourke over his claims that he is going to confiscate people's guns She tells him "Hell n… https://t.co/SRmFPYRjL1

— Ryan Saavedra (@Ryan Saavedra) 1568941749.0
How did O'Rourke respond?
"I refuse to accept that" people are inherently evil, O'Rourke replied, according to the Post. "This doesn't happen in any other country. There are 329 million of us. There are 390 million guns. No other country has this kind of ratio. No other country allows its citizens to buy weapons that were designed for war. … The logic of your argument is, 'Why shouldn't we allow you to have a bazooka or drive a tank down the street?'"
(H/T: Louder With Crowder)