When Kim Mulkey was introduced as the new women's basketball coach at Louisiana State University, the very first thing she did as she stood before the microphone Monday was pull off her COVID-19 face mask.
Mulkey — who took Baylor University to three national championships since 2000, TMZ Sports reported -- let her mask hang from her right ear as she told the crowd, "Well, I'mma take this damn mask off!"
Then she tossed it to the side: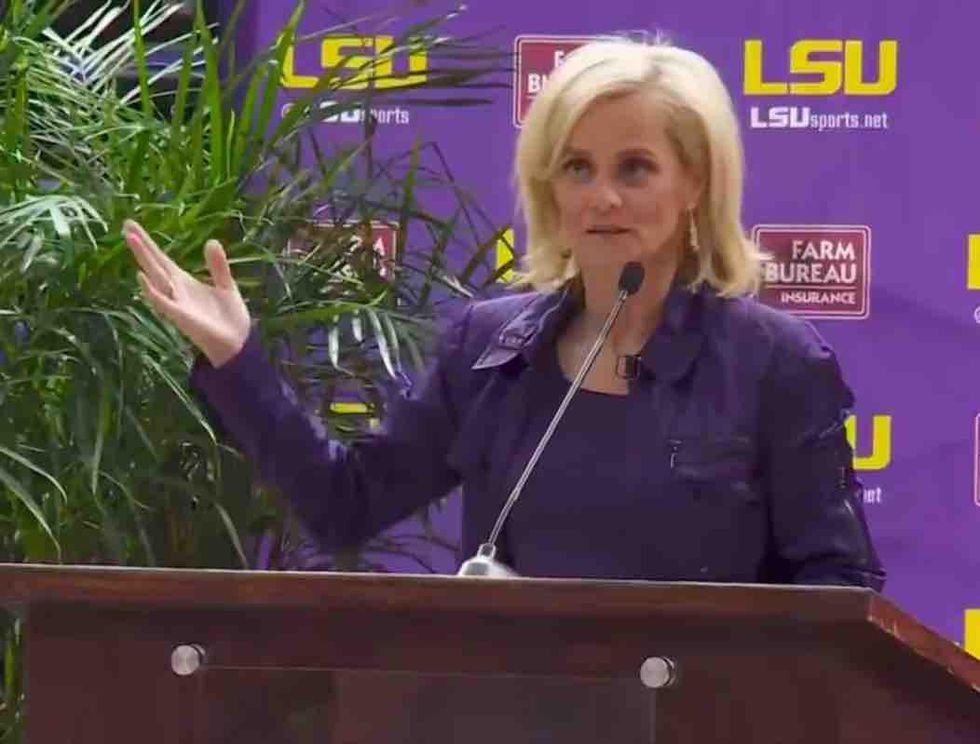 Image source: Twitter video screenshot via @mercash22
And the cheering crowd loved it.
"'Cause I have a lot to say," Mulkey added.
Check it out:
Well, Kim Mulkey has arrived at LSU https://t.co/iRvNJqObZr

— Meredith Cash (@Meredith Cash) 1619476268.0
How did folks react?
As you might expect, when leftists got an earful and eyeful of Mulkey's statement, they were none too pleased:
Anything else?
TMZ Sports said that before Mulkey left Baylor for the LSU job, she got some big-time attention for insisting the NCAA cease coronavirus testing at the men's and women's Final Four rounds so as to ensure player availability.
"They need to dump the COVID testing," Mulkey, 58, said in March, according to the outlet. "Wouldn't it be a shame to keep COVID testing, and then you got kids that test positive or something, and they don't get to play in the Final Four?"
TMZ Sports said the NCAA didn't agree with Mulkey and added that it was important to continue testing all the way through the end of the tournament so as to prevent an outbreak.