The White House emphasized Wednesday that officials believe Americans who support former President Donald Trump are a clear and present threat to democracy.
At the White House briefing, press secretary Karine Jean-Pierre previewed a prime-time speech that President Joe Biden will give on Thursday.
According to Jean-Pierre, Biden will address the growing "extremist threat" he believes is taking root in America. That threat? No, not homegrown terrorism, for example — but Trump supporters.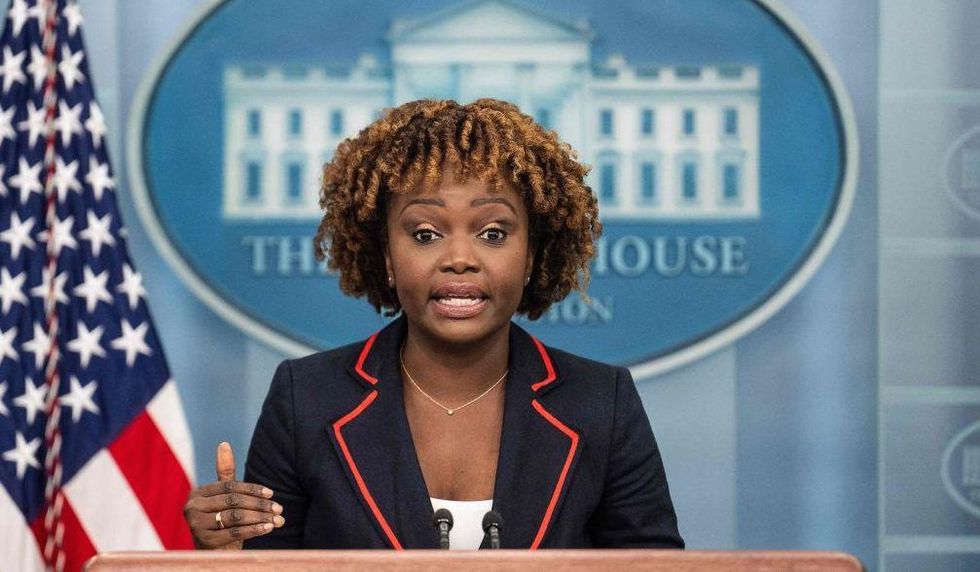 JIM WATSON/AFP via Getty Images
"When we talk about our democracy, when we talk about our freedoms, the way that he sees it is the MAGA Republicans are the most energized part of the Republican Party," Jean-Pierre said. "This is an extreme threat to our democracy, to our freedom, to our rights."
"They just don't respect the rule of law. You've heard that from the president," she continued. "You know, they are pursuing an agenda that takes away people's rights, which is what the president said last week on Thursday. You all heard him. This is what the president said yesterday, and that's what he's going to continue to say."
Biden will not "shy away" from exposing the alleged threat, Jean-Pierre went on to say, because what Biden believes "is just facts."
Later in the briefing, Jean-Pierre was confronted over Biden's contradictory position: He has repeatedly promised to unify the nation, yet he is now demonizing tens of million of Americans because they support Trump.
"Look, he has said this before — that it's going to take some work. You have heard him say that. You've heard us say that," the press secretary responded. "But what he's not going to do is shy away, again, from calling out extremism that he is seeing — these MAGA Republicans. He is not going to shy away from that."

Jean-Pierre even called out several Republicans by name — Trump, Florida Gov. Ron DeSantis, and Reps. Paul Gosar (R-Ariz.), Marjorie Taylor Green (R-Ga.), and Madison Cawthorn (R-N.C.) — who she claimed are carrying out an "attack of our core values as a country."
"[Biden is] not going to shy away. He believes ... as president he has the obligation to speak out against threats against our democracy, against violence," Jean-Pierre told reporters. "He believes as president you have the strongest platform, the strongest voice, and that's what he's going to continue to do."
08/31/22: Press Briefing by Press Secretary Karine Jean-Pierrewww.youtube.com