When angry Democrats lashed out over Terry McAuliffe's loss in Virginia last week, they blamed "white supremacy" and racism for Republicans winning, but particularly directed their ire at white suburban moms.
Now, some of those moms are speaking out.
What happened?
CNN anchor Pamela Brown sat down with four white suburban moms to understand how President Joe Biden won a greater share of white suburban moms in the 2020 election, but Glenn Youngkin carried a greater share of them last week.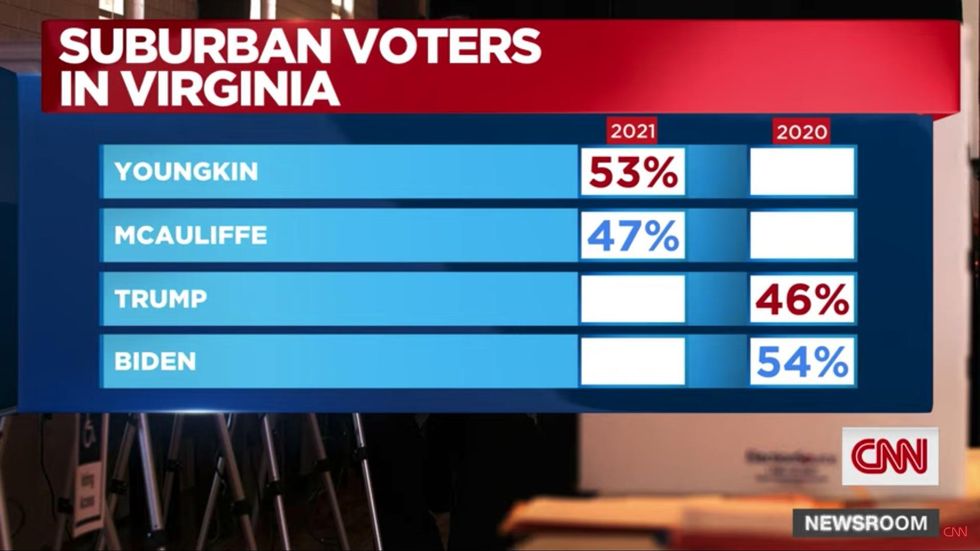 Image source: YouTube screenshot
Three of the four women voted for Biden; none of them are registered Republicans (one is a registered Democrat, two are independents, and one is unaffiliated), yet all four supported Youngkin.
The women said they believe that suburban moms "100%" are the reason Youngkin won, and it boils down to one issue: education. The moms explained that Youngkin's promise to address the education gaps caused by school lockdowns is what won support from moms all across the Old Dominion.
"Our kids are in crisis. The learning loss is real. So we're in a situation where our kids are really far behind, and they need a lot of help. They need a lot of...additional time after school to help catch them up, and they're still not focusing on that," one mom said of the Democratic Party.
Contrary to what Democratic pundits claim, the moms said that critical race theory and COVID-related mandates did not play a role in their decision to support Youngkin.
Another mom explained that Virginia parents were "very angry, during school closures, at the teacher's unions." She said that when McAuliffe brought out American Federation of Teachers president Randi Weingarten on the final day of the campaign, that was the "nail in the coffin."
Another mom said, "Glenn, he listened to us. He met with us. He sent his wife to meet with special education parents. They spent a lot of one-on-one time with parents."
Moms who voted for Biden explain why they voted GOP in Virginia www.youtube.com
The moms also knocked McAuliffe for "campaigning everywhere but Virginia," and said former President Barack Obama hurt McAuliffe when he dismissed school issues as part of the "phony trumped up culture wars."
"I just feel they're really tone-deaf, they're really dismissive," one mom said of Democrats. Another added that Democratic rhetoric leading up to the election "reminded us of the school boards."
"They weren't looking at the concerns on the ground," another mom explained. "And the concerns on the ground were we were really concerned about our kid's education, and the Democrats were not listening to that."
Later, the moms knocked McAuliffe for trying to use former President Donald Trump against Youngkin. "[McAuliffe] never really talked about what he was going to do to improve things. He just talked about how bad everyone else was, and that was a real turn-off, especially, you know, leaving our kids in the dust," one mom explained.
What about future elections?
The moms explained that if Democrats use the same playbook they deployed in Virginia, they will continue losing elections.
"You're going to keep losing if you don't pay attention to parents," one mom said.
"They neglected us, they neglected our kids, and they ignored the parents," another mom said, adding that "it's going to take a long time" for Democrats to re-earn her trust.