The man stated that he had arrived at the residence to retrieve some items when he found the woman. Police said he hesitated to give his identity because he feared retaliation from a woman named Shawna Powell, 32, who was at the residence at the time.
The man told police that when he confronted Powell about the caged woman, she replied, "[T]hat is my whore. She stole a bunch of stuff from me. So she is going to be my sex slave, and I am going to pimp her out until she pays it off."
The complainant also expressed deep concern for the woman's safety since he had also overheard that people were headed to the residence "to have their way" or "basically ... to rape her."
When police arrived, they found the woman laying on a bed in one of the bedrooms. She appeared to have several facial injuries, including a swollen and bruised left eye. She was also "emotionally distraught," police said.
She was eventually taken for medical treatment in an ambulance.
Police also found an empty dog cage, as well as "human and animal feces ... in different rooms." They cleared another mobile home on the property, which they determined to be abandoned.
Three pit bulls were also housed in the residence but were taken outside so that police could enter. The dogs were later placed in the care of animal control.
Five people were ultimately arrested and taken into custody:
DeMichael Rashawn Dawson, 24
Anjelika Denice Figueroa, 29
Shawna Sue Powell, 32
Savannah Marie Piazzi, 18
Dawson Alexander Weston, 19
All five were charged with kidnapping, false imprisonment, aggravated assault, and possession of a firearm during the commission of a crime. Dawson also has the additional charge of possession of a firearm by a convicted felon. It is unclear when they are scheduled to appear in court.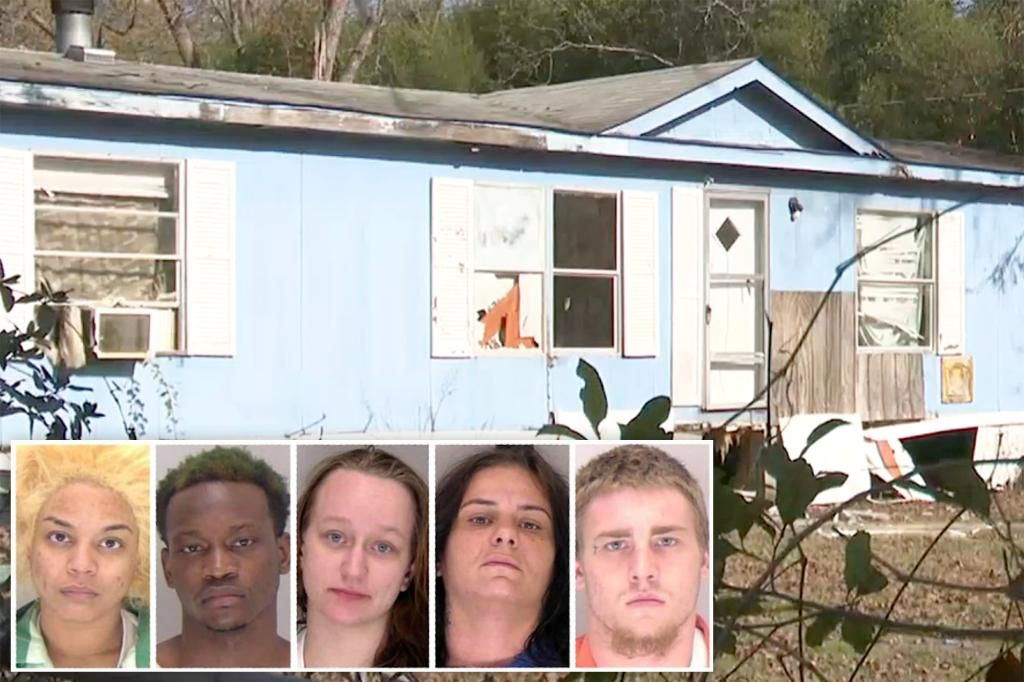 Georgia woman rescued after being locked up in dog cage as sex slavenypost.com