A Michigan man has been accused of posting messages on social media which threatened the lives of the director of the FBI, a Democratic congressman, and others. He has also been accused of leaving at least one threatening voice mail message.
According to a criminal complaint filed by the FBI, Neil Walter, 32, has been transmitting "interstate commerce communications containing a threat to injury the person of another" in Facebook posts he allegedly made regarding FBI Director Christopher Wray, Rep. John Garamendi (D-Calif.), and others. He also made threats via phone.
On November 3, Walter supposedly called Garamendi's office in Washington, D.C., and left the following message: "John. Hey, John. You're gonna die, John. You're gonna die."
On that same day, Walter also reportedly posted a Facebook message which read: "Same s***, different guy. Also raping an infant to the death of her in an LA sex trafficking rape prison in conjunction with the CIgay and the US embassy.
"Have a nice life John, your gettin put down for life bud."
Garamendi was also tagged in the post.
Criminal complaint - Walter.pdf
Garamendi is not the only person Walter has supposedly accused of engaging in pedophilia. The criminal complaint alleges that, in various social media posts, Walter has expressed concerns that billionaire Twitter owner Elon Musk; actor Tom Cruise; members of the FBI, CIA, and several police departments; and "half" of all U.S. Senators "are involved in a child slave rape ring."
Then, during a Facebook Live stream featuring Christopher Wray, Walter supposedly posted a series of threatening comments about the FBI director, including:
"Director Wray is going to die every single day multiple times a day for raping my family over and over."
"I will kill you i will you I will kill you director Wray you will die I will kill you in self defense."
"Get prepared for your killings , out of self defense for violating my human rights and my girlfriends."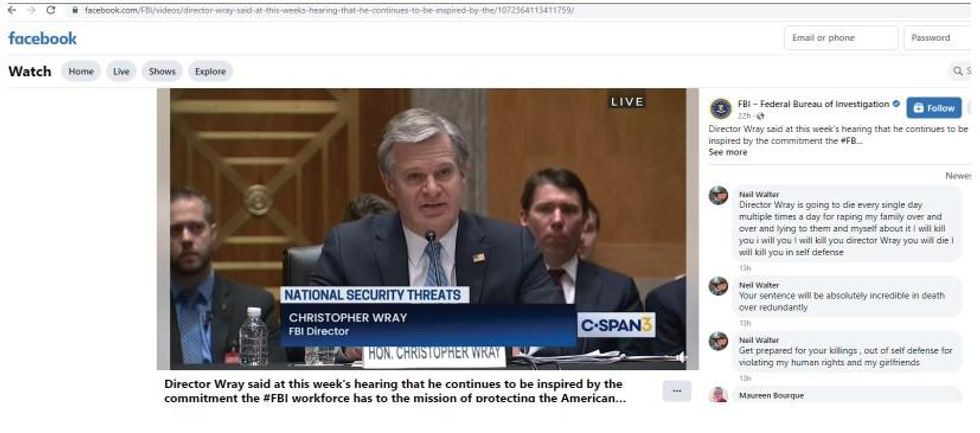 Screen shot of federal criminal complaint
On November 8, officers with the Metro Police Authority of Genesee County confronted Walter outside his residence in Grand Blanc, Michigan, about 15 minutes south of Flint. When he answered the door, he reportedly had "a firearm in his hand" and refused to cooperate. Eventually, he agreed to put the gun in his pocket, the complaint stated, but he "kept his hand over the firearm during police contact." Though he never threatened anyone during the interaction, Walter did insist that he would defend himself against the U.S. government, the complaint added.
Walter's parents, Lloyd and Terri Walter, have informed investigators that their son has evinced mental instability in recent years and that he hasn't been accepting treatment lately. In December 2021, Walter was involuntarily committed to a mental health care
facility
out of state and diagnosed with an unspecified psychosis, Terri Walter alleged.
His mother also alerted the FBI that her son may have another unregistered revolver in his possession. The firearm he carried during his interaction with police was purchased and registered legally.
The criminal complaint against Walter, filed by FBI agent Sean Thomas and signed by Judge Patricia T. Morris, seeks a warrant for his arrest. The crime of "transmitted in interstate commerce communications containing a threat to injury the person of another" carries a sentence of up to five years in federal prison plus fines.