"God is bulls**t."
I vividly remember one of my first college professors telling me that in the summer program before my freshman year began.
His argument was rational, detailed, and persuasive. He had decades more education and experience than me, and to me, an 18-year-old incoming freshman student, this professor represented the ultimate authority.
College professors have the power to shape the minds and beliefs of thousands of young men and women every year. And on college campuses that are increasingly and overwhelmingly secular and hostile to religion, many of those professors wield that authority to rob students of their faith.
It almost happened to me.
That's predatory behavior, and unless we fight against it and train students to face it, there will be countless others who fall for this.
According to a Langbert survey, Democrats outnumber Republican professors 70 to 1 and the Pew Research Center, when looking at the public as whole, found that educated adults are less likely to believe in God compared to adults with a high school degree except when that college graduate already happens to be a Christian.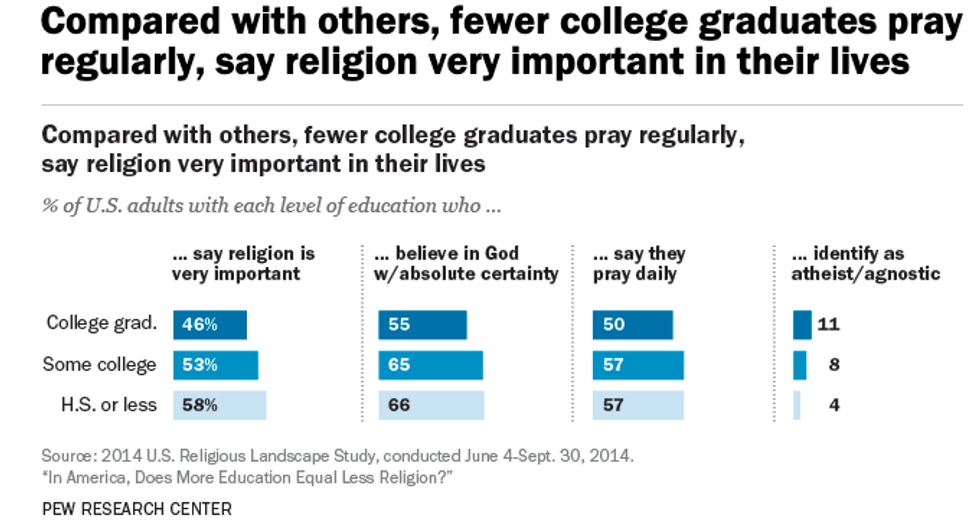 What's more is the religious intolerance Christians face on college campuses. As David French explained in National Review, "Progressives drive religious conservatives off campus — all in the name of fighting 'extremism'" by tactics that can only be explained by postmodernist doctrines where absolute truth doesn't exist.
At first, I didn't want to tell this story. And then I wanted to publish it anonymously before I was convinced by my colleague that many people could potentially relate to it or are going through it right now.
I remember my first semester in college at the University of Texas at El Paso as being one of the most impressionable times of my life. Like most incoming college freshmen, I was 18 and had just graduated from high school. I was trusting, naive, young, and idealistic. My mom didn't go to college and neither did my father, so I was yearning for this college experience more than anything else.
During my first semester at UT-El Paso, I remember being so eager to delve into new ideas, to meet new people, and participate in all that college had to offer.
Everything about that first semester felt exactly what college should have felt like. I was meeting new people from all over the world, learning new things, having the time of my life, and was really kind of on my own for the first time.
But, with that naïveté comes extreme vulnerability because of the lack of life experience that's beyond your control.
Keep in mind that the rational part of a young person's brain isn't fully developed until around the age of 25.
I had grown up a Christian my entire life and this was the first place that caused to me to question my faith, which I had held almost unflinchingly.
Why? How could I — who for years had said my prayers and attended church — so easily deny Christ just because a college professor lectured me about how he thought God didn't exist?
The sad part is that I briefly believed this "authority" figure and bought into atheism for about a year or so because I was sold on the institution of higher learning. I know that sounds weak and feeble-minded and today as a follower of Christ, I am appalled at myself for allowing some stranger to manipulate the most important relationship in my life — my relationship with Christ.
Some people are rooted in their belief systems at that age because of their upbringing and I thought I was too when it came to my faith in God. But I let groupthink win and I'm sure I am not the only one. In fact, there are thousands of 18-20-year-olds who are currently sitting where I sat and thinking what I thought.
The idea that I needed to conform to these beliefs out of fear of being rejected by peers or professors overcame my rationality and morality. I accepted an argument I am vehemently against today in the heat of that moment.
Groupthink happens when good intentions lead to irrational thought and conformity, and that's exactly what I did.
Eventually, at the age of 20, I reclaimed my foundation by surrendering my life again to God on my own accord. What led up to it would make this piece entirely too long but I can say that through diligent prayer, church attendance, and self-education and a re-examination of Christian apologetics and the Bible, I was able to reclaim my relationship with Christ and graduated with two degrees and my faith.
But for too many people who are subjected to the indoctrination of college, the outcome is different.
College professors are in positions of authority and they are shaping the minds and beliefs of thousands of young people who attend universities. This type of indoctrination mirrors that of predatory behavior. Professors who are hellbent on converting students to their ideology exploit the weaknesses in young people by preying on their underdeveloped intellect to achieve a liberal, secular agenda.
Instead of presenting different interpretations of subject matter, they feel the need to project their beliefs on young people.
They are also guilty of creating environments hostile to those who challenge their (often liberal) positions in front of the classroom and shun the person who disagrees with them instead of rebutting their arguments or encouraging a healthy discourse.
Some students either stand in solidarity with the left's doctrines in the classroom or risk being cast out. Before the "prefrontal cortex" is developed in adults between the ages of 18 to 25, which is responsible for our impulsive decisions, they're being taught to accept certain beliefs uncritically.
That's the antithesis of critical thinking which college professors are ideally supposed to foster in their classrooms.
This is paralyzing for not only the student who wants to challenge groupthink but to the group standing in solidarity because, according to authors Jonathan Haidt and Greg Lukianoff who have studied campus culture extensively, "Solidarity can interfere with the group's efforts to find the truth, and the search for truth can interfere with a group's solidarity."
And that is predatory.