One of the most durable public health trajectories over the past 50 years has been the consistent decline in infant mortality in countries with first-world health care. Yet in September, Scotland experienced such a spike at least in neonatal deaths that it rivaled levels not seen since the 1980s. What on earth would cause such a sudden bizarre spike? Nobody seems to have the answer — nor do they want to study all of the potential culprits.
In September, Public Health Scotland announced that 21 newborns had died that month, triggering an investigation because the numbers rose above an upper control limit for the first time in four years. According to the Herald Scotland, "the figure for September - at 4.9 per 1000 live births - is on a par with levels that were last typically seen in the late 1980s."

As you can see from the Public Health Scotland (PHS) data, the upper control limit was breached in September, which PHS believes "indicates there is a higher likelihood that there are factors beyond random variation that may have contributed to the number of deaths that occurred." After all, the five-year average appears to be about 2.2 per 1,000 live births, so September's numbers are more than double the average.
Although the incidents of neonatal death tend to fluctuate every other month, the levels appear to be elevated, on average, without the usual intermittent dips below the baseline throughout the entire year of 2021. This is astounding given how much the general trend of infant mortality has declined since the 1980s.
Based on media reports, it appears that the entirety of the public health investigation revolved around whether COVID itself was the culprit of the unusual number of neonatal deaths. The problem is that we didn't see any of this death in the first year of the pandemic. Also, it was only infants who seemed to experience a sharp increase in death, the least likely cohort to be affected by the pandemic.
In December, PHS announced that based on preliminary findings, it has no evidence that COVID was the culprit. "There is no information at this stage to suggest that any of the neonatal deaths in September 2021 were due to Covid-19 infection of the baby," said PHS, according to the BBC. "Likewise, preliminary review does not indicate that maternal Covid-19 infection played a role in these events."
Well, that's pretty obvious, but what is the culprit for such an unusual trend?
"Preliminary information on prematurity suggests that the number of babies born at less than 32 weeks gestation in September 2021 was at the upper end of monthly numbers seen in 2021 to date. This may contribute to the neonatal mortality rate, as prematurity is associated with an increased risk of neonatal death."
But why would that cause neonatal deaths not seen since the 1980s, and why would there be more prematurely born babies?
With so many other vaccine safety signals being seen, there is no desire to even look at the possibility that an experimental shot that was not studied in pregnant women – yet was widely distributed to them – had something to do with it. We have no idea what caused this spike, but here's why any logical person would commence an inquiry around the shots.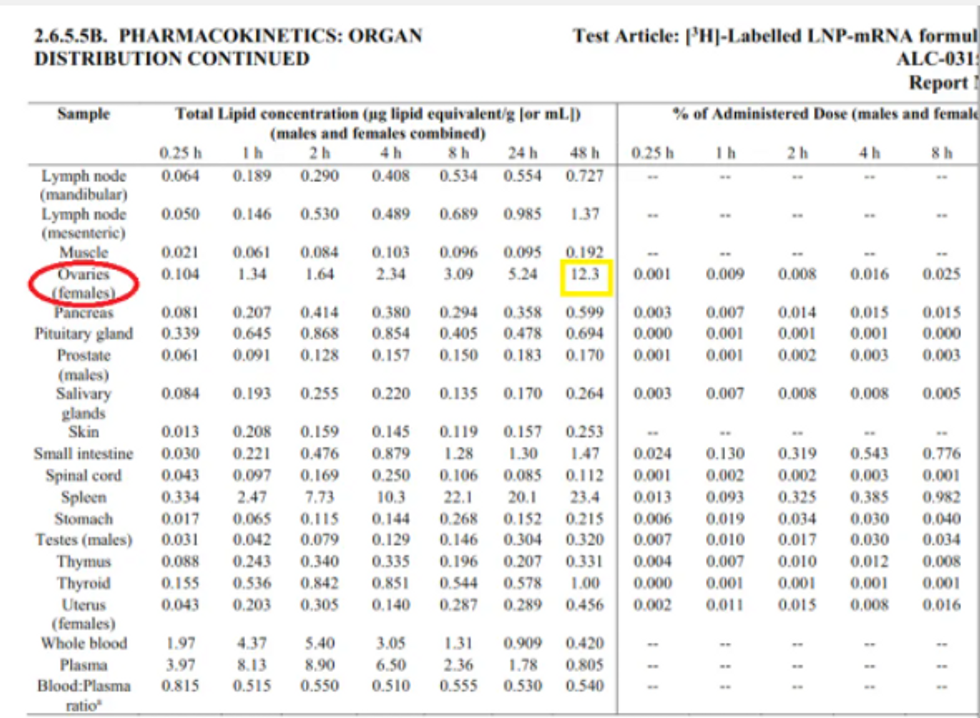 We know that this shot has caused menstrual irregularities like we've never seen before. A University of Chicago survey sought to recruit 500 women with menstrual irregularities in order to study the cause and effect, and instead, researchers got 140,000 submissions. One study found that 42% of women experienced heavier bleeding, while only 44% reported no changes to their menstrual cycles. A whopping 66% of post-menopausal women experienced breakthrough bleeding. This all goes to show how the 20,000 menstrual irregularities reported in VAERS are a joke because the system only captures a fraction of the adverse events.
As of Dec. 31, there were 3,511 miscarriages reported to VAERS. Remember, this is something that is extremely hard to pin on the vaccine, so the fact that so many felt they could report it demonstrates there is likely a woeful underreporting rate. Here is the presentation from Open VAERS, which shows the number of reported miscarriages peaking around August/September in the United States.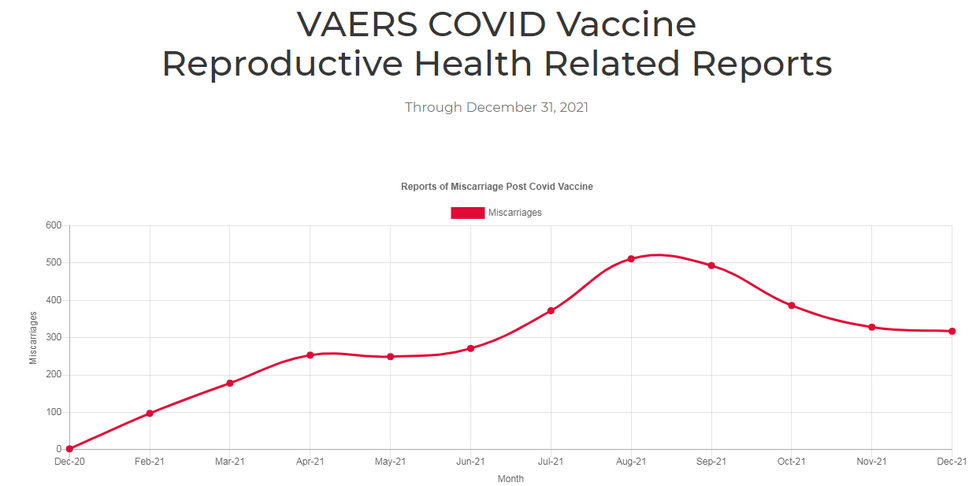 Does any of this mean we can conclusively say the shots are causing reproductive issues? No. But there certainly are a lot of safety signals that should be followed up on rather than dismissed. I asked Dr. James Thorp, a Florida-based OB/GYN and maternal-fetal medicine specialist with over 42 years of experience, if he was concerned about these signals. "To the extent of a broad statement that menstrual irregularities are usually minor issues is a true statement," he said. "However, in the context of the massive increase in menstrual irregularities associated with the vaccine, there are very serious potential implications. It supports the cumulative evidence that the jabs' lipid nanoparticles concentrate in the ovaries and affect/infect/expose ALL ovum to the LNP and cargo mRNA [and] is extremely serious."
Thorp notes that the LNPs can be inflammatory and they likely penetrate every area of the body and, by extension, the fetus. "The lipid nanoparticles (LNPs) easily pass through all the natural barriers that God created in the human body. LNPs are extremely small spherical particles with an outer lipophilic (fat-soluble) membrane containing the mRNA cargo. There may be billions of LNPs in the COVID-19 jab that do not remain in the deltoid muscle; they are readily dispersed throughout ALL bodily tissues, easily pass through the maternal blood-brain barrier, the placental barrier, and the fetal blood-brain barrier."
Thorp observes that whereas men continuously make more sperm throughout their lives, women have a finite number of eggs, which means that "every single one is exposed to the LNPs for life."

Previous studies have shown nanoparticles to be a source of fetal inflammation. "Nobody knows the potentially catastrophic results of this," warns Thorp. "In my area of expertise of maternal-fetal medicine, we have researched for decades on the catastrophic effect of inflammatory processes that may occur in the fetus and may result in miscarriage, fetal malformation, fetal death, neonatal death, infant death, permanent major newborn damage, permanent major autoimmune damage, permanent cognitive damage, permanent impairment of the immune health, and unleashing of infections and cancers."
Just how concerning is the VAERS data so far? Dr. Thorp created a chart to compare the rate of miscarriages and fetal deaths (defined together as "pregnancy loss") per month reported to the system for the COVID shots as compared to all other shots.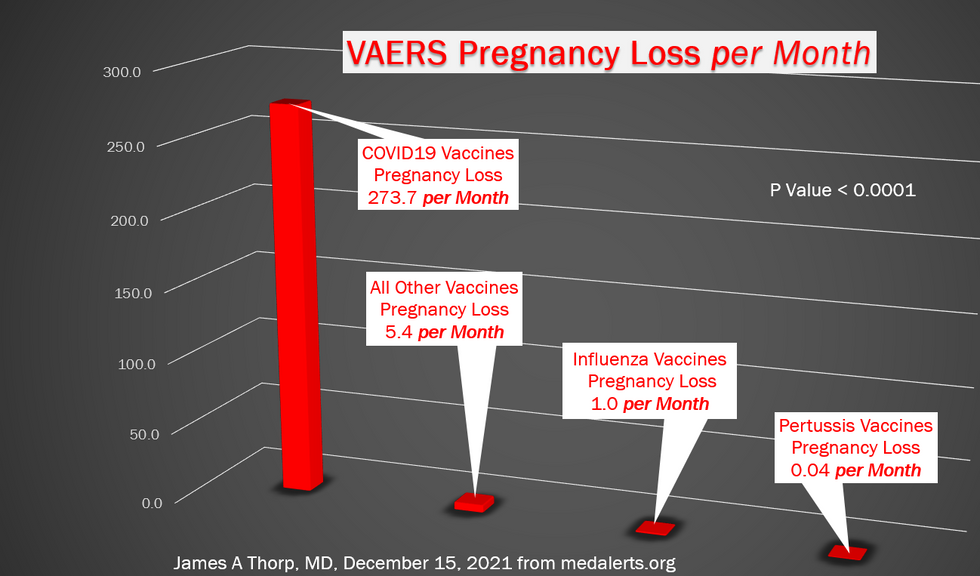 As you can see, we have seen 50 times the rate of reporting per month of miscarriages for this vaccine than the other vaccines put together. Thorp mentioned on my show that lest people think he opposes vaccines, he particularly recommends the flu and pertussis vaccines to his pregnant patients. You can see the rate of reporting for pregnancy loss among those shots is very low.
Now look at the rate of fetal malformations that have been reported to VAERS for COVID vaccines as compared to others.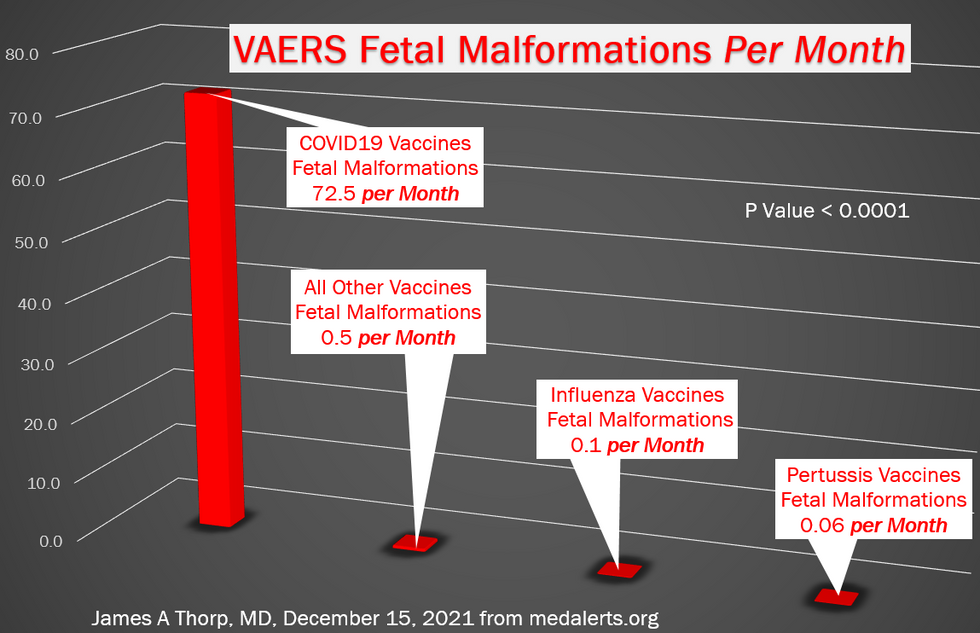 Thorp requested that anyone who had the jab pushed on her in her pregnancy and believes she has suffered adverse effects in herself, her pregnancy, or her newborn to please contact him at jathorp@bellsouth.net.
Given that Scotland seemed to have experienced the most obvious safety alarm signal, why aren't they looking into any of this? Well, in the richest of ironies, Glasgow Royal Fertility Clinic, one of the top fertility clinics in Scotland, has announced it will not serve any women without the shot. Why do they so badly not want a control group from which to study?