Imagine having children run a 3-mile track and field exercise gasping for oxygen, outdoors, while not exhibiting symptoms of a virus, all for the suspicion of a virus that poses less a problem to them than typical seasonal pathogens. Even if masks somehow worked, how can any sane person with a sense of humanity in his bones justify the harm to children weighed against any known problem of transmission and illness to children, especially outdoors?
Children rarely get as sick from COVID-19 as they do from the flu or stomach bugs, and most of them don't even get as sick as they do from the common cold. Out of the millions of children who have likely gotten the virus, the CDC studied the 182 reported pediatric deaths through December 31, 2020, and found that even among those purported to be COVID deaths, 35% of them were completely unrelated to COVID and only 8 were attributed only to COVID-19.
CDC: 35% of pediatric (0 to <18 yo) "C19 deaths" per death certificate adjudication had "no plausible chain-of-even… https://t.co/hYVsvJZjQN

— Andrew Bostom, MD, MS (@Andrew Bostom, MD, MS) 1617819633.0
Even if we included the bogus deaths, this chart from my friend Emily Burns places this infinitesimally low infection fatality rate into context relative to the flu: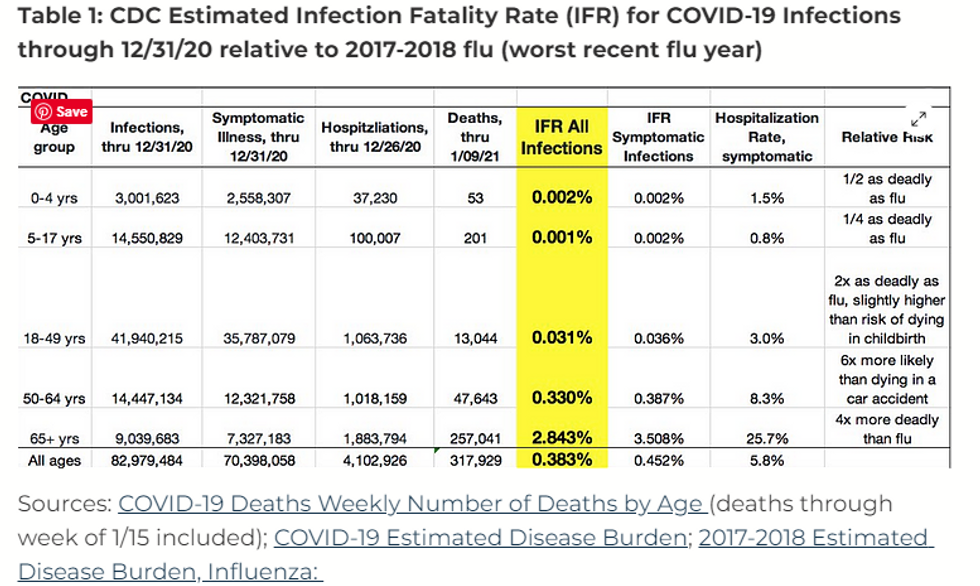 If this is enough justification to destroy the lives of our children with masking for seven hours a day, then how can we ever go back to normal when the flu season typically causes more disruption to the lives of children? Also, children are primary vectors of spread for the flu, whereas they rarely spread this virus. A CDC study published in JAMA a few months ago found in-school transmission to be "very rare" among the 11 school districts in North Carolina that were studied.

Separately, the CDC concedes, "Children might be more likely to be asymptomatic carriers of COVID-19 than are adults." Consequently, it admits that because asymptomatic people really do not spread very often, that is likely the reason why we are not seeing outbreaks in schools. "This apparent lack of transmission [in schools] is consistent with recent research (5), which found an asymptomatic attack rate of only 0.7% within households and a lower rate of transmission from children than from adults," wrote the CDC in a January 29 report.
Thus, they admit that children rarely spread this virus and that asymptomatic carriers in general rarely spread. So, a child who has no prima facie symptoms being forced to mask in schools, even indoors, is utterly insane, putting aside the fact that masks have not shown to alter the trajectory of the virus anywhere on earth. Remember, a Wisconsin study showed just one child out of 30,000 involved in high school sports during the peak of the spread last fall contracted the virus through a sports activity. And again, they become less ill from this virus than from so many typical pathogens that we've lived with forever.
But now let's take this to a new level – masking children outdoors. Even in most states that have removed statewide mask mandates, many local schools still require masks in school, even outdoors during recess and during sports. Even Fauci recently admitted there is no problem outdoors. When asked why cases are going down in Texas one month after terminating the mask mandate while they are increasing in the heavily masked northeastern states, Fauci offered the unverifiable supposition: "It could be they're doing things outdoors."

Dr. Fauci on Texas Covid cases dropping despite ignoring his advice on masks/social distancing: "It can be confusin… https://t.co/BzxyPPsPaO

— Tom Elliott (@Tom Elliott) 1617709527.0
Well in today's Neanderthal update, cases in science & mask following Michigan, New York & New Jersey are now 333%… https://t.co/aOaKtnuuDL

— IM (@IM) 1617836358.0
Putting aside the fact that this is not true because Texas clearly is holding more events indoors than New Jersey and Michigan are (Texas has no indoor restrictions), even though the latter states are seeing an increase in cases, Fauci is at least implying that there should be no need for masking outdoors even if masks were effective. Why, then, is he not calling for an end to cruel outdoor masking, at least of children?

We have five aces in the hole:
Masks have not proven effective anywhere on earth;
Children are not in danger from this virus;
Children are not vectors of spread;
Transmission outdoors is exceedingly rare.
So how can such mandates hold up in court, given the physical, developmental, and emotional harms to children?
Even regarding adults who are more effected by the virus, the World Health Organization (WHO) stated last June that "the widespread use of masks by healthy people in the community setting is not yet supported by high quality or direct scientific evidence and there are potential benefits and harms to consider." Well, since that time, we have had at least two waves of viral spread after mask-wearing had already become more ubiquitously enforced than anyone could have imagined.
"Widespread mask-wearing could prevent COVID-19 second waves: study," read the headline of a June 9 Reuters article. Places like Los Angeles and the Czech Republic experienced the steepest waves after mask-wearing was nearly 100% prevalent and even though the mask-wearing began early on when the virus was barely present.
If you seriously doubt that masks are a cult, look no further than the fact that adherents to The Religion will sti… https://t.co/zsRp5ki45U

— IM (@IM) 1615400411.0
Since "re-opening" 8 months ago Los Angeles has tried universal masks, closing dining, a tier system, curfews & a s… https://t.co/ipy3RBfyHC

— IM (@IM) 1613419389.0
Since then, we have had the only randomized controlled trial courtesy of the Danes failing to find any benefit from mask-wearing, which harmonizes with the 10 RCTs from previous years identified by the CDC showing zero efficacy of mask-wearing against the flu. Which is why the CDC reported in a survey that 85% of people sampled with COVID last July admitted to always wearing masks.

Over the past year, the burden of proof for us to maintain our rights has wrongly been placed on us rather than on government. We are being forced to prove we are 100% not a threat or else we have no right to breathe. They never have to prove their wild and novel assumptions. But by now we have a reached a point when we actually have 100% proof that mask-wearing for children is completely unnecessary, if not harmful. If a government can force children to cover their mouths outdoors with no symptoms using masks with pores 50 times larger than the virus – all for a virus that poses no risk to them – is there
anything
government cannot do to them?