© 2023 Blaze Media LLC. All rights reserved.
Allie Beth Stuckey called hateful for response to Obama tweet, but she REFUSES to budge
Allie Beth Stuckey says that it's getting hot in Texas where she lives, with temperatures already climbing into the triple digits.
But that's not the only thing that's getting hot.
Twitter is also heating up, specifically in regard to Barack Obama's recent tweet about the anniversary of the overturning of Roe v. Wade.
On June 24, the former president tweeted:
Stuckey responded with the following: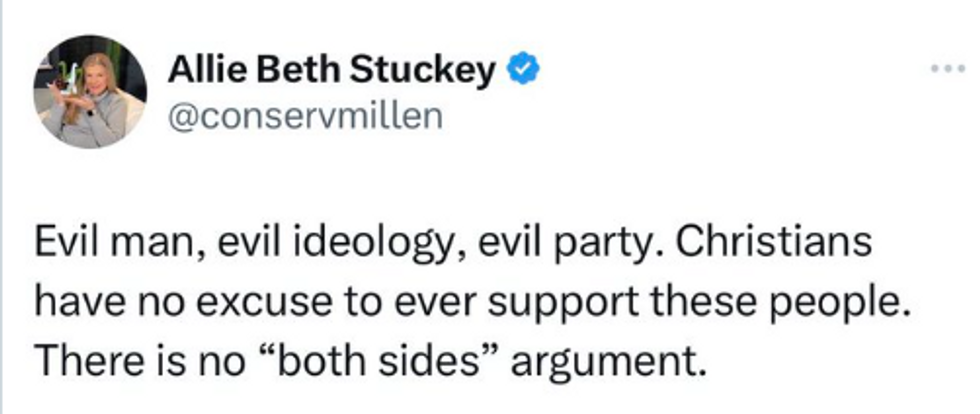 Her response triggered several people, some of whom found her reply "hateful."
But Allie isn't budging. On her show, she responds to these critics:
"Yeah. Regarding as holy, sacred, hopeful – a right – the brutal killing of innocent, defenseless human beings simply because of the location in which they reside, their age, their size, their stage of development, and their inability to fight back is evil."
"Christians should not vote for the party that celebrates dismembering children and chemically castrating preteens. It's just, like, not really a tough one for me," she continues.
However, Stuckey also says that "voting Democrat in itself is not an indication of someone's salvation" because Christians "will all go to Heaven being wrong about lots and lots of things."
Listen to her full response here:

Want more from Allie Beth Stuckey?
To enjoy more of Allie's upbeat and in-depth coverage of culture, news, and theology from a Christian, conservative perspective, subscribe to BlazeTV — the largest multi-platform network of voices who love America, defend the Constitution, and live the American dream.
Want to leave a tip?
We answer to you. Help keep our content free of advertisers and big tech censorship by leaving a tip today.
News, opinion, and entertainment for people who love the American way of life.
BlazeTV
more stories
Sign up for the Blaze newsletter
By signing up, you agree to our
Privacy Policy
and
Terms of Use
, and agree to receive content that may sometimes include advertisements. You may opt out at any time.