© 2023 Blaze Media LLC. All rights reserved.
Smells like a government cover-up: Reporter claims Hawaii governor is HIDING THE WHOLE TRUTH from Maui residents
Unlike Joe Biden, who just cleared his schedule up enough to finally pay a visit to Maui, investigative journalist Nick Sortor has been on the island for some time now.
"Locals in the area say that the number of those killed is closer to 500" and that "the morgues are running out of body bags," reports Sara Gonzales, citing the Daily Mail.
"There was one resident that told the outlet, 'I know there are at least 480 dead here in Maui, and I don't understand why the authorities are not saying that.' ... Have you seen anything on the ground to indicate that the government has not been truthful about the death toll so far?" Sara asks Sortor.
"I know at this point that the government has not been truthful over the death toll," including "the death toll of the children," Sortor says.
As for the morgues, Sortor says there's only one official morgue in Maui, and it's currently full with hundreds of people.
"I can't confirm that they died in the fire yet, but for whatever reason, the morgue is full, and they had to set up a temporary one over at the police station," he says.
"They've now frozen this confirmed dead number at 114; it has not risen here in the past two days. I can't tell you why though," Sortor continues.
But that's not all the government is lying about, according to Sortor.
On August 18, he tweeted: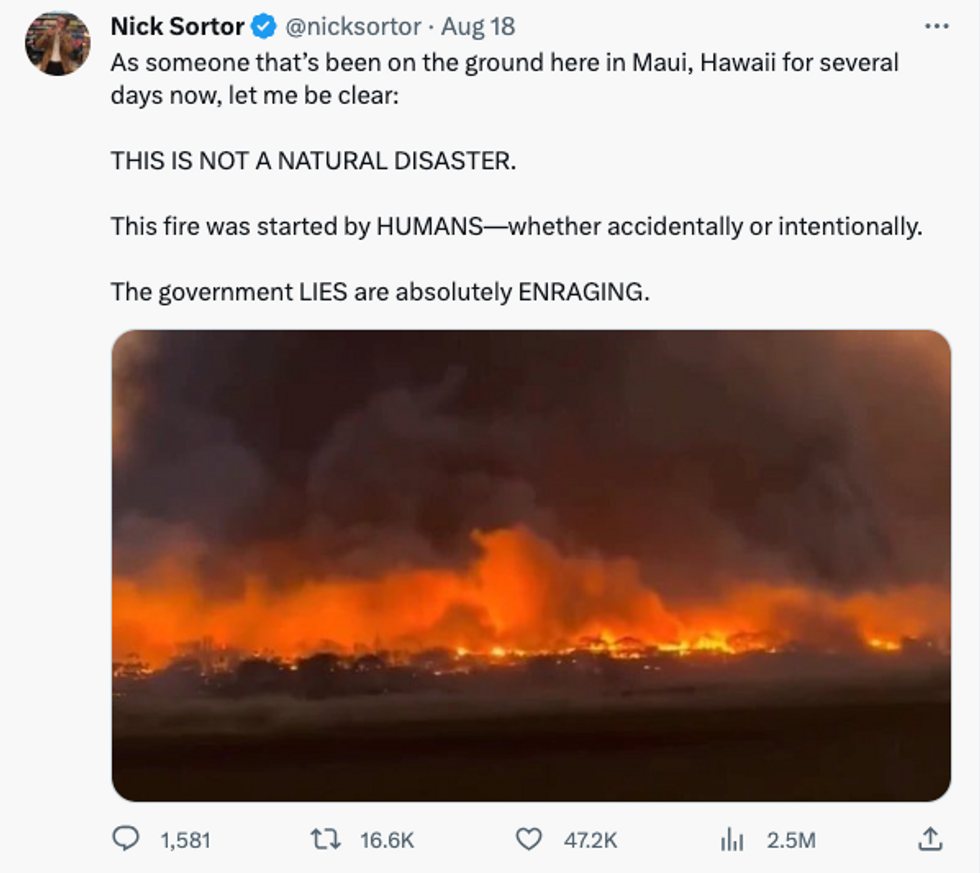 Sortor, someone who specializes in reporting on natural disasters, swears that "this is the most catastrophic failure of government that [he has] ever seen."
Apparently authorities were "barring residents from using water to put out fires," and "firefighters were trying to put out fires with no water."
"And when I tried to go and confront the mayor of the town, he ran away from me," Sortor says.
Granted "they kept schools closed that day," "there were no sirens to tell the children to get out," and "cell signal was out," so it's no surprise that people are enraged and demanding answers.
But it's looking more and more like authorities don't like being questioned.
"Since [Sortor] arrived and started pressing the local government, [he's] been followed and ... threatened."
Sara then plays a clip of Sortor being approached during an interview. A mysterious man suddenly shows up claiming he's been trying to reach Sortor and then accuses Sortor of taking up valuable resources by being in Maui.
To hear more about what's going on in Hawaii and the attempt to silence Nick Sortor, watch the full clip below.
Want more from The News & Why It Matters?
To enjoy more roundtable rundowns of the top stories of the day, subscribe to BlazeTV — the largest multi-platform network of voices who love America, defend the Constitution and live the American dream.
Want to leave a tip?
We answer to you. Help keep our content free of advertisers and big tech censorship by leaving a tip today.
News, opinion, and entertainment for people who love the American way of life.
BlazeTV
more stories
Sign up for the Blaze newsletter
By signing up, you agree to our
Privacy Policy
and
Terms of Use
, and agree to receive content that may sometimes include advertisements. You may opt out at any time.