Addressing the convoy of truckers protesting COVID vaccine mandates, Prime Minister Justin Trudeau said, "There is no place in our country for threats, violence or hatred."
Trudeau has refused to meet with the convoy of protestors, who have remained in the downtown area of Ottawa since last weekend, saying he has "chosen to not go anywhere near protests that have expressed hateful rhetoric, violence towards fellow citizens and a disrespect, not just of science but of the frontline health workers, and quite frankly, the 90 per cent of truckers who have been doing the right thing to keep Canadians safe, to put food on our tables."
"What Trudeau is trying to do there is frame this as ... these are terrorists, they're white supremacists — the behavior of some of these people," BlazeTV host Dave Rubin said on "The Rubin Report." "Now, that's interesting. I've been watching an awful lot of videos of these people, and they're in trucks, they're waving flags, and there are scary words like 'liberty' and 'freedom' on the flags ... and I thought ... we've got a staff of people here. Can we find video of the bad behavior?"
Dave's team did indeed find video footage of anti-mandate protesters engaged in the shocking behaviors of cleaning up garbage after protests, shoveling sidewalks, and even — gasp! — apologizing politely for bumping into one another. Watch the video clip below to see Dave share this revealing video footage:
Will the Freedom Convoy's Surprise Move Force Justin Trudeau to Respond? | DM CLIPS | Rubin Report youtu.be
Here's another video of deplorable protestors cleaning up an "appropriated" statue of Terry Fox in Ottowa: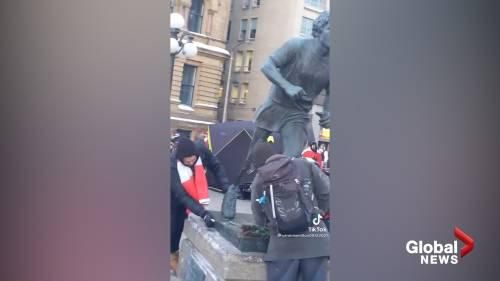 Trucker convoy: Protesters clean-up Terry Fox statue in Ottawa following outcry globalnews.ca
And in yet another example of disgraceful behavior, protesters told a provocateur with confederate flag to leave:
Find more episodes of "The Rubin Report" here. Can't watch? Download the podcast here.
Want more from Dave Rubin?
To enjoy more honest conversations, free speech, and big ideas with Dave Rubin, subscribe to BlazeTV — the largest multi-platform network of voices who love America, defend the Constitution and live the American dream.