Whatever you think about President Trump's latest controversial Twitter rant vis-a-vis "The Squad," there is far less gray area to consider when analyzing the consequences of Team Progressivism's reaction to the terrible orange man before even 24 hours had passed by.
Short of economic collapse, Trump won't lose to these fools in 2020. He can't. His opponents won't let him.
For they are existentially determined to always hand him an out. Because if, for example, you have a nebulous case to make that the president is a racist, one of the most important things you probably want to immediately avoid is giving the impression you hate your country so much that you won't disavow the violence of Antifa against innocent people.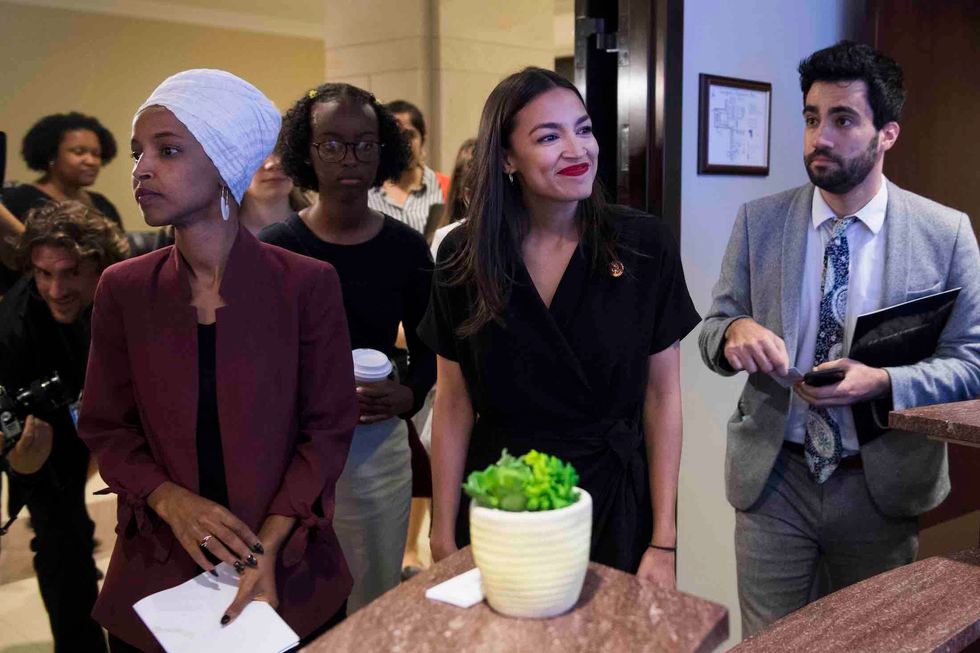 Reps. Alexandria Ocasio-Cortez (D-N.Y.) and Ilhan Omar (D-Minn.), left, arrive for a news conference in the Capitol Visitor Center to respond to negative comments by President Trump that were directed at the freshmen House Democrats on Monday. (Photo By Tom Williams/CQ Roll Call)
It was just the vaccine Trump needed, and The Squad gave it to him with a steroid booster. Sure, a lot of Americans don't like Trump much. But what they really don't like is being referred to as a racist themselves, when they point to real danger or malice in their midst and are subsequently handed the "bigot" scarlet letter or a punch in the face for their trouble.

Hell no. So Trump wins.
Just like he won during the NFL/Colin Kaepernick kneeling saga. They tried to paint Trump has a hater of free expression, but the so-so QB in the "hate the cops" pig socks and his supporters — who wanted you to believe that millionaire professional football players were among the most downtrodden victims of abuse one could possibly imagine — convinced people of the very opposite.
The football-viewing public rightly determined it was their free expression that was under attack and they weren't going to stand for it. They weren't going to be made to feel like criminals because they just wanted football to be their weekend escape, and the national anthem to be their moment of patriotism instead of a protest.
Not only was that not too much to ask, but stopping the nonsense was such a demand for so many of them that Trump — who knows his way around the nonsense buffet — still looked like a savior of sorts by comparison for catering to their angst.
Now replace Kaepernick and company with actual government usurpers and the stakes are raised even more. It's one thing to mess with a civic pastime. But when that transforms into a full-throated revolution by unapologetic agents of chaos, who don't just want to interrupt your regularly scheduled life but change the schedule altogether and forever, then a long list of Trump's sins can and will be forgiven by a lot of folks who just want to live their lives.
People are sick and tired. They want normalcy, even if it comes via abnormal means like Donald Trump. They've been told all their lives by the smart set what normal was supposed to look like, and in many ways they believed them, got in line, and did what they were told. But no more. Not if you take away their football, call them a racist for thinking they live in a free country, and, oh by the way, everything else you care about will be more expensive and more scarce because Marxism is what's for dinner.
When that's the case, Trump's success becomes remedial math. One plus one equals anything but an America-hating Democrat in the White House. And because the same progressives can't figure out what a damn gender actually is, it's a pretty safe bet that math will fly right over their heads as well.