© 2023 Blaze Media LLC. All rights reserved.
President Trump couldn't personally make it to Houston for the 3rd Democratic Debate, so he paid $7,500 for a single-engine Cessna to fly in circles over Texas Southern University campus while pulling a banner that said, "Socialism will kill Houston's economy! Vote Trump 2020!"

For four hours, it chugged around up there. You could hear it everywhere. It was the soundtrack of the night.
You can just imagine Trump's face as he had the banner-plane idea. You can hear him putting in the order. You can see his list of demands. And at the very top, "I WANT THE LOUDEST PLANE YOU CAN FIND!!!"

*
Was that Bret Baier in the aisle, adjusting his reading glasses and thumbing at the strap of his comically small backpack as he crossed the blue-carpeted gymnasium? He looked like the human version of Wisconsin. He was saying something but all you could hear was the plane overhead.
Bret Baier, the stoic host of "Special Report with Bret Baier" on Fox News and the network's chief political anchor. He's underrated, if you ask me. Legacy. Old-school. He just delivers the news, which is what most people want.
He talks the way anchors used to talk, with the American accent unique to news anchors even though he was born in New Jersey and raised in Georgia.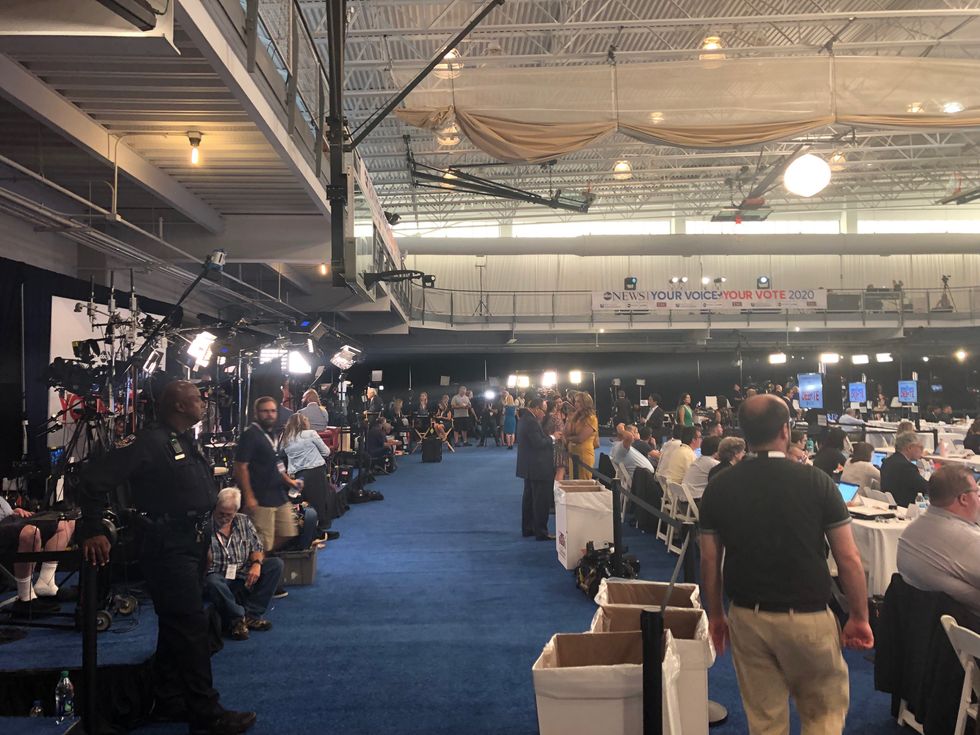 Photo by Kevin Ryan
I had spent the last year-and-a-half on a series of in-depth profiles on some of the major countercultural figures of our time. People like Jordan Peterson , Dave Rubin , and Carol Swain . So my first impulse was to rush over to Baier and profile the guy. Nobody else would, after all. The New Yorker, The Atlantic, Harper's. But they ought to. The man has a hell of a story.

He joined Fox News a year-and-a-half after it was founded, as the southeast correspondent in Atlanta. A few years later, on a Tuesday in September, nineteen terrorists hijacked four passenger airliners and crashed into America.
When the first plane hit, Fox producers told Baier to just get in his car and drive to New York City. They needed back-up reporters for the next day. When the second plane crashed into the south tower of the World Trade Center at 9:03 a.m., they said, "Step on it, Baier."
He and his producer were an hour outside Atlanta when American Airlines Flight 77 slammed into the Pentagon. Still a good 8 hours away, but closer to D.C. than to New York City. So they re-routed to Arlington, Virginia, as fast as they could. Past a blur of fields full of indifferent cows. Past houses full of people who could hardly talk, people who couldn't describe what they were seeing and hearing, all the smoke and the blood and the office-supply confetti. Past towns that barely moved, gas stations with nobody in them, people sunken into a far-away stare.
Yet there was the sun, with only a few bangles of cloud every so often. America had been paralyzed but the earth kept trucking along, quiet and unbothered. It must have felt strange for Baier, to speed down empty highways — toward literal death and chaos — under a perfect sky, below cascading light and color.
Nature doesn't care if we make it out alive.

*
That day, Baier reported live from a Citgo station across the street from the Pentagon, rubble in heaps of flame behind him. It was like he'd fallen onto a different planet and was reporting back to home.
The next day arrived and it was so quiet everywhere. Nobody knew a damn thing. We could not believe our eyes. We all turned to reporters and anchors for answers. Most often, they blurted out whatever they could. Occasionally, they whimpered and cried.
Something about Bret Baier gave audiences a much-needed boost. Reliable, sturdy. Like he said what had to be said and not a word extra.
Fox kept him in D.C., indefinitely. A friend helped him find an apartment. He never went back to Atlanta. Two weeks later, Fox News appointed him Pentagon correspondent, a position that saw him travel the world, including 13 trips to Afghanistan and 12 to Iraq.
Halfway through George W. Bush's second term, Baier became Fox News' White House correspondent.
Then, a year before he would earn his current position as anchor, Baier became a father. His son was born with holes in his heart — five congenital heart defects. Twelve days later, the boy underwent open-heart surgery. Baier and his wife waited in tiled rooms drenched with flowers and ESPN and drab ultraviolet light, surrounded by machines full of beeps and whirring and beeps and whirring.
Baier's son has since undergone two additional open-heart surgeries, nine angioplasties, and one stomach operation.
In an interview with Parents Magazine, Baier said that his son's health problems have "given me perspective about my job, going through policy and politics in Washington, D.C., to see the bigger picture."
*
Part of the reason I couldn't tell whether or not it was Baier is he's usually up on the main stage. For the 2012 election, he moderated five Republican debates, and co-anchored FNC's America's Election HQ alongside Megyn Kelly.
The 2016 election would propel him into a much larger role. He anchored three Republican debates, but this time he had to handle Donald Trump.
Baier knew Trump personally, from before the election. They'd played golf together. He described Trump as "a nice guy outside of his TV persona" and never thought Trump would actually make a run for the Presidency. Onstage, Trump was much different. And Baier had been tasked with maintaining control.
A devout Roman Catholic, he appreciates a nice glass of wine and a fine cut of steak. He likes a good joke, too.
In January, 2019, Baier signed a multi-year deal with Fox News to continue "Special Report." A few weeks later, he and his family went to Montana for a ski trip. The weekend was wonderful. But they had to get back to New York because Baier was scheduled to appear on "The Late Show with Stephen Colbert" that Tuesday.
Imagine him, again in a car hurtling toward a fateful destination. How he squinted through the frost-pocked windshield and gripped the steering wheel. As he guided the white SUV along the two-lane road to the airport. The land looked haunted, barren, lifeless. Everywhere, the world was frozen white. Snow and ice blanketing the fields, gauze over the sky.
At some anonymous intersection, Baier pumped the brakes, but the tires hit an ice patch, and the SUV spun loose. An oncoming car slammed into the driver's side, launching the vehicle into an embankment, wedged on its side. A man named Zach stopped his pickup truck and helped the family crawl free, and the Montana Highway Patrol rushed them to the hospital.
"Don't take anything for granted," Baier tweeted later. "Every day is a blessing and family is everything. It's always good to remind yourself of that before something does it for you."
Before every debate that he moderates, Baier spends 10 minutes alone, praying.


*


A Freedom of Information Act request in 2011 revealed that Fox News was actually right. That the Obama Administration really did hate them. And had intentionally excluded them from a press pool two years earlier. Then laughed about it.
The documents unearthed snarky emails between various high-ranking aides in the Obama Administration. In one, the Deputy White House communications director bemoaned Baier's reporting on the bias. "I'm putting some dead fish in the [Fox News] cubby — just cause Bret Baier is a lunatic." That same day, deputy press secretary Josh Earnest bragged in an email that "we've demonstrated our willingness and ability to exclude Fox News from significant interviews."

The Trump administration pulled a similar stunt in July, 2018 by banning a CNN reporter from the press pool.
Trump and Fox News had developed a beneficial relationship by then. And CNN was a lifelong competitor, a public enemy.
That night, Baier delivered an official statement, "This decision to bar a member of the press is retaliatory in nature and not indicative of an open and free press. We demand better. As a member of the White House press pool, Fox stands firmly with CNN on this issue of access."
YouTube www.youtube.com
Fox News rebuked Trump in solidarity with CNN. It was a heartening gesture between two seeming enemies. Fox News were standing up for truth, defending journalism, rejecting tyranny even though the ban would have benefitted them as a company.

Who knows how many books and dissertations and articles have been written about Fox News, usually in relation to bias, usually with a scathing tone. The conclusions differ wildly, yet each one claims certitude.
Generally, academics and journalists have taken a doomsday tone when talking about Fox News. Accusations of evil, fear-mongering, bigotry, hatred, misinformation, propaganda, racism, homophobia, and so on.
Despite these outcries, Fox News has consistently held its spot as the most-watched network in the country. Imagine how that makes its critics feel.
In an August 3, 2018 appearance on Jimmy Kimmel Live, Baier said, "the biggest problem is that the people who are most critical of Fox are usually people who have not watched Fox News."
Bret Baier on CNN, FOX News, Donald Trump & Ronald Reagan www.youtube.com
Fox News is composed of two distinct departments. Punditry and straight news. Or "opinion news" and "descriptive news." Consistently, surveys of the public rate Fox News as both the least- and most-biased news network.
Last year, a survey found Fox News to be the second most-trusted television news brand in the country, after the BBC.

In a separate study, Democrats rated its bias score at (negative) -87, while Republicans placed it at (positive) +3. Which is like if, at a football game, one referee said "Touchdown," while the other referee said "Turnover, leading to Touchdown for the Defense." It can't be both, can it?
Public opinion may not be the best metric for understanding Fox News, especially in 2019.
Quantitative studies have offered clearer conclusions. In 2016, a content analysis used crowdsourcing and machine learning to examine over 800,000 news stories published over a year by 15 major outlets, from the New York Times to Fox News. They wanted to chart media bias.
What they discovered is that news outlets are far more similar than we believe. Much of the perceived bias is a matter of separating "opinion news" from "descriptive news." For conservatives, it's punditry. For those on the left, it's op-eds and long form investigative pieces, although the left tends to insist that they're not biased, that they are instead just more apt to tell the truth, even though research has disproven this belief.
The researchers found a much larger bias-divide in opinion news, whereas descriptive news was practically neutral. One of the researchers described Fox News' descriptive news as "guided by similar news values as more traditional, legacy media."
University of California Berkeley sociologist Arlie Russell Hochschild wrote that "Fox News stands next to industry, state government, church, and the regular media as an extra pillar of political culture all its own."
Say what you want about Fox News; they play a crucial role in the so-called mainstream media. And, despite what Fox News will lead you to believe, they are definitely part of the mainstream. And they are by no means the innocent victim. And certainly not powerless. And they have all kinds of problems that I will not defend. But we'll talk about that in a later installment, the one about Kamala Harris at a gun control rally, advocating for propaganda.
*
After two months of political events, I suspected that different news networks have their own signifiers, like the distinct stripes and markings on various spiders.
Wall Street Journal reporters tended to carry old-timey notepads and interview any bystander they could find. Breitbart usually only sent one person, and he wandered around with his iPhone, recording every single thing. Politico, prim-suited men who could just as easily work on the stock market.
Most of the reporters dressed like that, in stagey business attire. Prim for a high school job fair. Meanwhile, the photographers, mostly men, looked like professional paintball players. The camera crews and technical staff were the only ones decked in tattoos and wearing sandals and generally not caring about the chaos all around them. On-camera talent were covered in makeup and shrink-wrapped into dresses or suits with chip-clips along the spine.
The Washington Post sent the classiest and most bored-looking people I have ever encountered. They never looked at their laptops as their fingers chopped at the keys, and you assumed they were pretending until you read their stories online. You could spot ABC because their camera crew wore faded red ABC hats. Associated Press looked like they had just come back from a battlefield assignment in Syria, and never donned the same press credentials as everyone else, preferring a tattered AP lanyard. And you always knew when someone was with the New York Times because they announced it to the entire room.
And Fox News? At democratic events, they usually hid. But not that day, in Houston, as Bret Baier walked up the aisle to a table a couple rows in front of me.
Most people arrived in the Media Filing Center several hours before the debate. Fox News got there just slightly after that, as everyone was wiggling in their seats and connecting their laptops to a shared outlet.
There were seven or so in the pack of Fox News, all grinning. They all had white to-go sacks from Chick-fil-A.
And the room got quieter, so Trump's plane got louder. It was a double trolling event.
As host of the debate, ABC would be providing dinner. This information was included in the credentials email that all of us had received. So nobody else had brought food with them. No need.
Even better, I was familiar enough with that part of Houston to know that there was not a Chick-fil-A anywhere close to us. Who knew where they'd gotten that Chick-fil-A, but odds are it wasn't warm. Who knew if there was even any food in the bags.
They had brought Chick-fil-A into a building full of national media during the third Democratic Presidential debate. The 2020 election was already full of outrage about plenty of things, and one of them was Chick-fil-A. To some folks, the red chicken logo might as well have been a swastika. That very week LGBT activists had vehemently — cartoonishly — protested the opening of several Chick-fil-A's throughout North America. Chicken sandwiches had become yet another flag on the tug-of-war rope in the Culture War of our country.
To be clear, the political left was anti-Chicken and the political right was pro-Chicken. The media tended to lean anti-Chicken, and frequently wrote about anti-Chicken causes, often scolding pro-Chicken voices, or ignoring the struggles of the pro-Chicken community only to deny any opinion on Chicken at all. That was the cowardly part, of you ask me, the pretending like they weren't activists.
The Democratic candidates definitely leaned anti-Chicken. Sometimes they took it so far that it upset moderate anti-Chicken advocates. Because was it really so bad to eat Chicken? Couldn't you be anti-Chicken but also enjoy Chicken occasionally? Why did everything have to be either "all Chicken all the time unless you hate freedom" or "no chicken ever unless you support hate"?
The fight had spread everywhere. Airports, stadiums, malls, campuses. All had served as battlegrounds for the anti-Chicken versus the pro-Chicken.
The previous President was anti-Chicken. In fact, he may well have enflamed the entire movement. During his tenure, there were nationwide protests that saw pro-Chicken advocates angrily and proudly eating Chicken while anti-Chicken advocates protested outside and occasionally engaged in homosexual affection, which was being threatened by Chicken, according to them.
Every time the pro-Chicken folks bit into a Chicken sandwich, it was like they were gnawing away at the anti-Chicken people themselves. Degrading their identity. Because, for them, it was about the identity.
But the current President, unabashedly proud of his pro-Chicken stance, once served Chicken at the White House to some winning sports team, and the anti-Chicken activists saw it as proof that Chicken and hate go together. And maybe Chicken would even lead to the impeachment of the President they hate, which would mean the Vice President would become the President, but he's one of the most pro-Chicken people in America, so they'd have to impeach him, too. And the Supreme Court, it was overrun with pro-Chicken types.
This election, the Democratic front-runners competed for the bolder plan. They would end Chicken in America once and for all. They would obliterate our evil President and his Chicken Supremacy. Their stump speeches relied on harsh criticisms of pro-Chicken voters, who pretended to find the whole anti-Chicken movement amusing but were secretly enraged by it.
In fact, they were certain that the anti-Chicken movement had been systematically silencing them for years, and that they had to fight for their Chicken in order to keep everything that they valued, even all the not-Chicken.
The media and the democrats and Hollywood and academia — all hated the Chicken, because they hated the pro-Chicken people. If they had their way, no more Chicken, ever again. And no more pro-Chicken deplorables. And tonight the anti-Chicken politico-culture complex would prove it, with long rants which get confirmed by glowing articles, calculated takedowns about the merits of anti-Chicken and the evils of pro-Chicken.
Yet here was Fox News, with actual Chicken. And they were smiling. Maybe in part because the police who were guarding us all tended to be pro-Chicken. And this was Texas, after all, an incredibly pro-Chicken state. But there were 49 other states and 14 territories, and all of them were fighting for or against Chicken.
Some experts even said we were on the cusp of a Civil War.
New installments to this series come out every Monday and Thursday morning. For live updates, check out my Twitter or email me at kryan@mercurystudios.com
Want to leave a tip?
We answer to you. Help keep our content free of advertisers and big tech censorship by leaving a tip today.
Contributor
Kevin Ryan is an opinion contributor for Blaze News.
The_Kevin_Ryan
more stories
Sign up for the Blaze newsletter
By signing up, you agree to our
Privacy Policy
and
Terms of Use
, and agree to receive content that may sometimes include advertisements. You may opt out at any time.