Alan Eyre, a high-ranking State Department official known for his pro-Tehran, anti-Israel biases — and a key component of the Iran nuclear deal's negotiating team— has been using his verified Twitter account to repost articles attacking President Trump, the man who he ultimately answers to.
The postings, shared below, are only a small snapshot of what Eyre has tweeted out over the past month and shared with his 100,000-plus followers. Some mock the president and question his intelligence and integrity (again, Eyre's boss). Another post calls President Trump's decisions "senseless" and "heartless."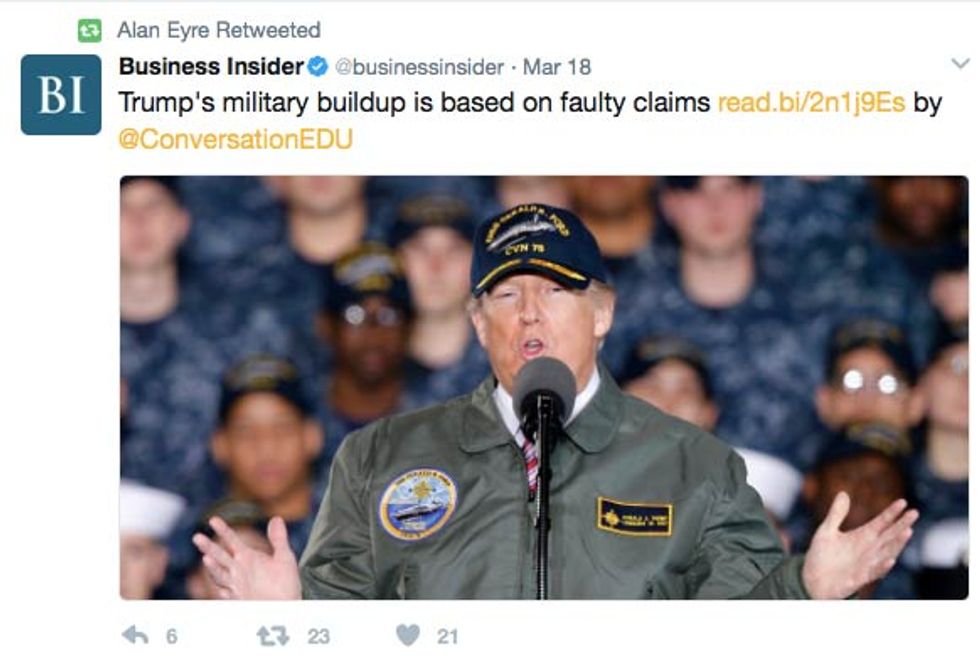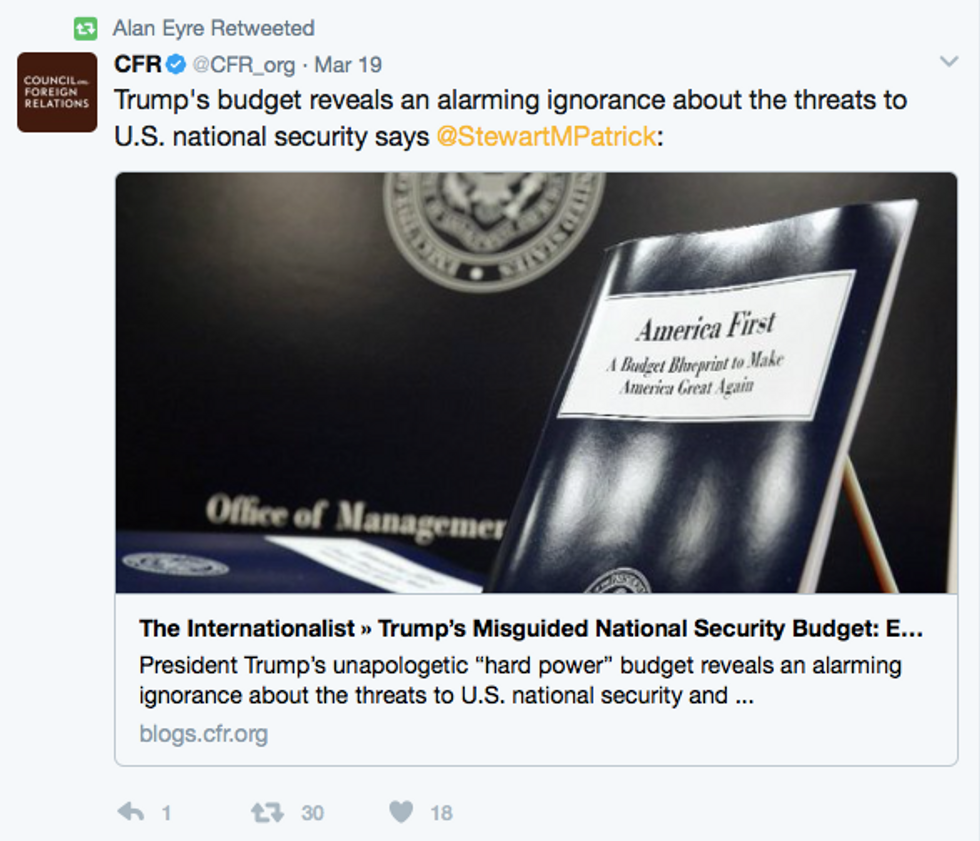 Eyre now works at the State Department's Bureau of Energy Resources, within its Middle East/Asia department, according to his bio.
Under the Obama administration, Alan Eyre served as the State Department's Persian language spokesperson. According to reports, he played a critical role in advancing the Iran nuclear deal, which resulted in a cash windfall for the terrorist regime in Tehran.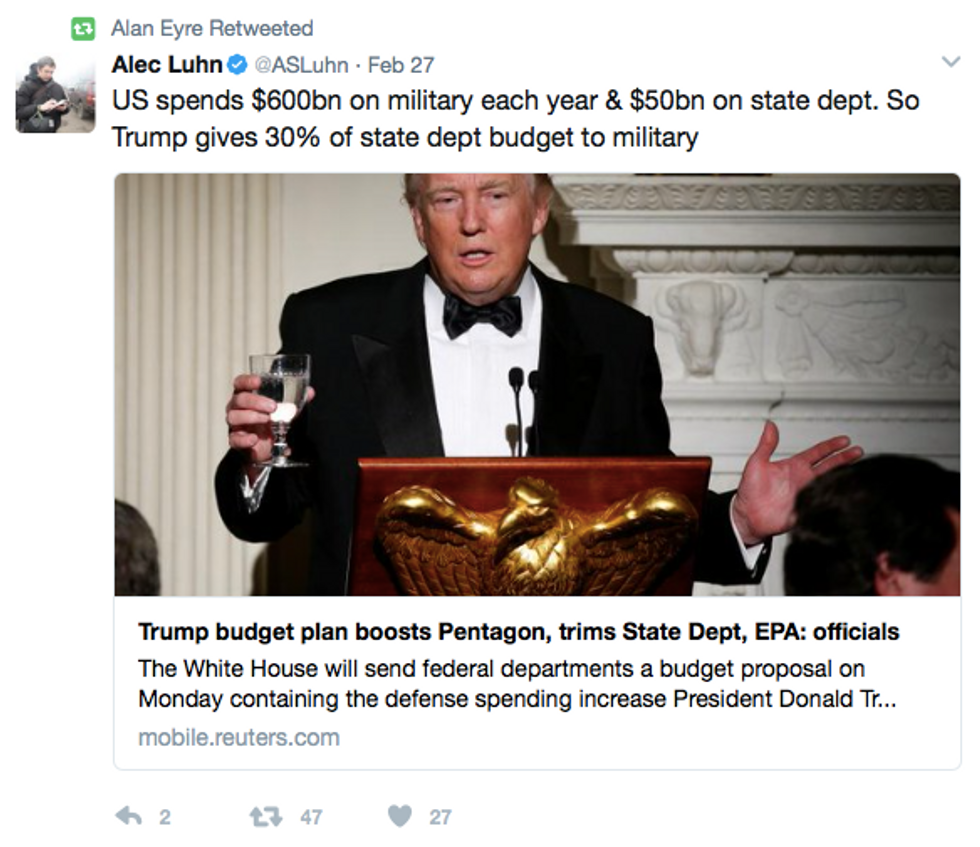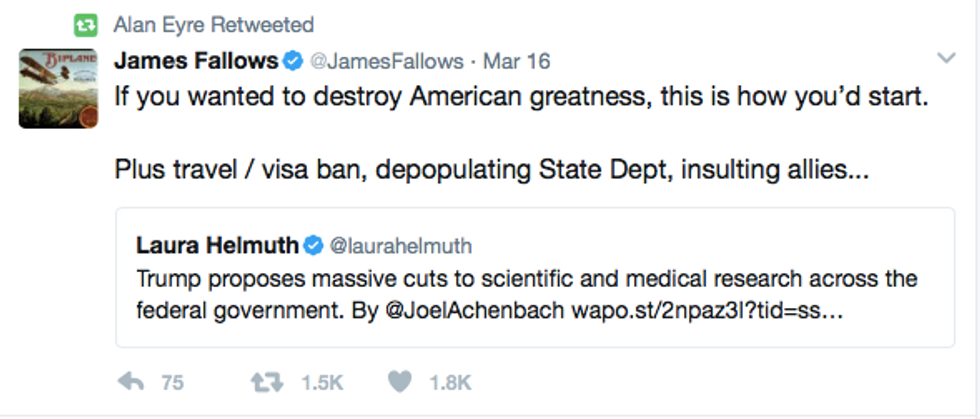 This is not the first time Eyre has been noticed engaging in controversial social media activities. In 2015, the Washington Free Beacon exposed that he had been promoting anti-Israel conspiracy theories.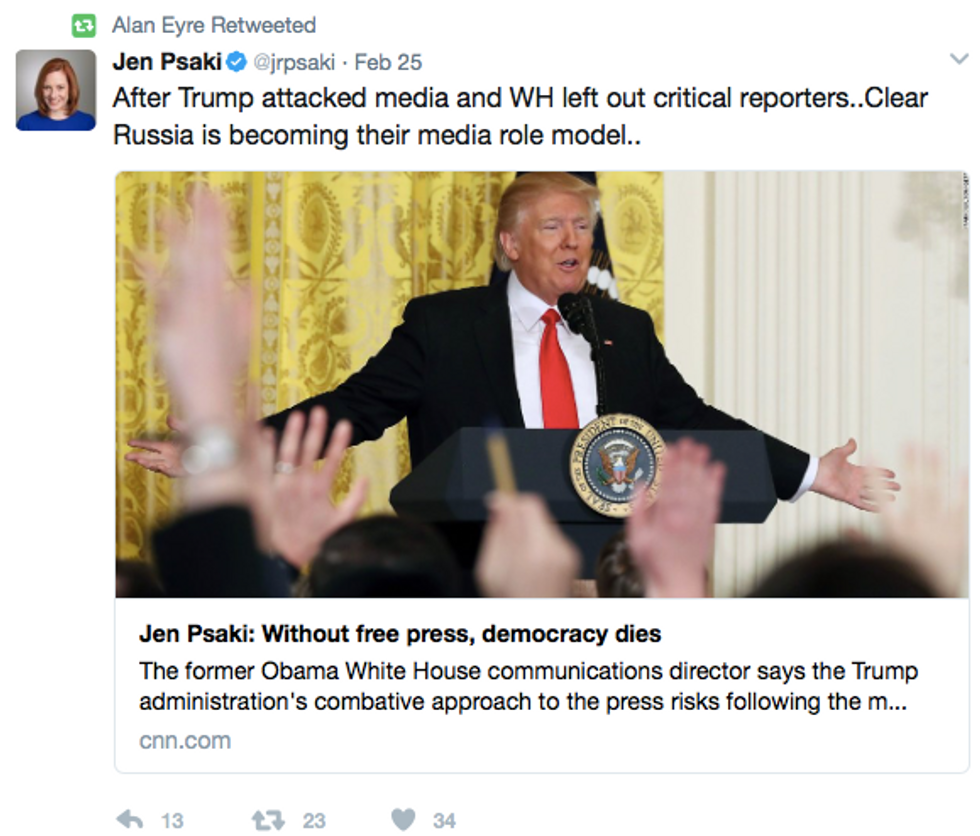 From his personal Facebook page, Eyre published stories by anti-Semitic authors and fringe websites that "demonize American Jewish groups and Israel," the report said. But that was at least from his personal page. His current stream of anti-Trump postings are being distributed from his verified public Twitter account.
As an Obama official, Eyre twicekeynoted the annual conference of the National Iranian American Council (NIAC), a group that many Iranian dissidents and freedom fighters consider to be a front for the regime in Tehran. NIAC is led by Trita Parsi, an Iranian-Swedish national who reportedly acts as a the point of contact for top officials in Iran.
NIAC became very cozy with the Obama administration (Parsi visited the White House 33 times), and coordinated with it to sell Iran deal lies to the American people. In its hell-bent quest to push the deal, NIAC painted opponents of the agreement as "warmongers" and challenged the loyalties of American Jews to the country and president.
Eyre is not the only State Department official who has pushed for policies that directly contradict President Trump's platform.
Chris Backemeyer currently serves as deputy assistant secretary for Iranian affairs under Secretary Rex Tillerson. He was intimately involved in pushing for the Iran deal and misled the American people about where billions of dollars for the Tehran regime had gone.
Sahar Nowrouzzadeh, an essential advocate for Obama's Iran deal, is currently in charge of Iran and the Persian Gulf on Secretary Tillerson's policy planning staff.
And Michael Ratney, who oversaw a group that campaigned to oust Israeli Prime Minister Benjamin Netanyahu, was one of John Kerry's closest confidants. He's now in charge of the Israeli-Palestinian portfolio at the Department of State.
Editor's Note: This piece has been updated to correct typographical errors.