Guess what happened once our government telegraphed the message that people can no longer come here and be released: They stopped coming in large numbers.
Nine days ago, I reported, based on exclusive data measuring apprehensions in the state of Texas, that weekly apprehensions in the Lone Star State had dropped 54 percent from the peak of May through the first week of August. Well, now I have obtained data from the next two weeks in August, ending on the 21st of the month, and the numbers have dropped another 19 percent statewide. During the reporting week ending Wednesday, August 21, there were 7,605 illegal aliens apprehended in Texas, for a total drop of 62 percent from the worst week at the end of May and early June.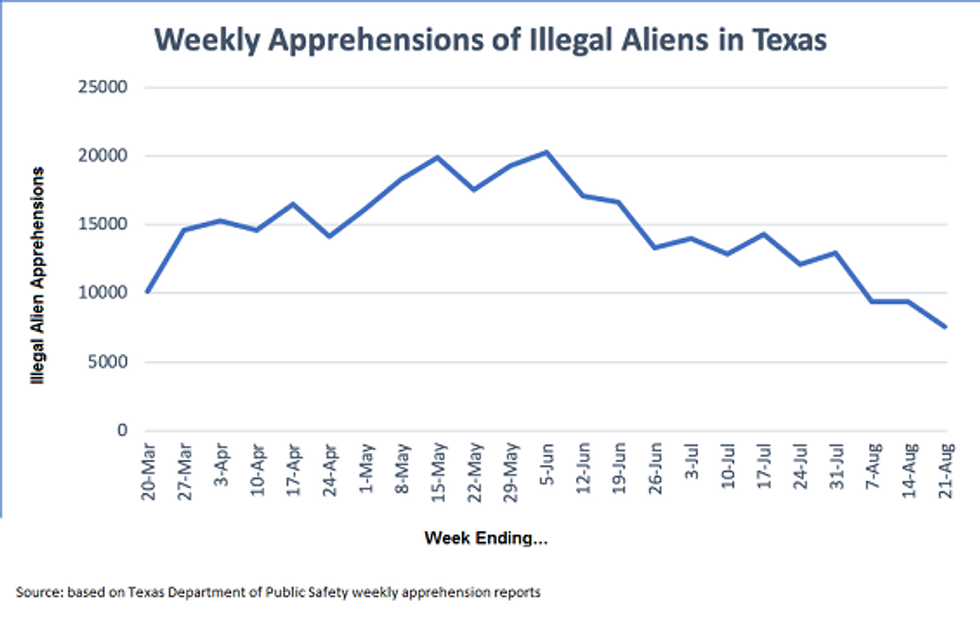 The sharpest drop is among those coming from Guatemala. The numbers are down 74 percent in Texas from the peak in the first week in June. After being the top country of origin for quite a while, Guatemala's numbers are now close to parity with those of El Salvador, which has long been the number three country of origin in Central America. All the diplomacy with Guatemala's government is sending the right message.
Between sending planeloads of illegal aliens back to Guatemala, forging a safe third-country agreement, returning many other illegal aliens to Mexico, and barring anyone who could have applied for asylum in Mexico from applying here, the message has finally been sent that we are closed for business. Moreover, this was all before the administration announced the most critical policy of all late last week – that it will no longer be releasing family units pursuant to the Flores settlement. The numbers will likely plummet in the coming days as a result of these factors.
So here's the obvious question: If the numbers have been cut at least in half, shouldn't twice as many agents now be available to patrol the line against the really bad guys being smuggled in by the cartels as well as the previously deported criminal aliens seeking to re-enter? In other words, shouldn't the Border Patrol be returning to patrolling?
I asked one veteran agent in the Rio Grande Valley (RGV) if the morale of his colleagues is better in light of the reprieve from family units. Surprisingly, he sounded a pessimistic tone. "Yes, the family units are down, but nothing has changed on the operational side of Border Patrol's core mission to hold the line at the river and defend against drugs and bad guys," said the agent, who must remain anonymous because he is not authorized to speak to the media. "We're still only averaging 10-15 people patrolling roughly 60 miles in most stations."
When I asked why the number of agents in the field isn't back up, given that the number of aliens to process has dropped, he said they are still being held in reserve "in case our numbers go back up." He also pointed to the fact that agents are still pulled off to transport aliens to the new facilities and to man them rather than housing those caught at the nine permanent stations. "It would surprise everyone to know that the stations are actually empty now. For whatever reason, what was designed originally to handle an emergency overflow are now being used as the holding facility of first resort, and this drains extra manpower, especially now that DHS has pulled the other manpower from other agencies assisting us."
Another more junior agent in a different station in the Rio Grande Valley confirmed with CR that "the number of agents on the line in my station has not gone up at all" and that their own stations are empty because the migrants are all being transported to the new facilities. He expressed concern that "with cartels losing millions in revenue they were used to getting every week from human smuggling, they are now doubling down on drug trafficking, yet we still don't have more agents to deter them."