On Tuesday, Facebook accidentally made public an internal test feature that asks users if posts they see on their newsfeeds contain "hate speech."
In what appeared to be a universal feature added to every Facebook account, a notification appeared below each post in an individual's timeline asking, "Does this post contain hate speech?" with "Yes" and "No" buttons. You could even report yourself: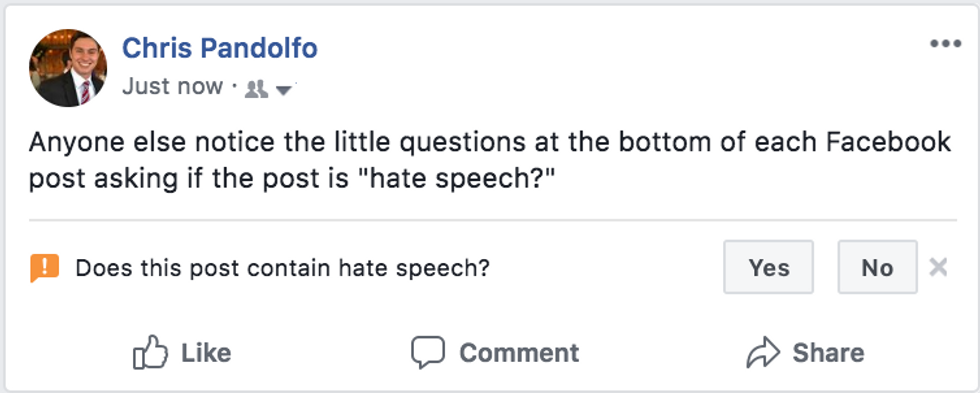 Clicking on "Yes" opened a new window that presented users with more options, labeled as "tests."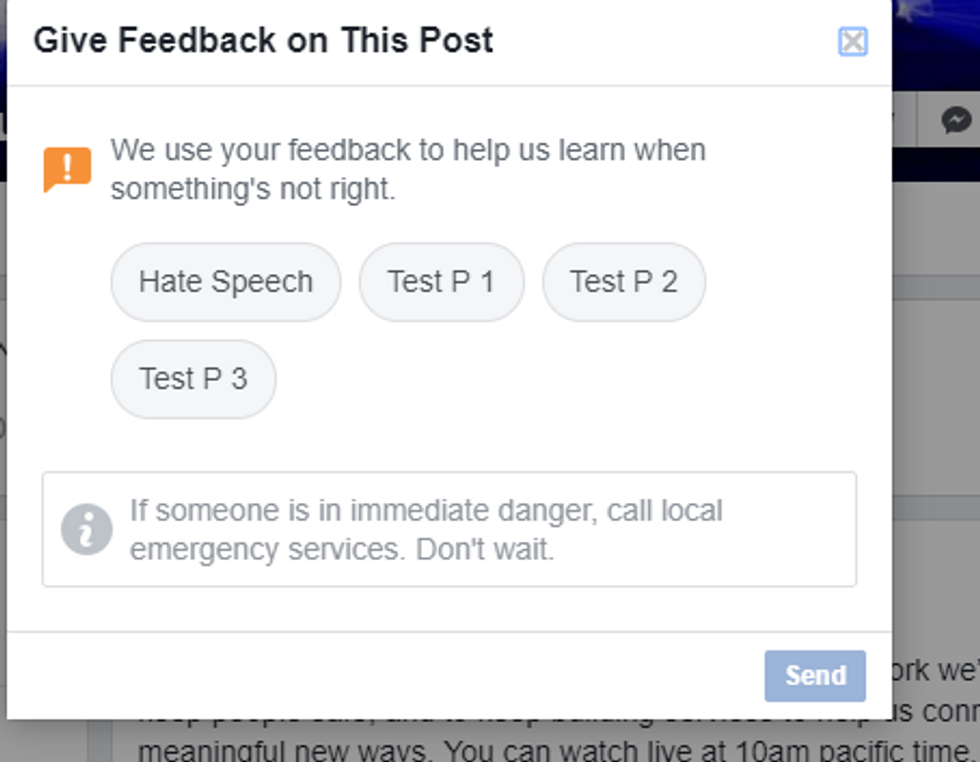 Responding to a request for comment from Conservative Review, a spokesman for Facebook said that "this was an internal test we were working on to understand different types of speech, including speech we thought would not be hate. A bug caused it to launch publicly. It's been disabled."
Facebook Vice President of Product Guy Rosen explained further on Twitter.
Recently, Facebook has faced criticism from conservatives for censoring speech, manipulating user news feeds, and suppressing certain stories as "spam."
The ability of each user to flag a post as "hate speech" and alert Facebook's censors set off alarm bells.
Facebook is now putting prompts under every post asking if it "contains hate speech." Well, that's it for conservat… https://t.co/Ve9EJbeLC5

— Matt Walsh (@Matt Walsh) 1525190046.0
So... Facebook now has a little button on EVERY SINGLE POST that asks people if it's hate speech, and there's no wa… https://t.co/3kPvdPWdU3

— Christian Datoc (@Christian Datoc) 1525188484.0
Facebook is now asking people if posts on their feed "contain hate speech." Just imagine how abused this is going t… https://t.co/sTEpMZGFft

— Kimberly (@Kimberly) 1525189461.0
Hey @facebook, I just clicked "YES" on an NBC news video about the Catholic Church containing hate speech. It then… https://t.co/Jd4YPEPi4a

— Benny (@Benny) 1525188324.0
Everything I don't like on Facebook is hate speech.

— Tim Young (@Tim Young) 1525190916.0
Check out the new "hate speech" prompt by @facebook. We are truly doomed. https://t.co/cr5rjpgKCQ

— Gad Saad (@Gad Saad) 1525187346.0
The notifications no longer appear below Facebook posts.
Editor's note: This article has been updated to include reaction from Facebook users.
Conservative Review's Rob Eno contributed to this report. 
#mc_embed_signup{background:#fff; clear:left; font:14px}
/* Add your own MailChimp form style overrides in your site stylesheet or in this style block.
We recommend moving this block and the preceding CSS link to the HEAD of your HTML file. */