© 2023 Blaze Media LLC. All rights reserved.
Horowitz: Career criminal allegedly kills 7-year-old hours after release from jail
Evidently, black lives don't matter, at least not the ones that can't be used as political footballs to blame police, other races, or law and order. The murder of a 7-year-old allegedly by a career criminal released from jail hours earlier for a serious crime is the true epidemic that requires political intervention. Yet you won't see rioting, feet-washing, bowing, removal of monuments, and renaming of landmarks on behalf of this forgotten child.
On June 23, Shaquille Marshon Francis was charged with murder after he allegedly shot and killed 7-year-old Aaliyah Norris in a random drive-by shooting in North Carolina. Norris was sitting in the back of her family's car when her life was ended suddenly by one of the growing number of drive-by shootings taking place throughout the country. Norris died in the hospital last Thursday from the injury to her head.
It's sickening that Francis had been arrested in Rutherford County, North Carolina, that very day for pointing a gun at someone. He was released without any bond! Court records show that Francis already violated his probation and failed to show up at court for charges from previous cases.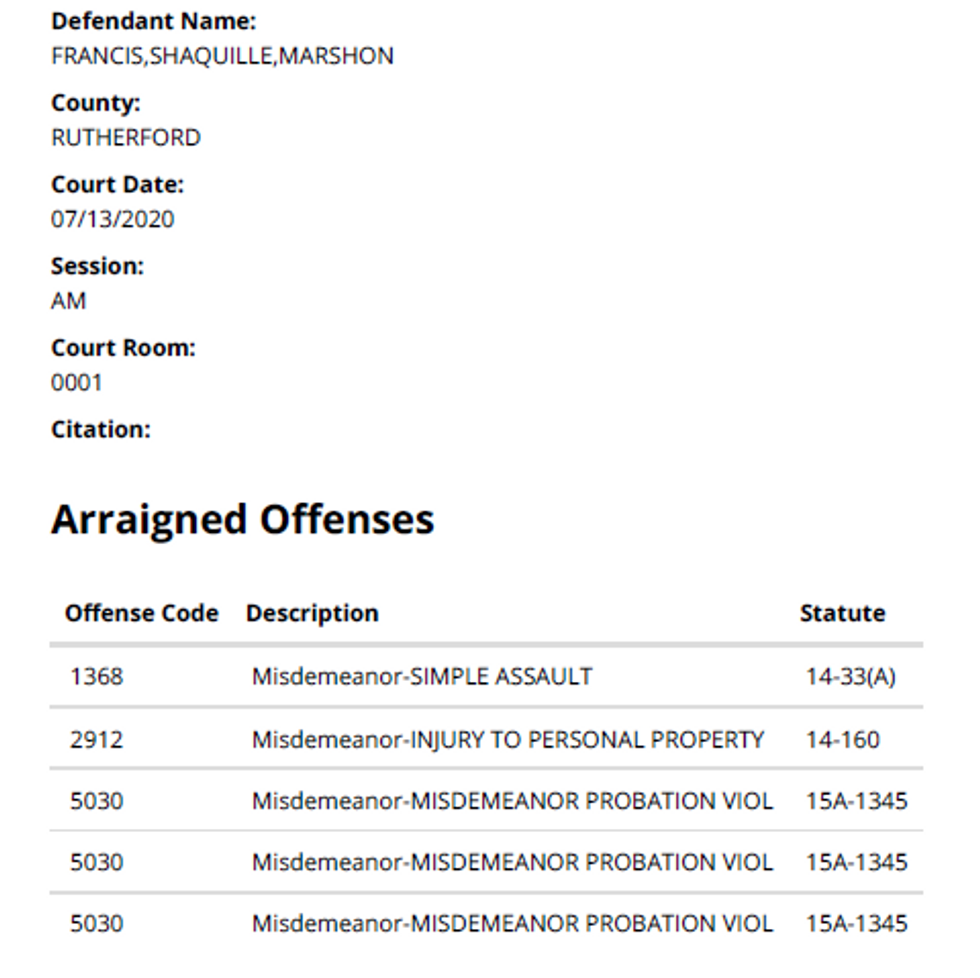 How can someone like that who is arrested for pointing a gun at someone be released so easily?
This is the national discussion we should be having on crime and race. How many innocent black children are killed every weekend in places like Chicago by career criminals who have gun felonies and probation violations but are let out of prison?
Why is it that the Left has no desire to discuss gun violence any more? Why is leftist enthusiasm for gun control limited to those without criminal records, yet those charged with felony possession or with assaulting someone with a weapon can be let out of jail?
In another bloody weekend in Chicago, a 20-month-old boy was shot and killed in a drive-by murder. A mother was driving home from the laundromat with her toddler in the car seat when a shooter pulled up alongside her and fired into the car. The mother was also injured.
Chicago's CBS affiliate has a list of very young children who have been caught in the crossfire of the breakdown of order in Chicago. In a different Chicago neighborhood, a 10-year-old girl was killed by a stray bullet as she sat in her own home! Another Chicago criminal shot and killed two teens. He had a prior firearms conviction but got probation instead of jail time.
In New York, another violent criminal with three armed robbery charges was on parole when he was arrested last week for brutally raping and beating a Bronx woman nearly to death. Meanwhile, New York City has experienced more shootings during the first three weeks of June than at any point since 1996. Over the weekend, there were 17 shootings in just 24 hours with 24 victims. According to New York City police, 1,000 criminals indicted on gun crimes are walking free, while another 800 defendants have yet to be indicted. "You have a criminal justice system that is imploding," according to NYPD Police Commissioner Dermot Shea. Other crimes are surging as well. Robberies in Minneapolis have spiked 30%.
This is NYC, not a foreign country. The NYPD is not enforcing the law not because they don't want to, it's because… https://t.co/JmZVJ3eD2p

— CuomoCorruption🇺🇸🇺🇲🇺🇲 (@CuomoCorruption🇺🇸🇺🇲🇺🇲) 1593365778.0
Perhaps there really is white privilege. It's the privilege of wealthy white liberals who live in gated communities and can virtue-signal about the need to weaken the police and abolish incarceration. After all, they are not the ones who suffer from the fallout. They don't exactly travel to laundromats in dangerous neighborhoods.
Why are Republicans not championing an agenda to go after gangs, repeat offenders, gun felons, and parole violators, which account for almost all of these murders – almost all of them of African-American victims?
Want to leave a tip?
We answer to you. Help keep our content free of advertisers and big tech censorship by leaving a tip today.
Blaze Podcast Host
Daniel Horowitz is the host of "Conservative Review with Daniel Horowitz" and a senior editor for Blaze News.
RMConservative
more stories
Sign up for the Blaze newsletter
By signing up, you agree to our
Privacy Policy
and
Terms of Use
, and agree to receive content that may sometimes include advertisements. You may opt out at any time.