It should be the crime story of the year, or even the century. An illegal alien who wound up getting a green card was convicted of a crime that should have gotten him deported. But among the millions of criminal aliens who are allowed to remain in the country, Billy Chemirmir was not removed. He is now accused of smothering to death at least 22 women in their 80s and 90s in the Dallas metro area – all after he could have been deported. These murders were 100 percent preventable. Where are the outrage, congressional hearings, or even news reports on this case?
Senate Republicans looking for a legislative focus after impeachment should ask themselves what is more important than this story and the policy problems implicated in its deadly outcome. Last August I reported that Billy Chemirmir, a Kenyan national who overstayed his visa but used a controversial loophole to get a green card, is accused of smothering elderly women to death from May 2016 through March 2018.
Most of the alleged murders occurred in senior living complexes in northern Texas, and he is believed to have been motivated by his desire to steal the victims' jewelry. Throughout the past two years, as investigators work with numerous families of seniors who died suddenly and were once thought to have died natural deaths, the suspected death toll is growing.
The Dallas Morning News reports that the number of alleged victims is now up to 22. Although he has only been indicted in 12 cases so far, there are 10 others in which he is named as the suspect in civil lawsuits. A new lawsuit accusing Preston Place in Plano of negligent security alleges that Chemirmir smothered Miriam Nelson to death on March 9, 2018, just days before he was finally arrested and his actions were discovered because one of the victims survived his attack and was able to identify him. Preston Place is the senior living complex where seven other victims have been identified. Nelson was the mother-in-law of former Dallas Cowboys safety Cliff Harris.
While most of the local coverage on this story is focused on questions of malfeasance on the part of several senior living complexes, there is a much bigger story of public policy malfeasance that requires investigation by Congress and the DHS, as well as actions to rectify those problems.
The suspected death toll from this criminal alien now stands at 22, the same number as the horrific mass shooting in El Paso last year. With investigators continuing to sift through the cases of over 750 seniors who died suddenly in the area and even exhuming some bodies, the number could be even higher. After the El Paso shooting, there was a national outcry from the politicians in Texas and elsewhere to "do something." The El Paso shooter was a first-time offender who came out of nowhere. Chemirmir, on the other hand, was a repeat foreign national offender who should have been removed from the country several times. Had our laws been followed, every one of these alleged murders could have been prevented.
There are two layers of public policy malfeasance that warrant investigation in the case of Chemirmir. Both of these have huge national implications that affect thousands of criminal aliens and could save countless lives if these loopholes were plugged.
Breitbart reported last May that Chemirmir indefinitely overstayed the tourist visa granted to him in 2003. According to section 212(a)(9)(b) of the INA, which passed the Senate by voice vote in 1996 and was signed by President Bill Clinton, anyone who remains here illegally is not only deported but barred from re-entering the country for 10 years. However, past administrations have been liberally granting "hardship" visas to anyone who marries an American while remaining here illegally. This circumvention of the law has been used in the past by criminal aliens to avoid deportation, often through sham marriages.
In Chemirmir's case, he was offered a green card based on such a marriage in 2007, despite having remained here illegally for four years. This is a loophole that DHS can end tomorrow. It's the loophole that likely led to the horrific deaths of at least 22 seniors.
Chemirmir was convicted of crimes that are deportable offenses even for legal immigrants. He was convicted of two DWIs in 2011 and then an aggravated assault for which he served time in prison in 2016. The assault is a deportable offense, which is why ICE currently has a detainer on him, even though he hasn't yet been convicted for murder. This means that he could have been removed from the country before the murders were alleged to have occurred.
Below is a helpful timeline of Chemirmir's immigration and criminal history to demonstrate the point that had our immigration laws been enforced, many horrific murders could have been prevented.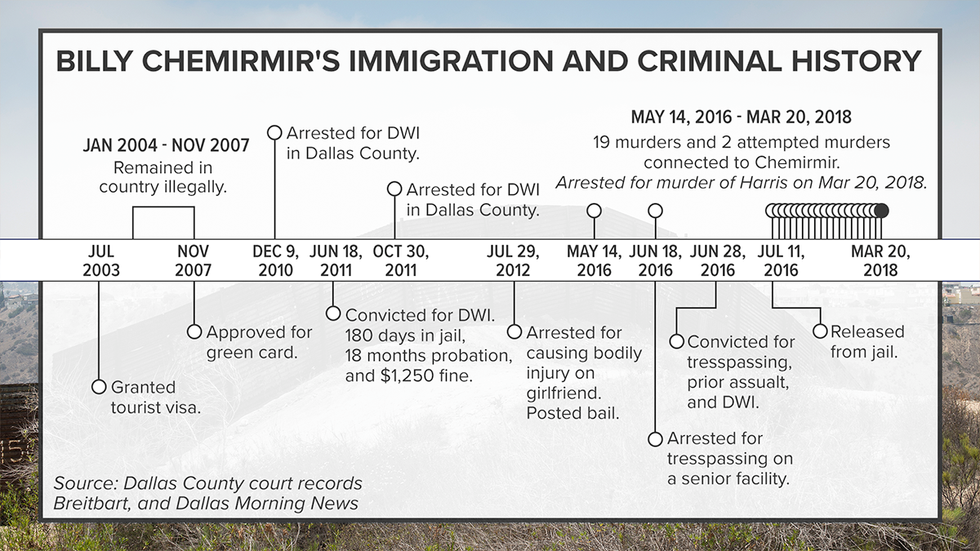 Why are Senate Republicans not holding hearings and voting on bills every day to rectify the national emergency of avoidable murders committed by criminal aliens. As of fiscal year 2019, there were 3.2 million criminal aliens targeted by ICE for deportation, yet they remain in the country, almost all of them out on their own recognizance. There are likely countless other criminal aliens who aren't even in ICE's sights, as was the case with Chemirmir earlier last decade.
If Republicans focused on the issue of clearing the country of other countries' dangerous criminals, they'd easily win the election and save lives. Yet nobody is even discussing one of the most heinous and avoidable mass murders in American history.