© 2023 Blaze Media LLC. All rights reserved.
Horowitz: Illinois health director: Anyone with 'COVID-positive diagnosis' listed as COVID-19 death
If someone who tested positive for coronavirus gets into a deadly car crash and then dies in the emergency room, is that counted as a COVID-19 death?
I never thought we'd have to ask that question, but in light of new comments from Illinois' director of public health, it appears this is a serious question.
On April 19, Illinois Gov. J.B. Pritzker was asked at a press conference about a reported death in the state of a teenager and whether that individual had "underlying conditions." The governor turned the microphone over to Public Health Director Dr. Ngozi Ezike, and her answer revealed a shocking point that should cast doubt on a certain unknown percentage of the stated coronavirus deaths.
"I don't have that information at my disposal at this time; I know we have had people of all age groups die," replied Dr. Ezike. Then she gave out more information than the reporter asked for, and what she said should set off all sorts of alarm bells about the accuracy of the death count.
"I just want to be clear in terms of the definition of people dying of COVID," said Dr. Ezike. "So, the case definition is very simplistic. It means at the time of death, it was a COVID-positive diagnosis. So that means that if you were in hospice and had already been given a few weeks to live and then you also were found to have COVID, that would be counted as a COVID death. It means that, technically even if you died of a clear alternate cause, but you had COVID at the same time, it's still listed as a COVID death. So, everyone who is listed as a COVID death doesn't mean that that was the cause of the death, but they had COVID at the time of death. I hope that's helpful." (Emphasis added.)
There it is! Dr. Ezike was abundantly clear that anyone who dies who also happened to have COVID-19 would be counted as a COVID-19 death, even if they didn't necessarily die of that or even "died of a clear alternate cause." As such, some unknown number of the nearly 2,000 deaths ascribed to COVID-19 in Illinois likely fit this description.
Several weeks ago, I called attention to the fact that Dr. Birx and the CDC guidelines were indicating this same method of counting, but Facebook flagged my article as "false."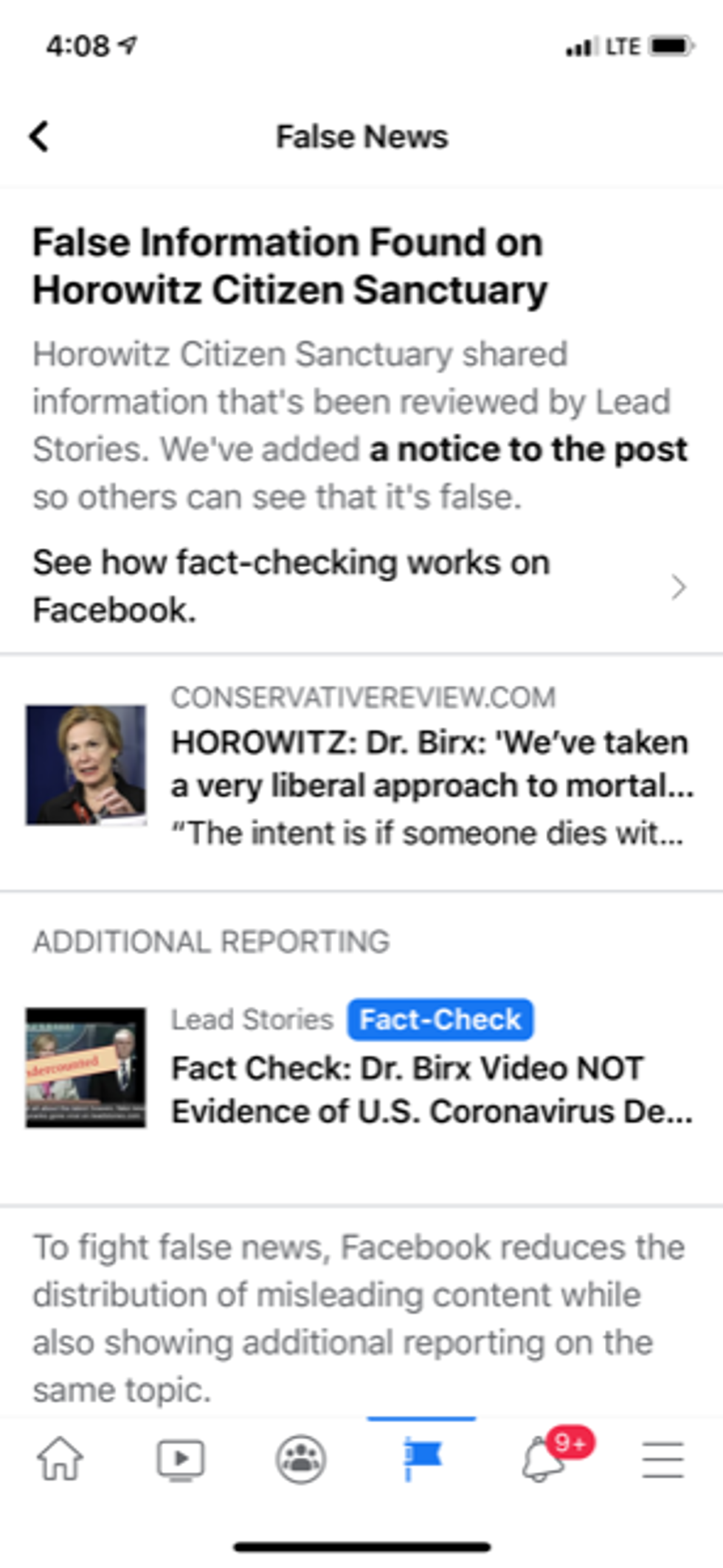 Now we know the truth. We're not only talking about people who have asthma or diabetes but clearly had many years to live, who then come in deathly sick with their lungs filled up. It certainly makes sense, in such a case, to count the deceased as a COVID-19 death. What doesn't make sense is to count anyone with heart failure or a stroke as a COVID-19 death simply because they tested positive.
There is a clear political incentive for the media and politicians to increase the death numbers as high as possible in order to justify the lockdown. There is also a financial incentive for hospitals to label a patient as a COVID-19 patient in order to get a 20% higher reimbursement rate from Medicare.
However, it's clear that there is also a third factor driving the eagerness to liberally ascribe deaths to COVID-19, and it has to do with the psychology of some of those treating these patients. In the self-fulfilling prophecy doubling down on wrong data about the fatality rate, doctors initially thought the virus was rarer than it truly was and therefore more deadly. Thus, it made sense if you saw someone die and test positive for COVID-19 … well, it must be because of COVID-19.
However, now we know that this disease likely spread to tens of millions of people and the case fatality rate in general is somewhere near 0.2%. Thus, it's reasonable to suspect that a large number of those who come in with multiple morbidities that clearly have nothing to do with COVID-19 were not killed by the virus. This is likely doubly true in the hospital where, because of the degree of contagion, many patients who exhibited no signs of respiratory illness will wind up catching the virus and therefore test positive for it. Thereafter, if they die, it will now be chalked up to coronavirus.
The big question is: What percentage of the official death count of 53,000 nationwide is false? Heart attacks, hypertension, and stroke don't cease to exist because of the virus. Clearly, an unknown number of deaths had nothing to do with the virus. After all, they are even counting all the hospice deaths in Illinois!
States like Pennsylvania have already had to revise deaths downward when too many people had been included in the COVID-19 count without proper evidence.
"We are being pressured in house to add COVID to the diagnostic list when we think it has nothing to do with the actual death," revealed Dr. Dan Erickson, the emergency room physician who claimed in a viral video that hospital administrations are pressuring doctors to sign autopsy death causes as COVID-19.
Last night, I broke the news on Twitter, while researching this article, that Dr. Erickson's viral video has been taken down from YouTube.
Now we know we are on to the truth.
Want to leave a tip?
We answer to you. Help keep our content free of advertisers and big tech censorship by leaving a tip today.
Blaze Podcast Host
Daniel Horowitz is the host of "Conservative Review with Daniel Horowitz" and a senior editor for Blaze News.
RMConservative
more stories
Sign up for the Blaze newsletter
By signing up, you agree to our
Privacy Policy
and
Terms of Use
, and agree to receive content that may sometimes include advertisements. You may opt out at any time.