© 2023 Blaze Media LLC. All rights reserved.
I know what many of you are thinking: "Yeah, but HE can win. So really, what difference—at this point—does it make?" But shouldn't it?
I was watching a movie the other day.
"Anna and the King," to be exact—and this time one scene stood out. It's when Mr. Kincaid (a smarmy British businessman) comes to the palace to stop Siam from going to war with British Burma over unprovoked attacks:
"As you know, I do a lot of business with the Siamese, many of whom have ended up dead in recent months. Which, as I've discovered, is all part of some elaborate plot to make you think we British are the villains. Well, I happen to know we're not. The acquisition of a particular little piece of information has cost me a small fortune, but the fact is, when all is said and done, I make more money with Mongkut on the throne. So, I think I'm about to become your best friend."
Long story short, Mr. Kincaid isn't there because he cares a wit about the Siamese people—he's there because it's in his best interest for Siam not to spiral into chaos.
Fair enough. And some people might say, "well, at the end of the day crisis is averted, so who cares how?"
Ok, but isn't it logical to assume that Mr. Kincaid would've stayed silent if Siam wasn't in the best interest of his pocketbook? After all, by his own admission, he's in this for himself.
It's a thought; keep it in mind.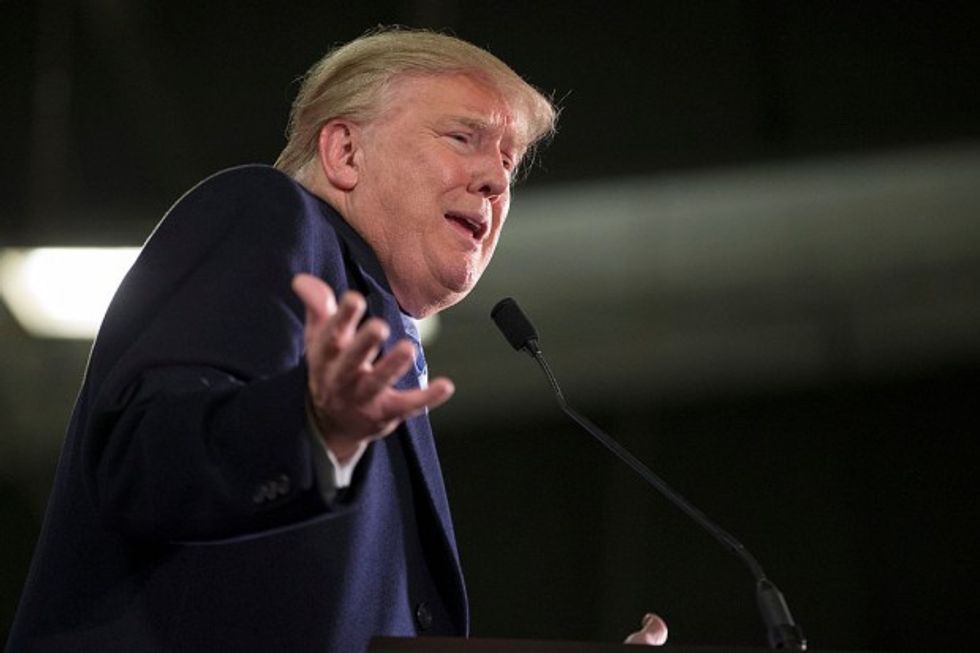 Donald Trump speaks at Hansen Agriculture Student Learning Center at Iowa State University, Jan. 19, 2016. (Getty Images/Aaron P. Bernstein)
This scene stood out to me because right now, the current Republican frontrunner for president happens to be an extremely controversial man with a confusing and often contradictory personal history—and also claims to be America's best hope for survival.
And there are thousands upon thousands of people who believe he is.
I'll cut to the chase. Donald Trump supporters, I think he's a Mr. Kincaid. I think that while he's raised important issues, his past speaks volumes about loyalties splattered all over the map. And he's asking us to believe him THIS time?
Humor me for a moment—I want to get your thoughts:
1. Donald Trump has donated to liberals. A lot of them. Ones he now says are extremely dangerous. His explanation? He had to do business.
Question: Are you willing to trust our country to a man who is willing to compromise his principles by donating to people he now says are destructive, because it benefitted him personally?
2. Let's set aside No. 1 for a second, and accept that he "had" to give money to keep doing business.
Question: Why go a step further and get vocal with his continued high praise of Hillary Clinton, and then Barack Obama?
3. Donald Trump wrote "Think Like A Champion" in 2009, in which he spoke glowingly about how Barack Obama's first year "was amazing" and that "the world is excited about Barack Obama and the new United States. Let's keep it that way."
Question: How can a person be so utterly wrong about someone, feel so strongly about it that he'd put it in a published book, and THEN (just a few years later) suddenly be so right about how to fix that same person's mess?
4. Donald Trump has talked a lot about how he'll "make better deals."
Question: Does he ever talk about making the government smaller?
5. From nationalizing banks, to single payer healthcare; from gun control to abortion; from proposing a wealth tax to eminent domain, Donald Trump has a significant and well-recorded history of left wing positions. And yet today, he's become extremely popular by touting conservative positions.
Question: Of these positions, what's his track record like?
6. To that end, people often bring up Ronald Reagan and his move from Democrat to Republican as proof that "people can change." And they sure can.
Question: Can you truly say that Ronald Reagan's "Democrat Party" is the same as the Democrat Party to which Donald Trump belonged to up until 2009?
7. Ok, let's assume Donald Trump really has changed; he's left his left-wingness behind.
Question: Is it really smart to trust the future of America to a guy who just changed his mind?
8. Donald Trump can be almost cartoonish in his mocking of people he doesn't like (think the disabled reporter he made fun of.) I'm not saying our presidential candidates should be (as my mother once referred to Bob Dole) "soggy pieces of toast," but…
Question: If this is how he acts when he's still "wooing" America, what happens once he's got the presidency? There's a difference between confidence and cruelty—is it wise to give such immense power to someone with little "moral compass?"
9. We despise Barack Obama's abuse of executive power—and for very good reason. It's dangerous. And wrong.
Question: So what makes some of Trump's proposals (i.e. forcing Ford to come back from Mexico or else ) any less dangerous?
10. Donald Trump once said that his sister (a pro-partial birth abortion ultra-liberal federal judge) would make a "phenomenal" Supreme Court justice. Remember, this next president will get to appoint two to four Supreme Court justices.
Question: While Trump said "we will have to rule that out now, at least," if he thinks his radical sister is a solid choice, what makes you think he wouldn't appoint someone like her?
I know what many of you are thinking: "Yeah, but HE can win. So really, what difference—at this point—does it make?"
But shouldn't it?
Mary Ramirez is a full-time writer, creator of www.afuturefree.com(a political commentary blog), and contributor to The Chris Salcedo Show (TheBlaze Radio Network, Saturday, from noon to 3 p.m. ET). She can be reached at: afuturefree@aol.com; or on Twitter: @AFutureFree
–
TheBlaze contributor channel supports an open discourse on a range of views. The opinions expressed in this channel are solely those of each individual author.

Want to leave a tip?
We answer to you. Help keep our content free of advertisers and big tech censorship by leaving a tip today.
more stories
Sign up for the Blaze newsletter
By signing up, you agree to our
Privacy Policy
and
Terms of Use
, and agree to receive content that may sometimes include advertisements. You may opt out at any time.