The American healthcare system has been getting sicker and sicker over five decades. Every time Congress "fixes" healthcare, the system is even more broken and We the Patients suffer.
Government Fixes-That-Fail-Or-Backfire In Healthcare
Medicare (1965) was supposed to cover us after we retire. It will be bankrupt within 14 years.
Medicaid (1965) was supposed to take care of the health needs of the poor. Those with no insurance do just as well as those with Medicaid coverage.
Emergency Medical Treatment and Labor Act of 1986 created the unfunded mandate, which forces hospitals to bill you $2 for an aspirin.
The Unfunded Mandate Reform Act of 1995 was supposed to fix the previous unfunded mandate. It did not. Hospitals still must over-charge the insured to cover the cost of care for the uninsured.
Despite the Health Insurance Portability and Accountability Act of 1996, health insurance still isn't portable.
Obamacare was supposed to bend down our national spending curve and save each family $2,500/year on health insurance. National spending is up, way up, and health insurance is less affordable than ever.
At present, healthcare and therefore We the Patients are critically sick. Doctors are quitting at alarming rates and nurses are in short supply. While insurance costs are in the stratosphere, the cost of care itself is in outer space. Insurance carriers are leaving the market. Hospitals are closing. And due to Obamacare's $2.6 trillion price tag, national over-spending on healthcare, approaching 20 percent of GDP, is crowding out all other vitally needed expenditures such as education, infrastructure and military.
What are the answers proposed by the remaining contenders to reside in the White House come January 2017? Two words describe them: delusional and frightening.
Democrat Candidates
Hillary Clinton wants to "build on the success of Obamacare," for which she is/is not responsible. Other than increasing the number of insured Americans through "free" Medicaid insurance and massive expansion of the federal bureaucracy, what other successes can she point to? Building on Obamacare is erecting a skyscraper on top of a pile of ashes. Those ashes are what remains of healthcare after Obamacare diverts care dollars to healthcare bureaucrats.
Bernie Sanders wins awards in two categories: Sincerity and Magical Thinking. There is little doubt he means well for the American people. There is also little doubt that solving healthcare's problems by a single-payer system is taking the reason healthcare is sick in the first place—cancer of bureaucracy—and making sure that the malignancy spreads to everyone in the nation!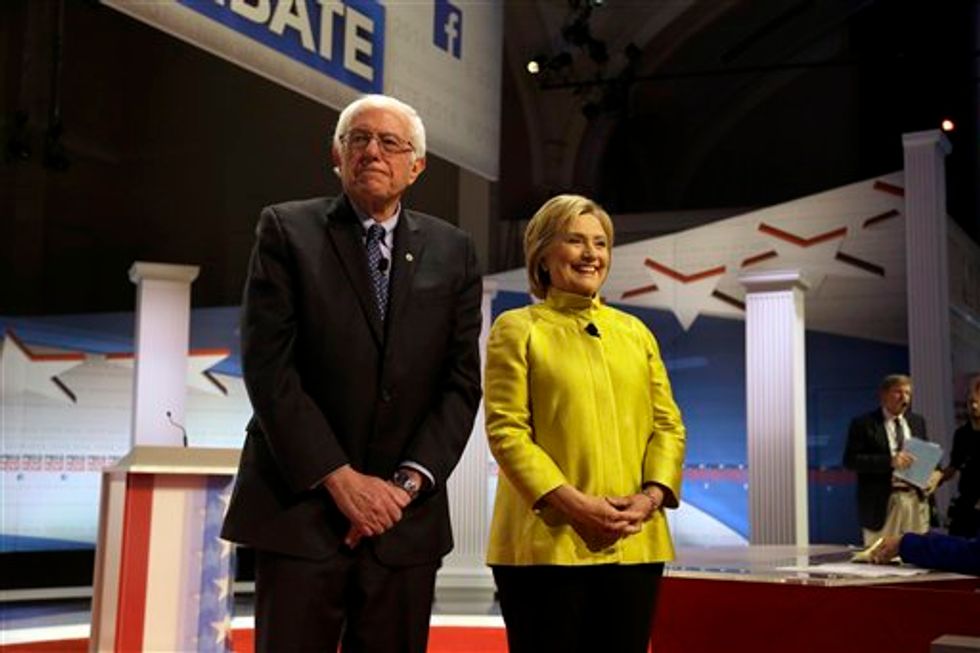 Bernie Sanders and Hillary Clinton take the debate stage in Milwaukee. (AP/Tom Lynn) 
Republican Candidates
On the Republican side, they certainly know what they don't want: anything—like Obamacare—that originated on the other side of the aisle. They have no idea what is wrong with healthcare, much less how to fix it.
Frontrunner Donald Trump is truly clueless. He seeks to mollify voters with "returning America's greatness" and "I know how to fix healthcare," but nothing substantive. I doubt he has time to study the evidence between carefully scripting his off-the-cuff sound bite insults and hairdresser appointments.
Florida Sen. Marco Rubio has some real understanding of how Obamacare works, or should I write doesn't work? That is why he prevented a taxpayer bailout of insurance companies over-burdened with Obamacare costs. Though he makes the right noises speaking about increasing market competition in healthcare, he thinks he can do that by government mandate.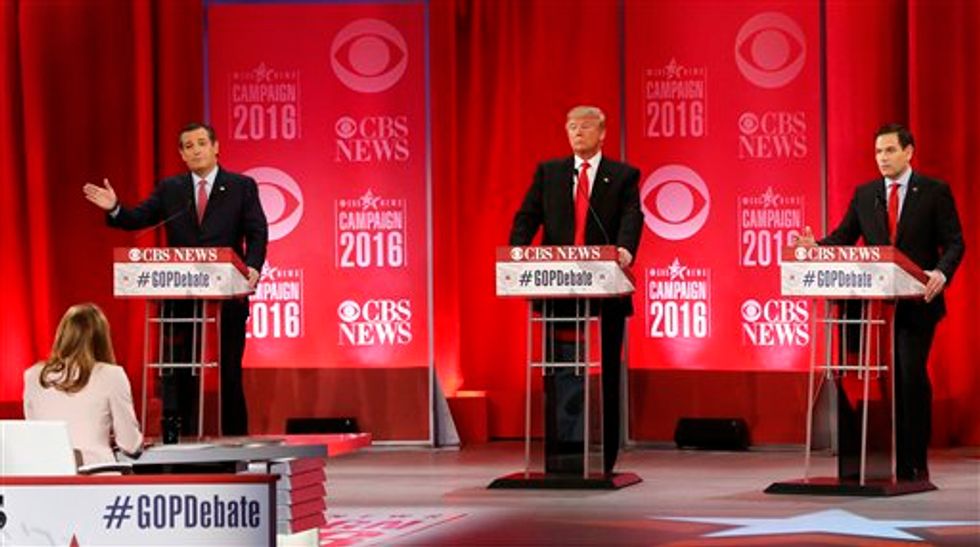 Republican presidential candidate, Sen. Ted Cruz, R-Texas, left, speaks as Republican presidential candidate, businessman Donald Trump, center and Republican presidential candidate, Sen. Marco Rubio, R-Fla., look on during the CBS News Republican presidential debate at the Peace Center, Saturday, Feb. 13, 2016, in Greenville, S.C. (AP Photo/John Bazemore) 
As I write repeatedly but politicians refuse to listen, "Expecting Washington to fix healthcare is waiting for cancer to cure cancer."
Gov. John Kasich, as well meaning and sincere as Sanders but more thoughtful, wants to "help people pay healthcare costs by cutting taxes." The problem is he also wants to keep Medicare and expanded Medicaid. Where is the money coming from to pay for these entitlements?
Texas' junior Sen. Ted Cruz knows what he hates. He said he would "throw my body in front of a train to stop Obamacare." He doesn't seem to understand that healthcare was sick long before Obamacare poisoned it. Mr. Cruz spouts market-based solutions with no understanding of why healthcare doesn't work. Without knowing the cause of illness, you cannot cure a sick patient, whether human, animal or system.
It is my duty as a physician to tell the truth to patients, even or especially when the news is not good. Whoever is president come 2017—Democrat or Republican; Clinton, Sanders, Trump, Rubio, or Kasich—there is little hope for patient Healthcare.
Dr. Deane Waldman MD MBA is author of just released "The Cancer in the American Healthcare System;" Host of www.wecanfixhealthcare.info; Professor Emeritus of Pediatrics, Pathology and Decision Science; and Adjunct Scholar (Healthcare) for the Rio Grande Foundation, a public policy think tank. Dr. Deane sits on the Board of Directors of the New Mexico Health Insurance Exchange as Consumer Advocate. Opinions expressed here are solely his and do not necessarily reflect the opinions of the Board.
Feature Image: Shutterstock
–
TheBlaze contributor channel supports an open discourse on a range of views. The opinions expressed in this channel are solely those of each individual author.