As you're probably aware, earlier this week the Supreme Court came down with its most important ruling on abortion in years. The ruling struck down a law out of Texas which required, among other things, that abortion facilities meet the same minimal health and safety standards as other ambulatory surgical centers and that abortionists have admitting privileges at nearby hospitals.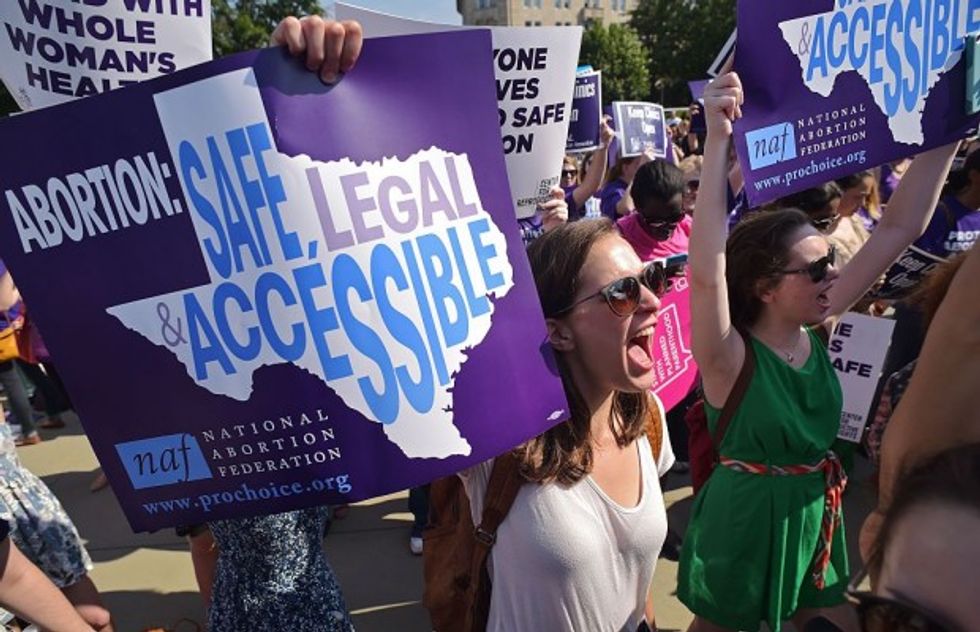 Pro-choice activists hold placards and chant outside of the US Supreme Court ahead of a ruling on abortion clinic restrictions on June 27, 2016 in Washington, DC. (MANDEL NGAN/AFP/Getty Images)
It was arguably the most sensible law ever enacted related to abortion. It meant that abortion facilities could not be filthy wastelands, needed to meet fire codes, and had to be capable of wheeling an unconscious person outside to an ambulance in the event of an emergency. It meant that if a woman suffered a ruptured uterus during the procedure, the abortionist would need to be able to admit her to a hospital as expediently as possible.
But the law was struck down. The ruling - aside from being one more example of the federal government infringing on the rights of states to govern themselves - served to demonstrate just how entrenched abortion is in the modern political sphere.
There is no shortage of takeaways that one could glean from this, but here are three of the most important.
1. Any law that even so much as decreases access to abortion can be considered unconstitutional.
This ruling affirms, and takes one step further, the precedent set in Planned Parenthood v. Casey in 1992 that any law which creates an "undue burden" on a woman seeking an abortion is unconstitutional. In this case, the undue burden arose because abortion facilities across Texas have been either unwilling or unable to meet the basic health and safety guidelines laid out in the law. As a result, the facilities were being forced to close, which in turn produced a decreased access to abortion. This decreased access to abortion resulting from the law operated as the undue burden. Thus, the law was unconstitutional.
But this is terrible logic. If sensible regulations are enacted and certain facilities have to close their doors, it doesn't mean that the regulations are flawed. Indeed, an abortion facility that cannot meet basic health and safety regulations has no business doing outpatient surgeries, no matter whether those regulations decrease access to abortion or not.
Yet amazingly, the Supreme Court ruled that abortion facilities are not required to meet the same basic health and safety standards as other outpatient surgical centers if requiring them to do so means that fewer women can access abortion.
This reaffirmation sets the precedent that other laws related to abortion access can also be struck down. It does not take a lot of imagination to see how a restriction on a particular type of abortion or the time in which an abortion may be obtained could be interpreted as decreasing access to abortion. Even though these types of laws have stood in the past, this ruling could potentially be used to strike down any existing laws which restrict abortions as well.
This paves the way for a long uphill climb for pro-lifers who wish to see abortion eradicated in this country.
2. The liberal left claims to care about women, but that claim can legitimately be rejected.
This is not exactly breaking news. The Democratic Party, and liberals in general, have long been heralded as champions of women. They seek to allow women to "have control over their own body and reproductive choices," as if this were the whole of what it means to be a woman. They have claimed themselves the "party for women" and "advocates for equality."
Meanwhile, over the last few months, Democrats have pushed for policies that allow men into women's bathrooms and policies which infringe on the privacy of women. They have thrown themselves behind a presidential candidate who has a known history of silencing female victims of her husband's sexual misdeeds. Now they are advocating for policies that will subject women seeking abortions to second-class facilities which operate with virtually no health or safety standards.
None of that qualifies as championing women. Indeed, silencing women who are victims of sexual assault, infringing on their privacy, destroying their safe spaces, and relegating them to sub-standard facilities while encouraging them to reject the most life-affirming aspect of their bodies is precisely what I would do if I hated women.
Organizations such as Planned Parenthood and NARAL will undoubtedly continue to herald this as a pro-woman decision, but that's nonsense. There isn't a single group of females that benefits from this decision other than perhaps female abortionists.
3. Policy change on abortion is going to have to start with a cultural shift.
Culture drives politics, not vice versa, as one might be tempted to think. The discussion on gay "marriage" changed only after decades of grassroots efforts aimed at changing hearts and minds one by one. It was not an overnight occurrence, and it did not come easily for its advocates.
Those who advocate for an end to abortion should have the same timeframe in mind. We should gear up for a long-term fight and plan strategies accordingly. Barring something unforseen, this battle is going to wage on well into the future. The Supreme Court has now set a precedent that will be extremely difficult to overcome.
Fr. Frank Pavone of Priests For Life famously stated that "America will not reject abortion until America sees abortion." Abortion needs to be exposed for what it is, and that's not going to happen at a policy level. It is going to happen at a person-to-person level with a "one heart, one mind at a time" approach, helping those entrenched in the culture come to see the reality of what abortion is and what it does. It's going to take personal conversations and being willing to challenge liberal dogmas whenever possible.
Only then will we be able to make any headway in the battle to end abortion and defend the most innocent among us.
Cullen Herout is a pro-life, pro-family writer. He has a passion for writing about life issues, Marriage, fatherhood, and creating a culture of life. Follow him on Facebook here or at his own blog, Ready To Stand.
–
TheBlaze contributor channel supports an open discourse on a range of views. The opinions expressed in this channel are solely those of each individual author.