Despite a tight race in Iowa, Donald Trump has come back and won in New Hampshire, getting 35 percent of the votes. Although there is still a long way to go before the convention, this victory should be worrisome for any conservative or people wanting real change. Here are four reasons why.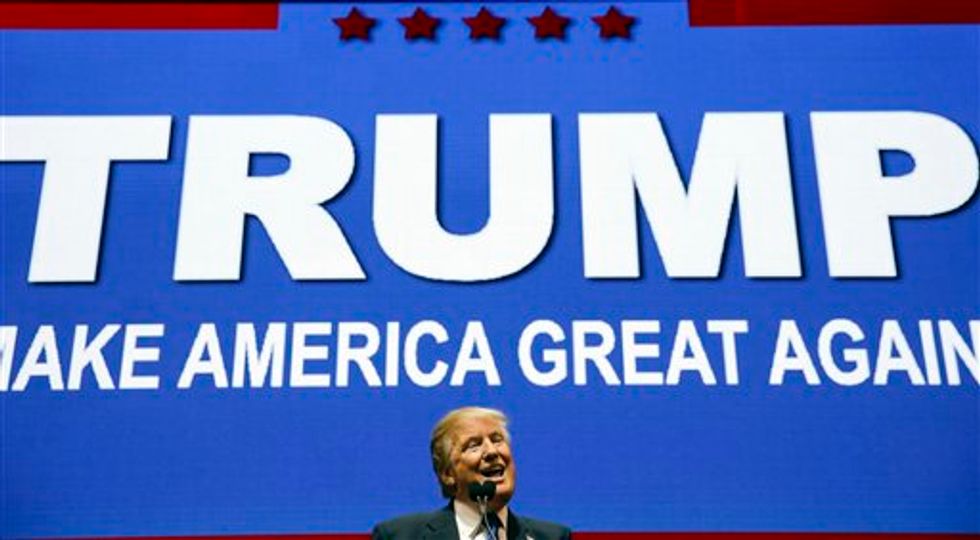 Donald Trump addresses a crowd during a campaign rally Monday. (AP/David Goldman)
He's Not Even a Conservative
Donald Trump is campaigning for the Republicans out of opportunism rather than conviction. Although he never said that Republican voters are idiots, many of his policies are not conservative.
He used to support universal healthcare; now he supports increasing funding for deadweight programs like Medicare and Medicaid. He also approves of the status quo for Social Security, which has nearly $14.7 trillion in liabilities. He supports straight, white male racism, i.e. affirmative action. And although he wants to defund the Environmental Protection Agency, he wants to open discussions with environmentalists whose only goal is to destroy civilization.
He's All About Appearances, Not Content
Candidates like Ted Cruz know that Big Government is a problem and propose real solutions like balanced budget amendments, auditing the Federal Reserve and cutting ethanol subsidies.
Donald Trump is a "great talker but a little doer" to quote a famous French saying. He says he wants to make America great again, favor economic growth and jobs without putting any clear plans forward. Would he cut red tape? Would he stop ethanol subsidies? What lengths is he willing to take to stop rogue regulatory agencies from eroding the Constitution further?
But from the few things he actually proposed, it's not looking so bright. The Tax Foundation believes that he has one of the weakest plans for growth.
He's a Fascist
While the word fascist usually evokes an infamous Austrian dictator, it's very fitting for Trump.
Like a dictator he uses government might to fulfill his personal ambitions. You might have heard of Vera Coking, a retired widow from Atlantic City who fought against Trump's bullying. She refused to sell her house so Trump could build a parking lot as part of his estate development in the area. Trump tried to use eminent domain but ultimately lost.
But with the Supreme Court redefining the Fifth Amendment in Kelo v. City of New London, who knows what President Trump might allow. He applauded the decision, after all.
He Ignores Basic Economics
Finally, conservatives are supposed to support smaller government and want fewer restrictions everywhere in the economy. Not Donald Trump.
He uses liberal talking points when saying that he favors "fair trade." This expression is completely meaningless and is against what the Enlightenment taught us. Indeed, the concept of comparative advantage is more than a theory; it's why trade happens. Since not a single country is able to be self-sufficient in a cost-effective manner, stopping ineffective production frees up resources for better use. Otherwise Alaska would have to produce its own bananas and oranges.
Yes, some countries are subsidizing their production and are able to produce for less… so what? Let them waste their resources on unprofitable industries and let U.S. consumers profit from it. Who knows, maybe they will have enough money in their pockets to create processes to beat even the "artificially" low prices!
Besides a bubble always bursts, and China's bursting of the ghost-city bubble will be ugly. With the proper policies America can be "great again" and surpass this authoritarian country.
Since Lent starts today, why not take these 40 days in order to think thoroughly whether Trump deserves your vote or not? Hopefully this reflection will make you realize that Donald Trump is not the "savior" you need to save you from the Barack Obama nightmare.
–
TheBlaze contributor channel supports an open discourse on a range of views. The opinions expressed in this channel are solely those of each individual author.