Before authorities could announce all of the names of the dead from the Colorado Springs Planned Parenthood shooting, Colorado Gov. John Hickenlooper took to the airwaves Sunday on CNN's State of the Union to say that "bloggers and talk show hosts" share ideas that "trigger" events like Friday's shooting.
Speaking with CNN's Brianna Keilar, Hickenlooper said:
"It's a function of inflammatory rhetoric that we see on so many issues. There are bloggers and talk shows where they really focus on trying to get people to the point of boiling over to intense anger. Maybe it's time to also look at how do we tone down that rhetoric... If people are in some way emotionally unstable or psychologically unbalanced, that intensity of rhetoric sometimes seems to pull a trigger in their brain..."
While the governor said he would not try to pass laws to "limit free speech," his remarks certainly pointed the finger squarely at conservative media.
First, Colorado's governor doesn't know that his remarks are an offense to both the First and Second Amendments. To suggest that ideals or political beliefs expressed in free speech are grounds to shoot other human beings is beyond logic and reasoning, and it is not something in which responsible gun owners partake. The violence was publicly condemned by pro-life, conservative groups, and GOP presidential candidates alike. With Tweets and official statements flying around over the weekend from Dr. Ben Carson to the Family Research Council, Hickenlooper would have surely known this.
Second, the comments were beneath the office of a sitting governor of a state currently reeling from crisis. I can tell you as a crisis communications director and political appointee of former Gov. Arnold Schwarzenegger at the time of the historic California wildfires, what people need most in crisis is reassurance, comfort and care - not political rhetoric.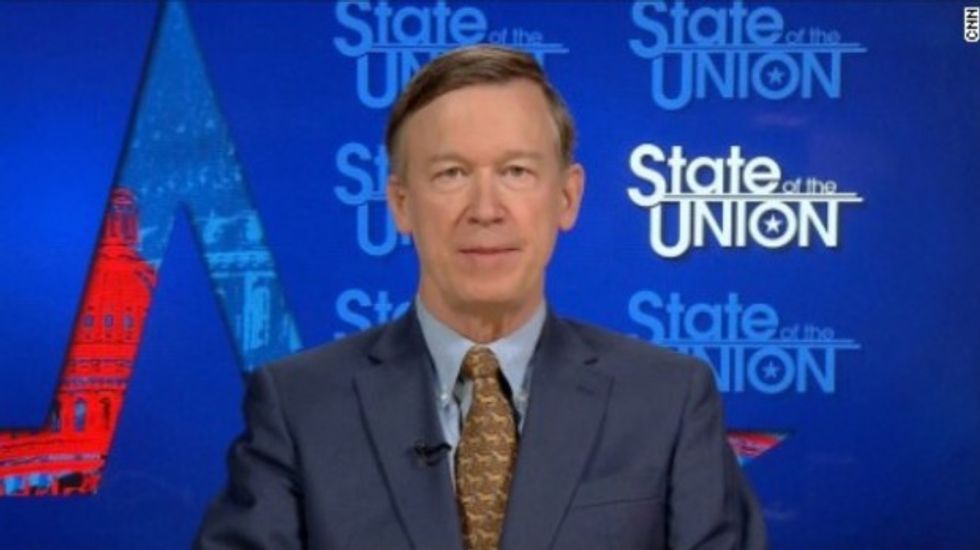 Colorado Governor John Hickenlooper on CNN's "State of the Union" suggesting that "bloggers and talk shows" "trigger" events such as the Planned Parenthood shooting in Colorado Springs. (Screengrab) 
Third, Hickenlooper appears to have learned very little from his "annus horribilis" in 2013 when - after passing the strictest gun control in the nation - two of his top Democrats including the State Senate president were recalled in Colorado's first recall of state legislators in 140 years of statehood.
But it's not the first time a politician would trip all over himself blaming the conservative media.
In 1995, former President Bill Clinton blamed talk radio host Rush Limbaugh for the Oklahoma City bombing.
Hickenlooper is no different.
In fact, he may have been asked by the Clinton camp to make such a statement. After all, Hickenlooper is a supporter of Hillary Clinton and even though he recently expressed doubts about her ability to win, he has long been speculated to be a contender for the coveted vice presidential ticket. In fact, Hickenlooper's campaign manager now works for Hillary.
Whatever the case, Hickenlooper is clearly prescribing to the Democrats' rule of never letting a crisis go to waste.
And that, unfortunately, is a colossal waste of leadership for a state that, right now, badly needs its leaders.
–
TheBlaze contributor channel supports an open discourse on a range of views. The opinions expressed in this channel are solely those of each individual author.