On June 9, 2014 America experienced a political epiphany.
Since that day the battle for the soul of America has been ineluctably reduced to two stark sides. One side believes that illegal immigration is destroying the character of America and threatening freedom. The other side welcomes the change.
The open borders crowd is unambiguous. The Democrats want to change the character of the electoral process with millions of new dependable Democrat votes. Those voters will be rewarded with an expanded welfare state. The Chamber of Commerce is uninterested in the character of America. They just want cheap labor.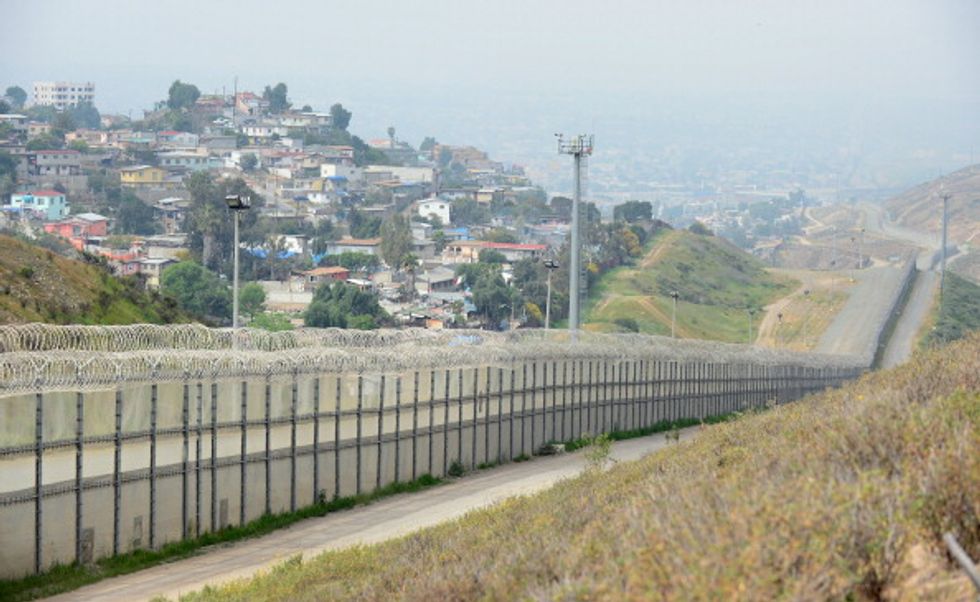 A fence runs along the US-Mexico border between the Otay Mesa and San Ysidro ports of entry in and near San Diego, California, across from Tijuana, Mexico (L). (Photo credit: Frederic J. Brown/AFP/Getty Images) 
In the Republican primary in Virginia's Seventh District on June 9 Dave Brat, a young anonymous college professor, defeated House Majority Leader Eric Cantor. Brat ran a simple straightforward campaign. He was opposed to runaway federal spending and amnesty for illegal immigrants. He said, "Stop!"
Cantor, the sophisticated political leader, was more "nuanced" in his position. He assured the great unwashed that he was on their side while the Chamber understood that in the end they could count on him.
Polls showed Cantor winning handily. He outspent Brat $5.45 million to $207,000. Brat won by 12 points. It was the first time a sitting leader had been defeated.
It turns out that the great unwashed doesn't give a damn about cheap labor. They want to preserve the character of the country they hold dear. They can see through "nuance" with X-ray vision.
The biggest surprise to me in this year's presidential campaign has been the inability of professional politicians to see what Donald Trump sees clearly.
I attribute Trump's vision to his avoidance of campaign consultants. Since he has no professionals around telling him what the people need to hear he is left with actually listening to the people. It seems to be working.
Trump has offered many goals, but few policies. On immigration he is specific. He will build a fence.
US Border Patrol agent Jerry Conlin looks out over Tijuana, Mexico, behind, along the old border wall along the US - Mexico border Thursday, June 13, 2013, where it ends at the base of a hill in San Diego. Illegal immigration into the United States would decrease by only 25 percent under a far-reaching Senate immigration bill, according to a recent analysis by the Congressional Budget Office.Credit: AP
Jeb Bush began his campaign by saying that immigration was an "act of love." His wife is an immigrant from Mexico and he sees this issue through the eyes of families wanting to reunite.
To Jeb's credit he has remained consistent. He continues to believe that there should be a pathway to citizenship for the 12 million who are here illegally.
Marco Rubio was a ringleader in the Gang of Eight. The bill passed by the Senate was a comprehensive proposal that would have allowed for legal status today for those here illegally with border security in the future.
America has been down this road before. When President Ronald Reagan signed the Simpson-Mazzoli Act of 1986, 3 million illegals received immediate amnesty with the promise of border security in the future. As is so often the case, the future never came.
Rubio is now committed to making the border secure before we take the next step in considering what happens to those already here. He hasn't succeeded yet in convincing the Republican base that they can trust him.
Throughout this race there have been prominent conservatives who have been loud and active supporters of Trump because of his stand on immigration.
Radio host Laura Ingraham and author Ann Coulter have become one-issue voters. They are articulate and they have followings. They are undeniable leaders of the "closed border" crowd.
They believe that if we don't close the border once and for all it doesn't matter what we believe on the climate scam, taxes, abortion, regulation and other deeply held passions. That will be moot.
For generations the Democrats will have the votes to walk over us just as they did on Obamacare. We must get control of our borders to even get to a debate on other issues. Such as:
We learned in New Hampshire of the epidemic of heroin overdose deaths. Those cheap drugs come to us through a porous southern border.
Sixty two percent of all the families in America headed by illegal immigrants are on welfare.
A study by the Federation for American Immigration Reform concludes that illegal immigrants cost U.S. taxpayers $113 billion each year adding to the crushing debt on future generations.
We learned from the Director of National Intelligence James Clapper last week that the Islamic State is infiltrating border crossings and refugee programs. He said that we should expect an attack on our soil this year.
Supporting candidates who will close the border is not an act of xenophobia. It is an act of love – of America. It is also an act of survival.
If you would like to be added to John Linder's distribution list please send your email address to: linderje@yahoo.com or follow on Twitter: @linderje
–
TheBlaze contributor channel supports an open discourse on a range of views. The opinions expressed in this channel are solely those of each individual author.