In October 2011, violent clashes occurred in Cairo between Coptic Christians and Muslims, a direct result of the Muslim-dominated government brought to power with the assent of the administration of President Barack Obama.
My friend, the late Joseph Wahed, whose family's roots went back a thousand years in the city and whose entire family was thrown out in a single night in 1952, watched the conflagrations in Cairo's streets and remembered the prophecy of his Coptic neighbor. As Wahed's family was being banished from the only homeland they knew, his neighbor uttered an old Muslim proverb, "After Saturday comes Sunday."
He was reflecting on the future of his fellow Coptic Christians, for the proverb was widely taken to mean that first Islam will get rid of the Jews and then the Christians. Wahed was so moved by this memory that he penned a letter about it that appeared in the Wall Street Journal on Oct. 17, 2011.
But this was not the only part of that experience that stirred Wahed. He was upset by a statement in the Journal's coverage of the clashes, which felt a need to issue the obligatory apologia for Islamic culture:
"Egyptians have long prided themselves on a shared sense of citizenship that straddles religious boundaries."
Of course, this is politically correct nonsense. Egyptian law prevented Jews and some Christians from acquiring citizenship. Dhimmi, the Islamic imposition of de jure second class citizenship on non-Muslims, was part of Egyptian law into the 1920s. Christians, watching the mass exile of Jews from Islamic countries, wondered when the inevitable Sunday following Saturday would make it their turn.
And so it has happened in more ways than one.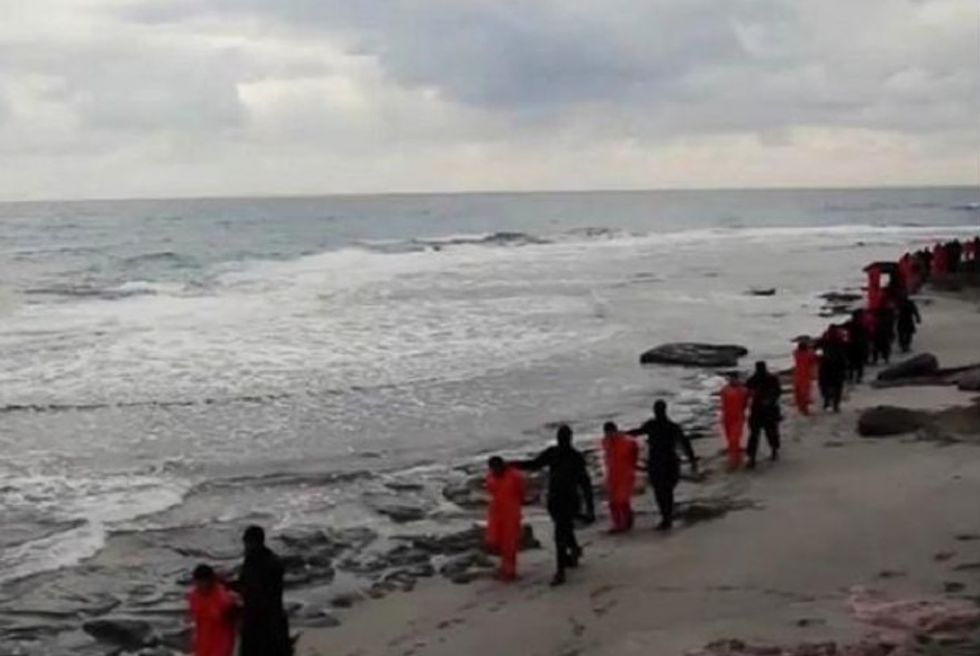 FILE - In this file image made from a video released Sunday, Feb. 15, 2015 by militants in Libya claiming loyalty to the Islamic State group purportedly shows Egyptian Coptic Christians in orange jumpsuits being led along a beach, each accompanied by a masked militant. Egypt is making an ambitious bid to place itself at the center of the fight against extremism across the Middle East. Beyond fighting militants in its own Sinai Peninsula, it is trying to organize an international coalition against the Islamic State in Libya and helping Saudi Arabia defend its borders.AP Photo, File)


As the world ignored the mass expulsion of Jews from the Islamic world, it is also ignoring the reality of what is happening to Christians. It was tiny Israel, barely born, that took in the Jews of the Islamic world. There was not a penny of international assistance from the United Nations, the mainstream Protestant Churches that now advocate boycotting Israel, or anyone in the international community. Israel took in these refugees even when there was not enough food in the country to feed everyone three meals a day.
Who will take in the Christians? Who will stand up and acknowledge their plight? Certainly not President Barack Obama! He is incapable of mouthing the word, "Christian," to acknowledge those who are the latest victims of Islamic State in Libya.
Twenty-one Christians are simultaneously, wantonly, and graphically beheaded and the so-called leader of the free world can no more acknowledge that these people are killed for their beliefs as Christians than he can acknowledge that their murderers are Muslim terrorists—no more than he can acknowledge that the people slaughtered in a French kosher deli were Jews.
But if that were not sufficient to spark outrage, Christians that are victims of Islamic State in Syria and Iraq do not qualify for resettlement in America, as do Muslims.
The Department of State is adhering strictly to a rule that only refugees in refugee camps qualify for resettlement. Christians stay away from refugee camps as they are dominated by Muslim refugees and have Islamic State collaborators in them. The president who has a cell phone, a pen, and an ability to trample the Constitution when it comes to admitting illegal immigrants has no tools at his disposal for helping Christians fleeing Islamic State. The Christians are seeking safe haven, not economic advancement.
There are no Jewish refugees in Iraq or Syria. They were expelled more than half a century ago. Their expulsion was indeed a harbinger of things to come, and the manner in which the world chose to ignore their plight was also a portent of what would befall the Sunday people.
The president will take no action on their behalf. The mainstream liberal churches are too busy trying to boycott Israel to be concerned with their Christian brethren. The campuses are too consumed with destroying capitalism and apologizing for Islam to take notice.
The Reverend Franklin Graham succinctly noted the hypocrisy when he said that if Christians had beheaded 21Muslims, President Obama would have no difficulty pointing to the religion of the victims.
The administration's silence is all the worse because it was Hillary Clinton's policy of bringing down a stable dictatorship in Libya that sowed the chaos that resulted in the fruition of Islamic State in Libya.
It was Barack Obama's premature withdrawal of forces from Iraq and his inconsistent policies in Syria that aided Islamic State.
It was the president's support of the Muslim Brotherhood in Egypt that led to the proliferation of fundamentalism and anti-Coptic riots there.
Wherever we turn in the Middle East, the largest beneficiary of Barack Obama's policies has been fundamentalist Islam. And if the Egyptian military had not overthrown the Muslim Brotherhood, over Obama's opposition, the fundamentalist Muslim Brotherhood would control the largest army in the Muslim world. Rest assured, no Muslim Brotherhood government would be bombing Islamic State in Libya as the Egyptian government did in reprisal for the murder of the Copts.
It is time for all people of goodwill to realize that there is a Christian holocaust underway. It is vital for America to open its doors to Christian victims and to acknowledge that they are being slaughtered not because they are victims of some unnamed zealots,but for their faith. It is all the more vital that this is done because, intentionally or not, the problems Christians confront are in no small measure a consequence of our policies in the region.
The world ignored the Saturday people, but they had Israel. The Sunday people should not be ignored. At the moment, they do not have even a fledgling state that is willing to erect tents and share its food to save their lives.
During the Holocaust, the Jewish leadership was afraid to speak out. Individual Jews acting against the express wishes of their community leadership saved thousands of European Jews during and after the Holocaust.
The Christian community should learn from that tragic lesson. The Reverend Franklin Graham needs a chorus added to his voice. But more than words, Christians need to find a way to save Christian lives even in confrontation with the Obama administration and those among their leaders who chose to remain silent.
–
TheBlaze contributor channel supports an open discourse on a range of views. The opinions expressed in this channel are solely those of each individual author.