Make no mistake, our humiliation on Farsi Island this week was not an accident. This capture of two American Navy boats by the Iranian Revolutionary Guard was a direct result of the Iran nuclear deal. The deal has emboldened hardliners in Iran, and will ensure that they hang on to power for many years to come -- and without any change in their behavior.
While our American sailors were on their knees with their hands in the air, the president of the United States proclaimed in his last State of the Union address that our international standing around the world could not be greater.
Pooling key senior contacts in the Persian Gulf within minutes of the humiliating appearance of our soldiers on television, Kuwaitis, Bahrainis, and Emiraties proclaimed that they never would have thought to see the day that American soldiers kneel in front of Iranians troops.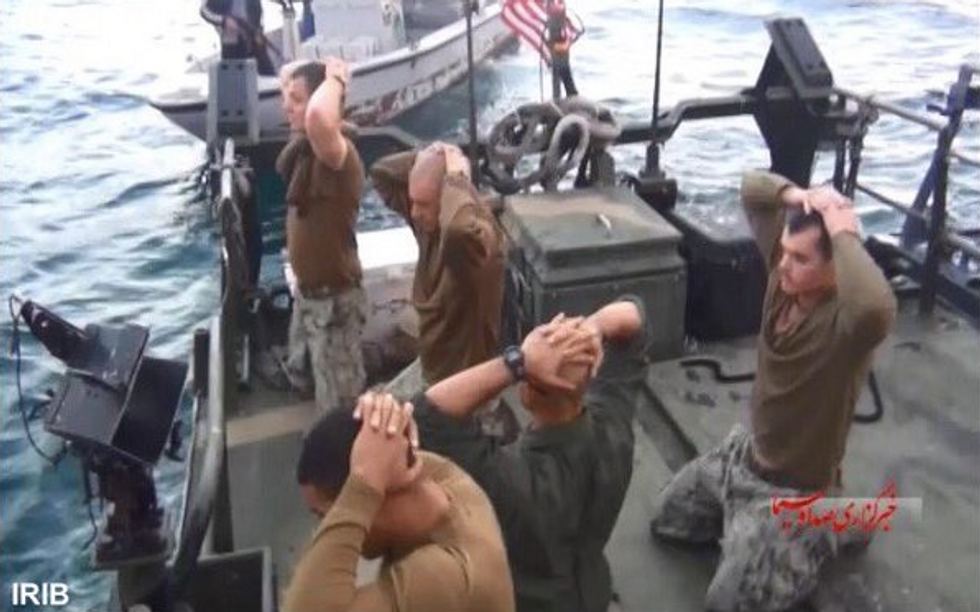 One of the images released by the Iranian government of the capture of U.S. Navy sailors, from ABC News.
Without exception, key contacts proclaimed that this should be a lesson learned to the Americans -- underlining Iran's behavior, that we should expect will not falter for many years to come.
Once again, our liberal leadership continues to implement the "inclusion-moderation" theory, believing that by bringing hardliners into the political tent, they will moderate their behavior. Well, it didn't work in Egypt, Jordan or the Gaza Strip. I hope this last incident should put yet another hole into that theory.
To add insult to injury, the liberal spin on this recent Iran hostage situation at sea is to believe that through the Iran nuclear deal, we now have better direct contacts -- as well as a very senior level, so that we may undo these tricky situations when they happen.
–
TheBlaze contributor channel supports an open discourse on a range of views. The opinions expressed in this channel are solely those of each individual author.