The Hollywood liberals are eating their own. It seems as though you can't look around these days without seeing some actor being thrown under the bus or attacked by the social justice warriors, both in Hollywood and in the fandom. These actors, it seems, have begun taking a stand.
Earlier this year, actors Chris Evans and Jeremy Renner came under fire for a joke they made about the perceived promiscuity of the Black Widow character in their Avengers franchise. This prompted fellow Marvel star, Chris Pratt, to issue a pre-emptive apology for anything he might accidentally say that could offend the delicate sensibilities of the social justice warriors.
"Arrow" star Stephen Amell - who plays billionaire Oliver Queen and his superhero alter-ego Green Arrow on the CW television series - lives under a self-imposed censorship policy where he refuses to comment on current events. Recently, he broke that policy and those on the left wasted no time going after him.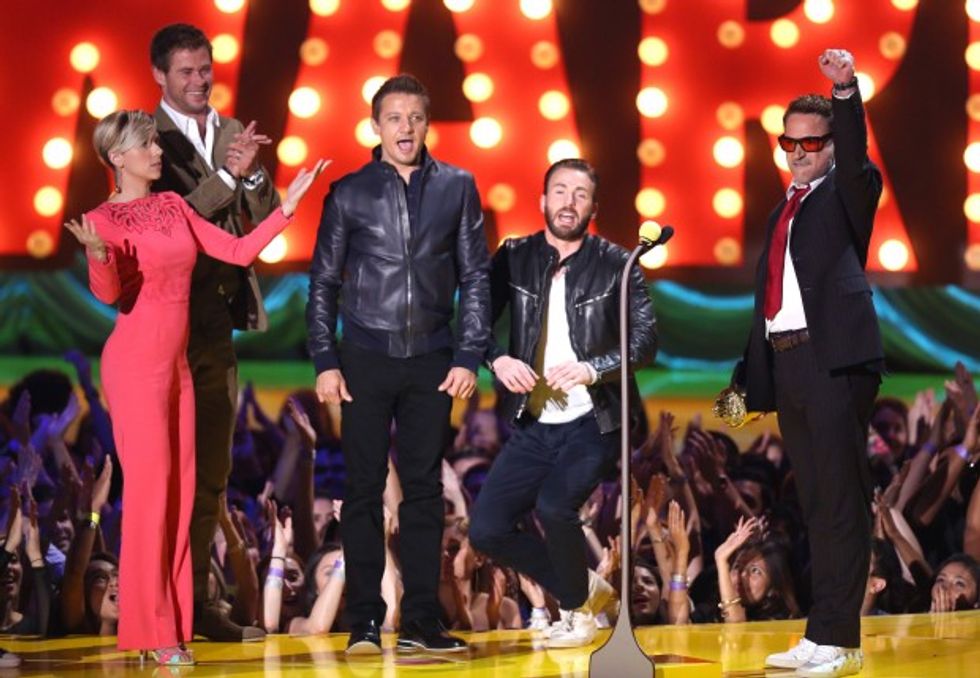 Scarlett Johansson, from left, Chris Hemsworth, Jeremy Renner, and Chris Evans present Robert Downey Jr. with the generation award at the MTV Movie Awards at the Nokia Theatre on Sunday, April 12, 2015, in Los Angeles. (Matt Sayles/Invision/AP)
Amidst the outrage over the perceived mistreatment of Muslim high school student Ahmed Mohammed over a home-made clock - that suspiciously resembled an improvised explosive device - Stephen took to Twitter to decry the stereotyping of all Texans as racist, saying that it is profiling just as many felt Ahmed was profiled because of his religion and ethnic background.
At first Amell held his ground, stating that there would be no apology and the tweets would not be deleted. Then, without explanation, Amell did issue an apology and stated that he would be "going away for awhile." He did not end up leaving social media and has remained as active as ever.
So what could be causing these movie and television stars to come out against the Liberalism that surrounds Hollywood? Could it be that more and more conservatives are falling through the cracks and becoming successful in spite of their political beliefs? Well, that's possible but probably not very likely.
The most likely explanation is that the social justice warriors on the left have gotten so used to people bending to their outrage that they have gone fully off the deep end, and people are finally beginning to feel bullied.
After the release of "Avengers: Age of Ultron," radical feminists chased Joss Whedon off of social media because of a perceived lack of screen time afforded to Scarlett Johansen's Black Widow. These feminists, of course, didn't bother to think that Black Widow had played a significant role in the first Avengers film or that she was pregnant while filming "Age of Ultron" and wouldn't have been able to handle the significant action that would be required had she been a more prominent part of the film.
Jeremy Renner did apologize for his remarks about the Black Widow, but it was an obviously begrudging and half-hearted apology.
"I am sorry that this tasteless joke about a fictional character offended anyone," Renner stated after the comments. "It was not meant to be serious in any way. Just poking fun during an exhausting and tedious press tour."
He was obviously using his apology to double down on the idea that having to apologize for comments made about a person who doesn't even exist is just stupid.
Even liberal poster-boy Matt Damon hasn't been spared the onslaught of the PC police.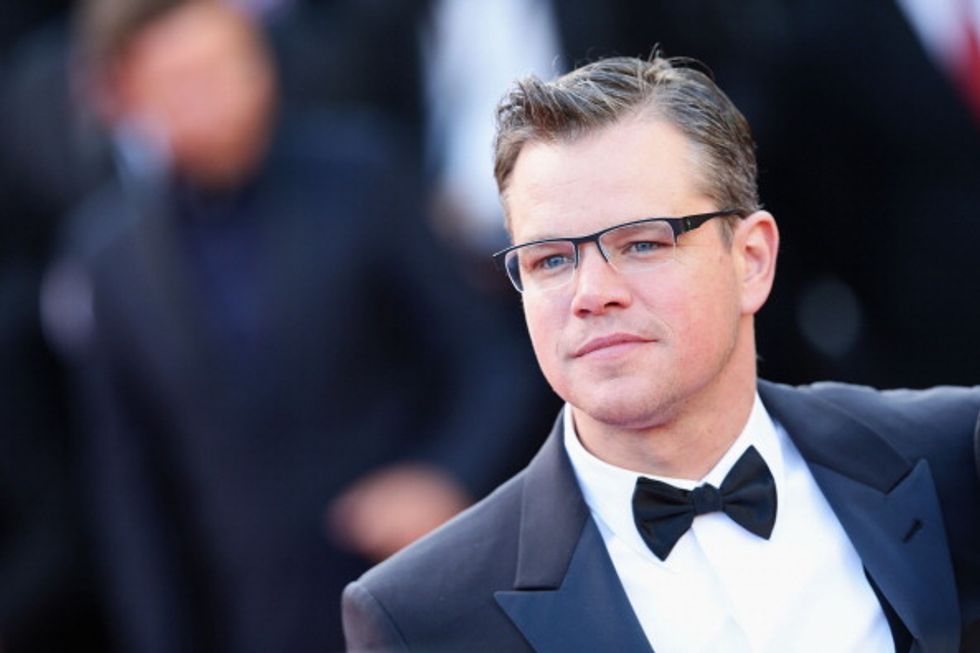 Actor Matt Damon attends the 'Behind The Candelabra' premiere during The 66th Annual Cannes Film Festival at Theatre Lumiere on May 21, 2013 in Cannes, France. (Photo by Vittorio Zunino Celotto/Getty Images)
On the Ellen Degeneres show, Damon stated that he didn't feel that movie stars should talk about their sexual orientation.
"In terms of actors, I think you're a better actor the less people know about you period," Damon told Ellen while promoting his new movie "The Martian." "And sexuality is a huge part of that. Whether you're straight or gay, people shouldn't know anything about your sexuality because that's one of the mysteries that you should be able to play."
Of course, Damon is now being branded a homophobe, but no one stops to consider that maybe he has a legitimate point. Sometimes, when an actor is openly gay it can be hard to take them seriously playing a straight character. In the end, isn't it just a little better the less we know about the personal lives of movie stars?
This was actually the second time Damon got in trouble with the social justice lobby in the span of a couple of weeks. He came under fire earlier in September for daring to have an opinion about diversity in Hollywood. Damon, of course, promptly apologized.
So what could this mini revolution mean for the future of Hollywood? Probably not much. While it is nice to see these stars standing up against the social justice Hollywood hierarchy, keep in mind that they do always give in.
The social justice lobby is extremely powerful. Earlier this year former Ghostbuster Ernie Hudson came out against the idea of the new all female Ghostbusters reboot, before being bullied by radical feminists into doing a complete 180 with his opinion of the movie. Now it appears he will be making a cameo in the picture.
It's sad that people aren't allowed to have personal opinions anymore. Maybe someday enough Hollywood A-listers will stand up to the social justice lobby and their unreasonable demands.
Jerry Seinfeld refuses to play colleges - once the perfect venue for edgy comedy acts - and has stated that many other stand-up comics are right there with him. Maybe when more stars begin to take a stand - and refuse to make these ridiculous apologies - things will change. Until then, the rest of us can only sit back and watch.
–
TheBlaze contributor channel supports an open discourse on a range of views. The opinions expressed in this channel are solely those of each individual author.