It was only a matter of time before Ben Carson became target number one in the media destruction campaign. There are two things the destroyers of liberty and virtue just can't tolerate—black conservatives and conservatives with money.
A lot of people are claiming the attacks on Ben Carson are racially driven. So does the fact that the media are targeting Ben Carson make them racist? In a sense, yes, but not in the way you may think—as evident in the things they're dragging up against him.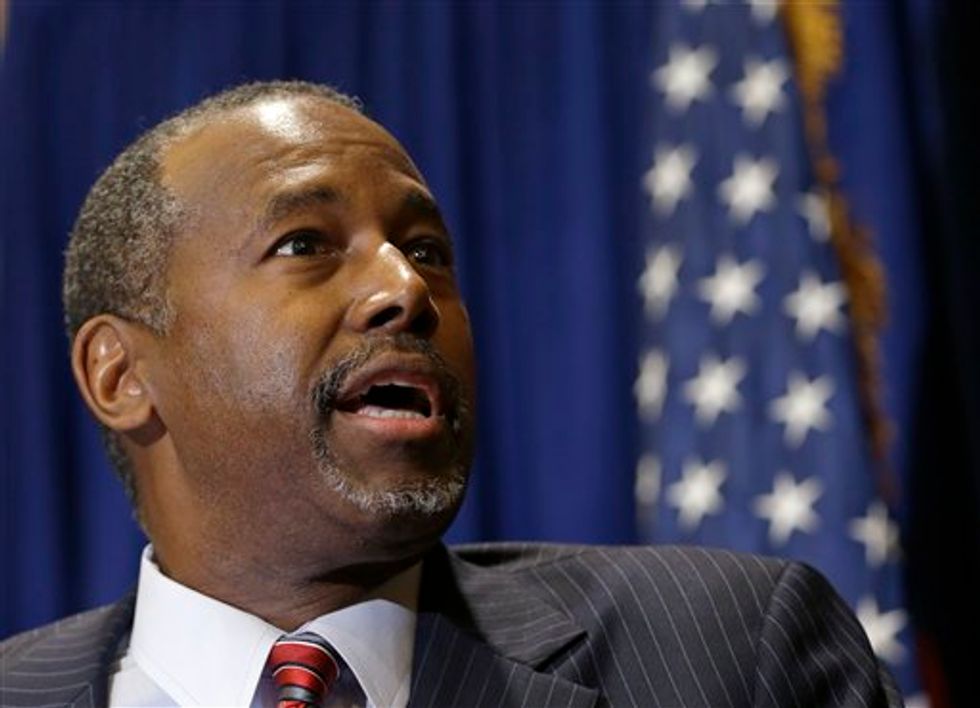 Republican presidential candidate Ben Carson speaks to reporters during a news conference before the Black Republican Caucus of S. Florida "Diamonds & Ice" Scholarship gala, Friday, Nov. 6, 2015, in Palm Beach Gardens, Fla. (AP/Alan Diaz)
Let's consider this "vetting" process as they call it for a moment. Barak Obama grew up under strong communist, anti-American influences. He spoke throughout his 2008 campaign about transforming America. But the media ignored it, embraced him, and accused anyone who questioned or disagreed with him as racist.
By contrast, Ben Carson was raised in the Detroit ghetto by a single mother, pulled himself up, worked hard and—with the strong influence and encouragement of his mother—went on to become a world-renowned doctor who helped thousands of people. Ben Carson is the American Dream. So why aren't the media head over heels, embracing him?
We were told repeatedly in the 2008 election that voting for Barak Obama would prove that America wasn't racist, but I knew the "race" issue would never go away. It is too powerful a tool for silencing any opposition and the media knows it. Their whole thumping speech before and after Obama was elected was "you just don't like him because he's black." So how exactly does it play into their race-baiting scenario when a black man running for president is leading in the polls with American voters of all races and colors? What does it say about the media when they have launched a full-on campaign to dig up anything they can to destroy this black man's reputation?
The answer is actually quite simple. It is clear evidence that the American media are not racists—they are agendists. Yes, it's a new word—add it to your dictionary.
The bottom line is, the destroyers of liberty and their media counterparts could care less what color you are, your gender equality, or your citizenship status. All they care about is their agenda and whether or not you subscribe to it; their goal—the complete destruction of liberty and freedom.
While the Republican Party is certainly not innocent of assaults on liberty, it has become very apparent that the Democrat Party is the major vehicle of choice orchestrating the mass destruction of freedom, family and everything we hold dear in America. They have been the driving force of big government for decades and some brilliant mastermind somewhere along the way realized how to use it to gain and sustain their power.
My friend Apostle Claver Kamau-Imani, a black pastor and radio host in Houston Texas, calls it Plantation Politics and the Democrat Party has capitalized on it. They've convinced an entire populous that the government is their friend, every white person (unless they're Democrat) is a racist, every black conservative is an Uncle Tom, and that Bill Clinton is more black than Clarence Thomas.
"In order for Democrats to win elections," says Claver, "they have to keep the Black Community on the plantation. They will do whatever they can to keep truth from the community, to keep the black populous on the plantation. It's the new sadistic twist on the old system of segregation."
I witnessed the powerful influence of the Democrat propaganda machine in Ohio in 2006 when Ken Blackwell ran for governor against Ted Strickland. The Democrat Party circulated flyers throughout the black community that had a picture of Clarence Thomas, George W. Bush and Ken Blackwell side by side, with the tag line "black or white a snake's a snake." Ted Strickland won the election and Ohio missed out on a really great man as governor. Interestingly, the Ohio Legislative Black Caucus who is supposedly for supporting black candidates, endorsed Ted Strickland not Ken Blackwell who, if elected, would have been the first black governor of Ohio.
The Democrat Party's propaganda campaign has been so successful that almost the entire black population votes Democrat. This is a great frustration for black leaders like Apostle Claver who says the black community is largely unaware of what the Democrat Party actually stands for and that they vote against their own values every time they vote Democrat.
"I don't think this has ever been seen in human civilization," says Claver. "Nobody votes in a block monolithically like blacks do."
So what does it say when a black man runs as a Republican and the black community likes him? Can you imagine the shock and awe it would cause the Democratic Party's stronghold on the black vote if the black community embraced Ben Carson?
The party of destruction has the same fear of Ted Cruz with the Hispanic community and you can bet if numbers start to soar he will definitely find himself on the Democrat media's chopping block. The Democrat Party claims to be the party of minorities but it is clear they pick and choose their minorities based on their vote. If that weren't the case then why aren't the Democrat Party and their media cohorts jumping on the Asian bandwagon. Why aren't they complaining that there aren't enough Asian teachers, actors and doctors? Why aren't they raising an army of advocates for "Asian Lives Matter?"
There is no doubt that this isn't about race. It is about agenda and Ben Carson's faith, values, and convictions just don't align with that agenda. I've seen it before. The media went after Herman Cain with a vengeance in the last presidential election. How can you have two black men running against each other and claim the country is racist for choosing one over the other.
As long as Ben Carson doesn't subscribe to the agenda, he will continue to be ruthlessly attacked by the agendist media. The more time the media spends trying to destroy Ben Carson the more appealing he becomes. The agendist media only attack what they fear and it is clear they fear Ben Carson.

–
TheBlaze contributor channel supports an open discourse on a range of views. The opinions expressed in this channel are solely those of each individual author.