Democratic presidential candidate and Vermont Sen. Bernie Sanders — a self-titled Socialist — has found himself in unfamiliar territory: Liberty University's Convocation lineup.
Liberty, my alma mater, is the Lynchburg, Virginia university founded by the late Moral Majority firebrand Jerry Falwell, Sr. The university holds Convocation three times a week and features guests from all walks of life — evangelists, entrepreneurs and politicians, to name a few.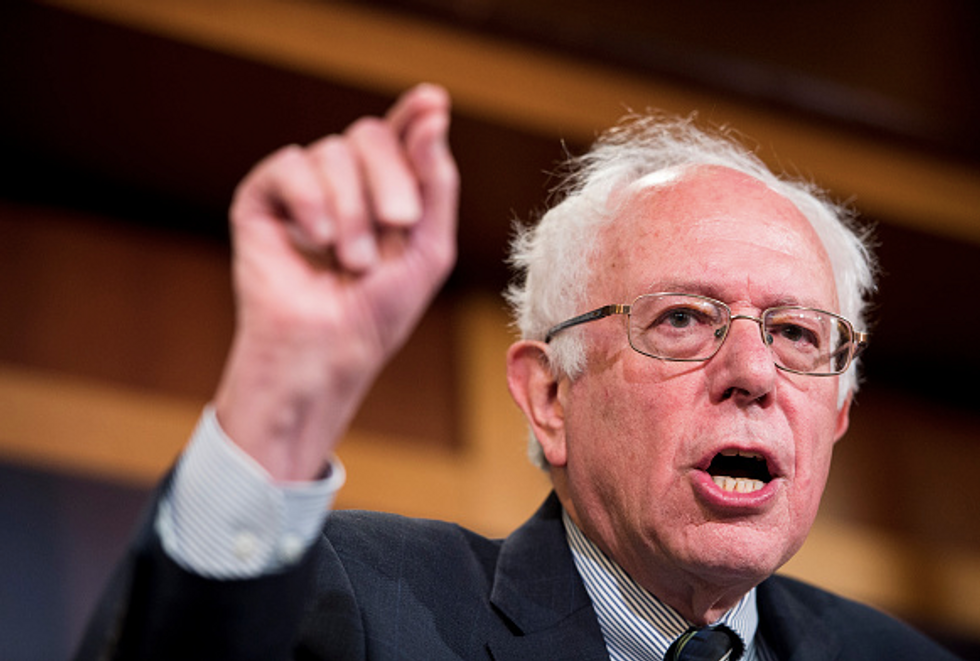 Senate Budget ranking member Bernie Sanders, I-Vt., holds a news conference to introduce legislation 'to make millionaires and billionaires pay their fair share of estate taxes and close loopholes that have allowed billionaires to avoid billions in taxes' on Thursday, June 25, 2015. (Photo By Bill Clark/CQ Roll Call)
Students are accustomed to hearing boisterous and controversial statements during Convo, as it's referred to around campus. In fact, on March 23, I covered Texas Sen. Ted Cruz's presidential campaign launch, a political first for the university, which drew a firestorm of media coverage.
Controversial statements from speakers at Liberty are not be a rarity, but most are in agreement with Liberty's core beliefs. The difference with Sanders is his comments will be at odds with much of Liberty's doctrine.
By my estimation, Sanders' visit is more than politically profitable for the progressive candidate — it's the right way for the Christian community to engage culture at every level.
The lack of liberal-leaning speakers isn't because Liberty hasn't reached out to progressive candidates, but because such politicians have often expressed little interest in visiting Convo, according to Johnnie Moore, a former senior vice president at the university.
"It's an incredibly courageous and savvy move," Moore told CNN's Dan Merica of Sanders' decision to accept Liberty's invitation. Of requests sent to other Democratic politicians during his tenure at the school, Moore said, "They didn't so much as reply to our invitations."
The announcement of the senator's visit, which was initially tweeted out by David Nasser, Liberty's senior vice president of spiritual development, was met with mixed responses.
Some good:
@davidnasser way to go with @SenSanders! Great choice to make the majority of student think

— Dylan Brightbill (@Dylan Brightbill) 1438811211.0
@davidnasser @LibertyU mad respect points for inviting Bernie to come speak! Let's show him the love of Jesus while he's here!

— katie (@katie) 1438805440.0
Others, not so good:
@davidnasser Just seems a little weird that we would worship Jesus and then give a man who sanctions murder the pulpit. So embarrassed 4 LU

— K Dubs (@K Dubs) 1438828924.0
And, of course, the obligatory hat-tip to Convo alumnus Donald Trump:
@davidnasser @LibertyU I'm confused… which date is @realDonaldTrump coming???

— Jason Dyba (@Jason Dyba) 1438809243.0
At the end of the day, Liberty is doubly responsible to challenge the views and perspectives of its students. Not only is it a liberal arts college, trying to produce well-rounded graduates, it is also committed to a Christian worldview.
A Christian worldview that adheres to Paul's edification in Romans 12:2, to "not conform to the patterns of this world, but be transformed by the renewing of your mind." And Jesus' prayer to the Father for his disciples, recorded in John 17:15, "My prayer is not that you take them out of the world, but that you protect them from the evil one."
A well-engaged Christian community is one that sharpens the minds of its congregation through debate and discussion, so that, in transforming and renewing the mind, Christians will not only know what they believe, but why they believe it and how to defend it.
Christianity is odd and beautiful, strange and interesting, frustrating and comforting. It's an awkward dance between being in the world, but not of it, and that's how it's supposed to be. As Peter writes in 1 Peter 2:9, the Christian church is called to be a "peculiar people."
In response to Cruz's campaign launch from Liberty's Convo stage, Washington Post reporter Michelle Boorstein wrote in a headline, "Liberty University has become a pilgrimage site for GOP candidates."
My hope is that Sanders' stop in Lynchburg will tweak that line just a little. Liberty — and the Christian church at-large — needs to become a pilgrimage site for all those vying for the highest office in the land, regardless of party or creed.
"[Sanders' visit] should challenge students to take a serious look at their own perspectives and to consider why they hold those views and how to argue for those beliefs," Emily Brown, a recent Liberty graduate and the former editor-in-chief for the university's student newspaper, said.
In the 1970s and '80s, Falwell's Moral Majority dominated. Most everyone — religious and not-so-religious — agreed on traditional values. Today, that's not the case — Christians are no longer the moral majority. As Russell Moore, the president of the Southern Baptist's Ethics and Religious Liberty Commission, says in his new book, "Onward," of the Christian church's shift in the public square, "I would argue that we should see ourselves as a prophetic minority."
The culture in which we are immersed may no longer look like us, but that doesn't mean we stop engaging. It means we engage all the more.
Sanders holds many beliefs that are contrary to Liberty's moral compass. His views on abortion are in direct contrast to that of Scripture and the Evangelical community at-large, but why does that mean we shouldn't engage him?
"The more, the merrier, and the more chance to hear from possible leaders," Dr. Karen Prior, an English professor at Liberty, said.
Culture looks different from us. Aren't we supposed to expect that? Jesus didn't die for a world already sanctified, but for a world ignorant of its desperate need for redemption.
As Moore writes in his book, we need to "keep Christianity strange." And, in doing so, we must understand the culture in which we live so we can engage it with humble conviction, and unapologetic grace.
To engage people like Sanders, we have to understand them. Jesus hung out with the tax collectors, the prostitutes and the exiles — and he's God. How much more should we extend the same offering to those around us?
–
TheBlaze contributor channel supports an open discourse on a range of views. The opinions expressed in this channel are solely those of each individual author.