Last week the NCAA removed seven 2016 and 2017 tournament basketball games from being played in North Carolina. Two days later the Athletic Coast Conference followed suit. In a statement the ACC Council of Presidents said it "reaffirmed our collective commitment to uphold the values of equality, diversity, inclusion and non-discrimination."
Bully for them.
That pompous language is what bureaucrats hide behind when they are too weak to stand up to an outrageous political assault on the sensibilities of a civil society.
Just what did North Carolina do to earn this insult? Why, they decided that they didn't want politicians to insist that boys be allowed to pee in the girl's bathroom.
That's it.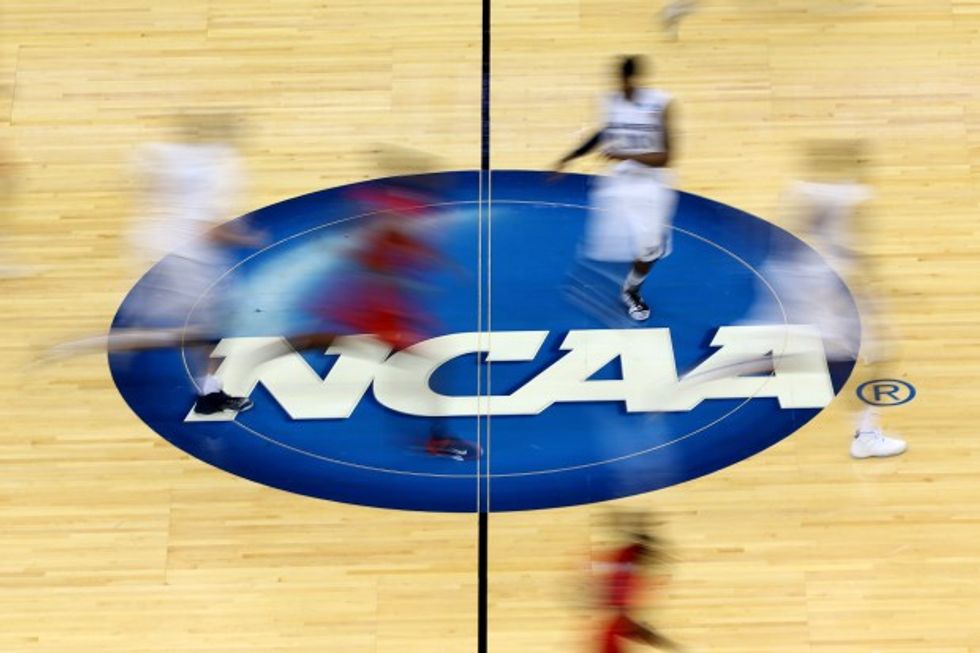 (Photo: Mike Ehrmann/Getty Images)
Last February Democrats on the Charlotte City Council voted to include gay, lesbian and transgender people as a protected class in public accommodations.
The changes meant that businesses in Charlotte such as bars, restaurants and stores could not discriminate against gay, lesbian or transgender customers, as was already the case with race, age, religion and gender.
What was new in this expansion of the ordinance was a provision that would allow transgender people to use the bathroom of the gender with which they identify.
Absent that last provision this expansion of the non-discrimination provisions would have encountered no opposition whatever. The vast majority of us want others, irrespective of their circumstance, to be treated fairly and equally.
But the bathroom provision is a sharp stick in the eye to normal people who believe that it is unsettling to a community to have boys using girl's bathrooms and locker rooms.
Make no mistake about it, this provision is purely political and it is intended by the Left to unsettle and divide an otherwise normal and peaceful citizenry. Disruption is their goal and they succeeded.
Responding to an outburst of emotion and anger the North Carolina legislature passed a law prohibiting local governments from imposing bathroom policy on private businesses.
This caused a modest response in North Carolina and an explosion of grief and hyperventilating on both coasts.
The Washington Post called it a national embarrassment. This is their opening sentence: "In the week since it was signed, North Carolina's controversial new law restricting transgender rights has drawn fierce criticism from across the country."
To paraphrase Dorothy Parker, "Their emotions ran the gamut from A to B." All anger. All wrong.
Where were these scolds when Houston voted down the exact same ordinance?
In May of 2014 the Houston City Council passed the same non-discrimination ordinance and was sued by citizens. Ultimately the Texas Supreme Court ordered that it either be repealed or put on the ballot for the people to decide its fate.
An 18-month political battle ensued. Huge sums of money from out of state threatened the people with loss of jobs and even loss of the 2017 Super Bowl. The election was expected to be very close.
Last November the people spoke. The ordinance was defeated 61-39. It wasn't even close. How do you think the people of North Carolina would vote if they had the chance?
The 2017 Super Bowl will be played at the NRG Stadium in Houston on February 5. Some seats are still available if you're interested.
For those of you who may be looking down your nose and thinking this only happens to the rednecks in North Carolina and Texas I warn you; the Obama Justice Department has, for some time, been threatening universities that didn't allow transgendered men to use women's facilities.
Target, choosing to worship at the altar of political correctness, has already experienced problems with their "open bathroom" policy. Their shareholders are paying the price.
I understand that politics has entered every nook and cranny of our lives - even our bathrooms. I understand why the Left seeks to disrupt a normal society. I also understand that the mainstream media, as part of the Left, will join in the effort to brutalize the sensibilities of normal peaceful Americans.
What I totally fail to understand is why bureaucrats, whose entire role in life is superintending college basketball leagues and tournaments, think they have a role to play in the confusion of rights and privileges.
If they think they've been appointed to fix the world's ills they should run for political office. But that would include a risk of losing and bureaucrats do not handle risk well.
If you would like to be added to John Linder's distribution list please send your email address to: linderje@yahoo.com or follow on Twitter: @linderje
–
TheBlaze contributor channel supports an open discourse on a range of views. The opinions expressed in this channel are solely those of each individual author.