Everyone who lives in the northeastern portion of California who is a hunter knows that October 10 marked the beginning of duck season.
It seems that the date didn't go unnoticed by the governor of California either.
Instead of declaring it to be "open season" on ducks, Gov. Jerry Brown has potentially just made students in California "sitting ducks" by officially declaring "open season" on their conceal carry gun rights on school campuses around the state.
Gov. Jerry Brown Credit: AP
Brown signed into law Senate Bill 707, which prohibits gun owners who are legal conceal carry owners from carrying handguns for self-defense onto California school grounds.
Additionally, those who have a carry permit and are found in possession of even a single round of ammunition on any school or college campus will be held criminally liable even if they don't possess a firearm.
In other words, in an additional absurd move from this sitting governor, even having a single bullet on campus to "throw" at someone in a feeble attempt to try and protect yourself against a possible gunman, Brown will see to it that you are charged with a crime.
In a stance that President Barack Obama would be proud of, it appears that this governor learned absolutely nothing from the recent and tragic shooting in Roseburg, Oregon, in which a shooter killed nine innocent students as they attended class at a university in a recognized gun-free zone.
Oh, but don't worry California students. Under the provisions of the new law, on-duty police officers or others specifically authorized to assist in an emergency, including law enforcement retirees and even retired police reservists will be able to carry guns.
Brown, in keeping with what he may have learned from watching the Obama administration negotiate deals, garnered support from the powerful law enforcement lobby in California in exchange for continuing to allow retirees to conceal carry and for adding special exemptions which would allow retired police reservists to also conceal carry on school grounds.
Brandon Combs, the President of Firearms Policy Coalition, a grassroots, nonpartisan, nonprofit public benefit organization, believes that the Ninth Circuit of Appeals ruled on the issue of retired police officers over a decade ago. Combs says the court ruled that retired police officers were no different from retired plumbers when it came to issues concerning gun laws.
Ironically, the 2002 Ninth Circuit decision which struck down a California law giving retired law enforcement officers special exemptions from the Assault Weapons Control Act was acknowledged and reinforced in a 2010 legal opinion, issued by none other than then-Attorney General Jerry Brown.
In that opinion, Brown explained that "Silveira teaches that it is…a peace officer's role as a law enforcement agent that provides a rational basis for distinguishing between a peace officer and a private citizen for purposes of possessing and using assault weapons. A retired officer is not authorized to engage in law enforcement activities."
How convenient for Brown to seemingly forget his own words and allegedly take away the Constitutional rights of some while sparing the rights of others.
If you are feeling safer now knowing that on-duty officers and others will be allowed to conceal carry on school grounds, just remember that the shooter in Oregon arrived at 10:30 a.m., according to reports, which was approximately 15 minutes before law enforcement began arriving at 10:44 a.m. During this 15-minute span of time, nine people were killed.
Had a student or teacher been armed, perhaps those nine people would still be alive today. One can only imagine how agonizingly slow the time must have passed for those victims who were hoping that they would be rescued by the police.
And what will happen to those individuals who have temporary restraining orders against stalkers or who are victims of domestic violence and choose to protect themselves by also legally carrying a concealed weapon while attending a class on university grounds?
In 2010, San Diego City College student Diana Gonzalez's body was found in a bathroom on the San Diego campus. Her husband Armando Perez was later charged with her murder. Gonzalez had a restraining order against her husband, but according to reports he was apparently lying in wait of his wife as she attended class.
Perez initially admitted to stabbing her inside of a campus bathroom. He was recently sentenced to life in prison without parole but has since filed a motion for a new trial on the grounds of not guilty by reason of insanity.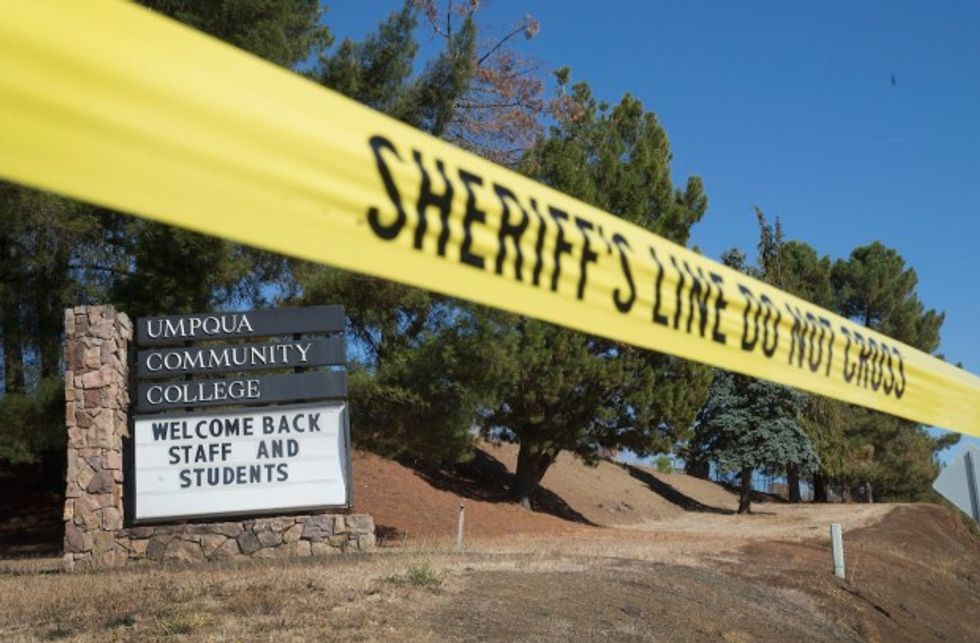 Image source: Scott Olson/Getty Images
One has to wonder whether Gonzalez, who was a new mother and studying to become a nurse would still be alive today if she had been legally carrying on campus.
"This is not just an attack on our Second Amendment rights," Brandon Combs, the President of Firearms Policy Coalition said, "it is an attack on the most vulnerable in our society. Victims of domestic violence and stalking, judges, prosecutors, and public defenders who have a carry license will now have to leave their registered self-defense handguns at home when picking up their children at school, leaving them without the necessary protection from violent criminals."
Brown, who in 2011, admitted to owning guns and participating in duck hunting, has not specified whether he has a concealed carry license.
Even though Brown is a gun owner himself, he is no stranger to signing anti-gun legislation.
In October 2011, Brown signed three anti-gun bills into law, which allows the California Department of Justice to retain copies of sales records for rifles and shotguns, prohibits the open carrying of unloaded handguns in public places and allows the California Department of Justice to use firearms sales fees to fund programs to disarm convicted criminals and the mentally ill.
Brown signed additional gun-control bills in 2012, 2013, in which he also vetoed some anti-gun laws that year and 2014.
While a number of his gun-control laws go unchallenged, the most recent involving concealed carry on campuses will be challenged.
According to Combs, over 40,000 letters from Firearms Policy Coalition members and supporters unsuccessfully urged Brown to veto SB 707.
The coalition whose mission it is to defend the Constitution, will be filing a lawsuit against what they feel is an "unconstitutional" law and requests donations from those who wish to support the litigation.
And, in case you don't live in California and feel this doesn't concern you, did I mention that Brown was recently touted as the second best choice for presidential hopeful should Democratic presidential candidate Hillary Clinton have to drop out of the race for any reason?
–
TheBlaze contributor channel supports an open discourse on a range of views. The opinions expressed in this channel are solely those of each individual author.