I have been saddened, as of late, by the level of judgment among those who claim to know and follow Jesus.
After the Supreme Court of the United States legalized gay marriage nationwide last month, I watched my Facebook feed fill up with a broad spectrum of opinions on the matter. Some praised the law of the land for "choosing love," while others expressed legitimate concerns regarding the juxtaposition of the Supreme Court's decision with God's word.
As a Christian evangelist, I believe the Bible is true. I believe God designed marriage to be between one man and one woman and am an advocate of traditional marriage.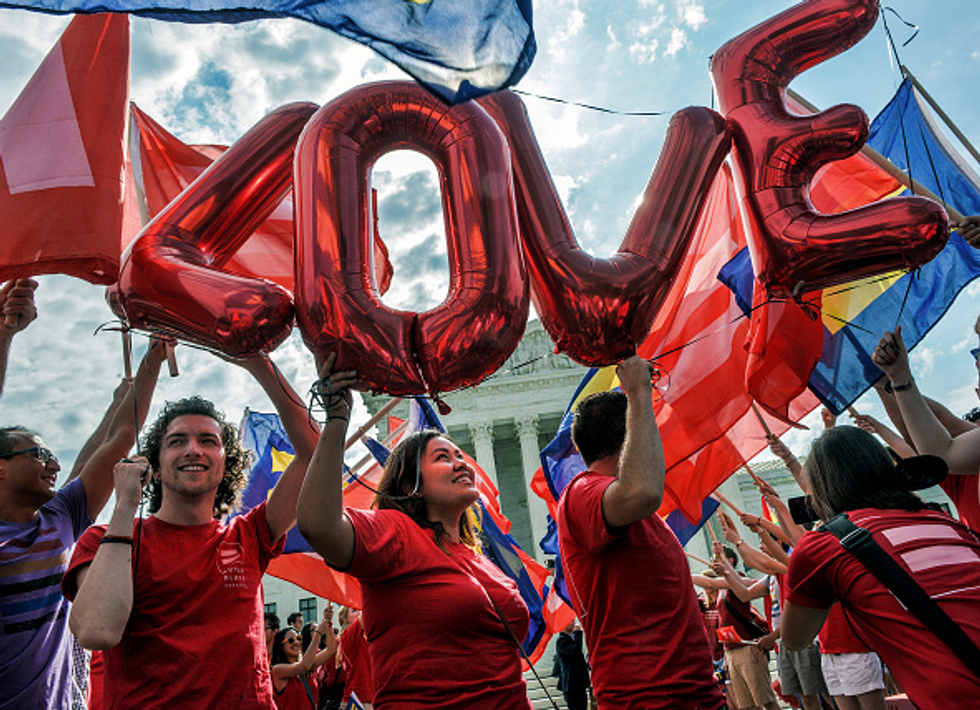 Supporters of same sex marriage rally in front of the Supreme Court awaiting a ruling to legalize gay marriage nationwide, on June, 25, 2015 in Washington, DC. From left are Keith Naylor, Bonnie Casillas, Jonathon Contreras, and Hannah Stabler holding balloons that spell the word Love. (Photo by Bill O'Leary/The Washington Post via Getty Images)
Like many Christians, I believe we should continue to stand firm in our faith and have our convictions. Yet, we must make sure we are communicating those convictions in a way that people are willing to hear us. This always begins with a compassionate loving spirit.
I speak from experience when it comes to this issue. When I was 18, I received a call from a friend telling me my sister was gay. Having grown up in a conservative Christian home, this information rocked me.
When I next saw my sister, I'm ashamed to say harsh words were spoken. I told her she was selfish and I hated her. In actuality, the real selfishness was in me because my only genuine concern was what others might say about me. She responded to me by declaring it was her life and she would live it how she wanted.
This is the moment that severed our relationship.
[sharequote align="center"]The love of Christ transformed me so radically. The focus shifted from her actions to my reactions.[/sharequote]
Thankfully, our story does not end there. I became a Christian at 21. The love of Christ transformed me so radically that I no longer hated my sister, but rather I was sorry for the way I had been judgmental and rude. The focus shifted from her actions to my reactions. I wanted to be close to her and love her. I learned that I could and should accept her without compromising my beliefs.
My radical change came from realizing Jesus didn't denigrate people. Jesus always commanded people to "go and sin no more," but He first made people the heart of the issue, loving them and letting that love transform them and make them more like Him.
I have learned that I can hold to my convictions and teach the truths Jesus taught, while still showing love to everyone. Unfortunately, I don't believe all individuals who profess to follow Jesus have come to this understanding.
Believers in Christ commonly use the churchy statement to "hate the sin and love the sinner," but this can be a hypocritical disguise. You have no reason to hate someone else's sin if you do not first hate your own.
In 1 Peter 4:17, it says judgment begins in the house of God. God's first order of judgment begins with His own people.
We have to rid our own attics of the adultery, gossip, greed, judgment, lust, promiscuity and elitism before we can expect to have credibility with others about what issues we are convinced they need to discard from their own lives.
In other words, use the Bible on yourself before forcing it on others. After all, we are all sinners and each one of us needs mercy and grace. We must stay humble because anyone is capable of a fall.
Christians must earn the right to be heard. We can't demand it. We have to live a life consistent with the life of Jesus so people want to know and experience the God we say we know, otherwise, people will never want to hear what we say.
We've got to be real and we have to be authentic; we have to hold firm to the anchor of the things we believe and what is in God's word. But we have to do so with caution.
We can't go about spewing words of anger, bitterness and hate. We have to approach people in love just as Jesus loved us.
Fight principles, not people. Your real or presumed enemies are not always God's. Jesus loves those you dismiss or denigrate as much as He loves you.
Before we go around sweeping around everyone else's front door, let's make sure we are sweeping around our own.
Last but not least, don't forget that Jesus' supreme command is to love one another. The author of the statement made clear if you don't have love, you are nothing more than a banging cymbal. It's the only way love really does win.
–
TheBlaze contributor channel supports an open discourse on a range of views. The opinions expressed in this channel are solely those of each individual author.