Hillary Clinton's game is a steady-as-she-goes workhorse who is meticulously prepared, impressively composed, and nobody's fool.
It's the same level of game she displayed at all three debates, which is why her performances are indistinguishable.
Donald Trump's game is a dazzling used-car salesman who could sell snow to Eskimos. It is up to the individual voter to decide whether he is, in fact, selling us something we don't need or selling us something we need so desperately, he's launched an entire movement. The breathtaking speed and vertical lift of his learning curve is in a class by itself. From poorly prepared, shoot-from-the-hip, and anything but composed at the first debate, he owned facts, message and self-mastery like a boss (get it?) at the third.
(Am I the only one who thinks Kellyanne Conway told him to take a drink of water when he started to get agitated? I noticed an inverse relationship between sips of water and frequency of outbursts; more water and fewer outbursts at the beginning, more outbursts and less water toward the end.)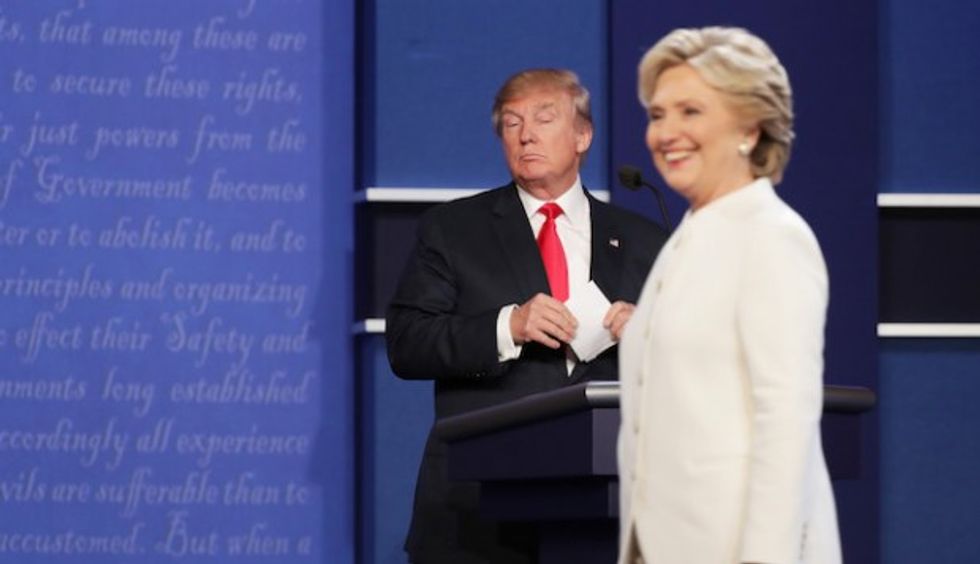 Photo by Chip Somodevilla/Getty Images
Trump called Iran the true winner in Mosul; he had GDP stats for India and China; he got that Russia played us by using the ceasefire with Syria to conquer large swaths of territory; and he nailed his opponent's pant-suited hypocrisy to the door. When he asked the self-proclaimed champion of LGBT and women's rights why her foundation accepted millions of dollars from countries that throw homosexuals off buildings and behead women for resisting rape, she had no answer. Maybe she thought it was rhetorical.
"She's such a nasty woman" and "I'll keep you in suspense" will dominate 99 percent of post-debate headlines, but he is Donald Trump. I would have suspected a taxidermy project if he hadn't put his size 12's in his pie hole once or twice. Trump has massive flaws, which his inner political circle does their best to mitigate, which he nonetheless wears rather proudly, which is what makes him Donald Trump. So far, it's working for him. Or, at least hasn't sunk him. Why not? For the same reason we might ask why Hillary Clinton isn't 50 points ahead.
Clinton, for her part, nailed Trump on building his Las Vegas hotel with Chinese steel, and for criticizing American companies that manufacture products overseas while slapping 'made in China' on Trump apparel and 'made in India' on Trump home items. Trump wouldn't know 'rhetorical' if it bit him in the leg, so his silence on this—given his punch back on everything else large and meaningless—suggests she scored a direct hit. You've got to give it to her; she's very good at this.
He repeated himself ad nauseam (NAFTA NAFTA NAFTA) and let her provoke his first reaction when she called him Putin's 'puppet.'
She rode the tired old nag of equal pay and promised the moon (for free).
She turned each and every Wikileaks reference from an indictment of her character to 'proof' the Russians are out to get us, and it's Trump's fault for encouraging it.
He declined to aver commitment to a peaceful transfer of power should that power be transferred anywhere but himself.
Over the course of 90 minutes, both candidates made verifiably true statements and verifiably false statements (believe me), but which were which remains open to debate. Fact-checking the fact-checkers is a full-time occupation, so we may never know for sure.
We as a country are hurtling toward our future at 100 MPH. Hillary Clinton is a brick wall, Donald Trump is a cliff. We know what will happen if we slam into a brick wall. We don't know for certain what will happen if we plunge off a cliff. There's a teensy-weensy chance there might be a net down there somewhere.
Net or no, slam or plunge, Clinton or Trump, we have to vote. It is one of the honors and obligations of living in this great country.
–
TheBlaze contributor channel supports an open discourse on a range of views. The opinions expressed in this channel are solely those of each individual author.