© 2023 Blaze Media LLC. All rights reserved.
As a white person, I acknowledge that you have been oppressed and murdered, kept impoverished and unjustly judged. I know there are people of my race who have hurt you and those you love.
By Jeannie Ewing, for TheBlaze
I recently realized something crucial as I poured over the myriad articles, essays, reflections, and news pieces about the Black Lives Matter movement and all of the subsequent rioting, shootings, and violence against Blacks and law enforcement.
That realization is this: While everyone is defending each side, no one is actually encouraging us to come together. Here's my solution to that: an apology.
Dear Black people, I'm sorry. As a white person, I acknowledge that you have been oppressed and murdered, kept impoverished and unjustly judged. I know there are people of my race who have hurt you and those you love, and I'm deeply sorry for that.
I'm not apologizing solely for a personal fault, but a collective one. It's an apology that's long overdue. For too long, the white majority has lived as if racism were eradicated with the Civil Rights Movement over 50 years ago. But truthfully, racism never died. It simply went underground in some places and existed as an undercurrent … until recently.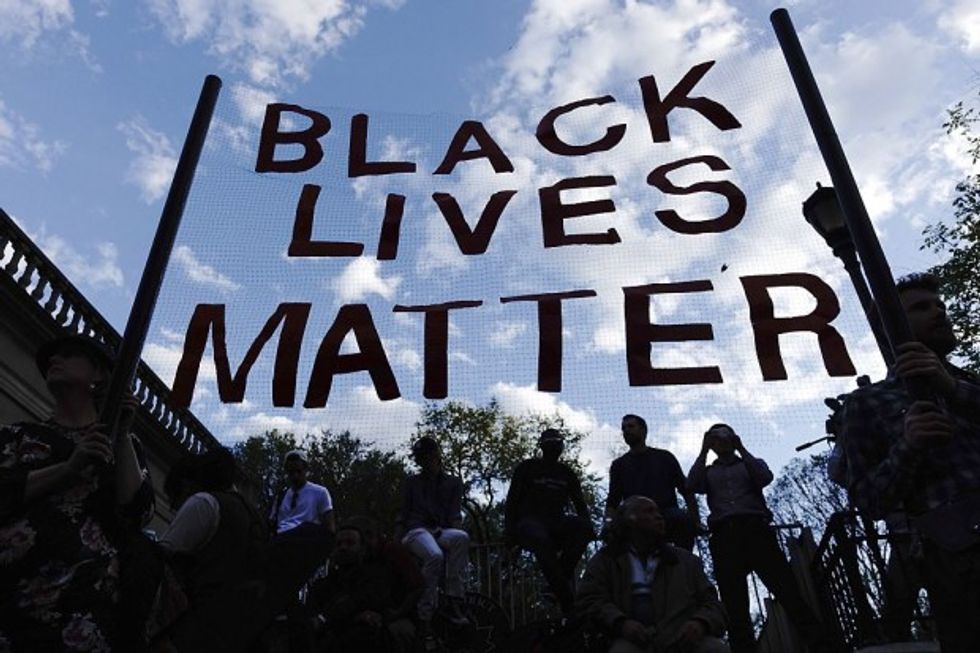 (EDUARDO MUNOZ ALVAREZ/AFP/Getty Images)
I wasn't raised to see color, or at least not to classify people according to the color of their skin. Instead, I got to know people for who they were, sharing laughs and dreams, as well as painful experiences. My type of suffering is different than yours. I will never grasp what it's like to be you.
I know that, while it seems that my life as part of the white majority has been easy, life was never easy for you. And the recent violence against you has, sadly, shocked me into understanding that the racial divide is, once again, surfacing overtly, and tensions between sides are increasing.
My heart breaks for you. I lament over the countless black lives who were treated as property, enslaved, impoverished, aborted, used and abused, ignored and neglected, and murdered.
Please do not look at me and hate me because of my race as a white woman. Please do not despise me because of horrific and sinful choices that other people of my race have made against you. Instead of hating all of us for what some of us have done, please do what I am doing now to you: See me as an individual.
In order for hatred to dissolve between us, both sides must humbly agree to meet each other. So look at me for who I am, just as I see you as a beautiful reflection of God's image. For that to occur, I ask you for forgiveness.
Please forgive me if I have turned a blind eye to your plight, out of ignorance or discomfort of your suffering. Forgive me if I have not done my part in our society to overcome the racial divide between your people and mine. Forgive the ones who have killed and oppressed you.
If you forgive me, and I accept blame on behalf of the white people who will never admit complicity in racist speech or hate crimes, perhaps you and I can grow to love each other in that space that humility offers us.
From today onward, my hope and prayer is not that we perpetuate division based on our differences, nor that our differences define who we are as sons and daughter of God, but rather that we allow our brokenness to be healed by forgiveness through love.
We can choose to love each other, not necessarily as a feeling of fondness or affinity, but as a choice to will each other's good and wellbeing. True unity can begin today, with you and me, by listening to the pain expressed beyond the anger so that we can join together in prayer and purpose.
"If God is for us, who can be against us?" (Romans 8:31) Let us remember that our battle is not against each other as flesh and blood, but is a spiritual battle against the demons of darkness and the evil of our day (see Ephesians 6:12). We can only become lovers by first being loved. Let us love, then, by our remorse and through forgiveness, which can only unite and heal instead of divide and kill. Jeannie, her husband, Ben, and their two daughters (Felicity - 5 and Sarah - 3) live in north central Indiana with their pit bull mix, Lily. For more information, please visit her websites lovealonecreates.com or fromgrief2grace.com.
–
TheBlaze contributor channel supports an open discourse on a range of views. The opinions expressed in this channel are solely those of each individual author.

Want to leave a tip?
We answer to you. Help keep our content free of advertisers and big tech censorship by leaving a tip today.
more stories
Sign up for the Blaze newsletter
By signing up, you agree to our
Privacy Policy
and
Terms of Use
, and agree to receive content that may sometimes include advertisements. You may opt out at any time.