Have you, like many, been focused on the latest comments that presidential candidate Donald Trump made about barring all Muslim travel into the United States?
Even though Trump made his statements following the recent San Bernardino shootings and based them upon what we insist on calling a refugee vetting process that isn't working, as evidenced by the female terrorist who was granted admission into this country before becoming actively involved in killing 14 innocent people, many are still outraged at what Trump said because they see it as discrimination.
White House press secretary Josh Earnest said earlier in the week that Trump's anti-Muslim statements disqualified him from "serving as president."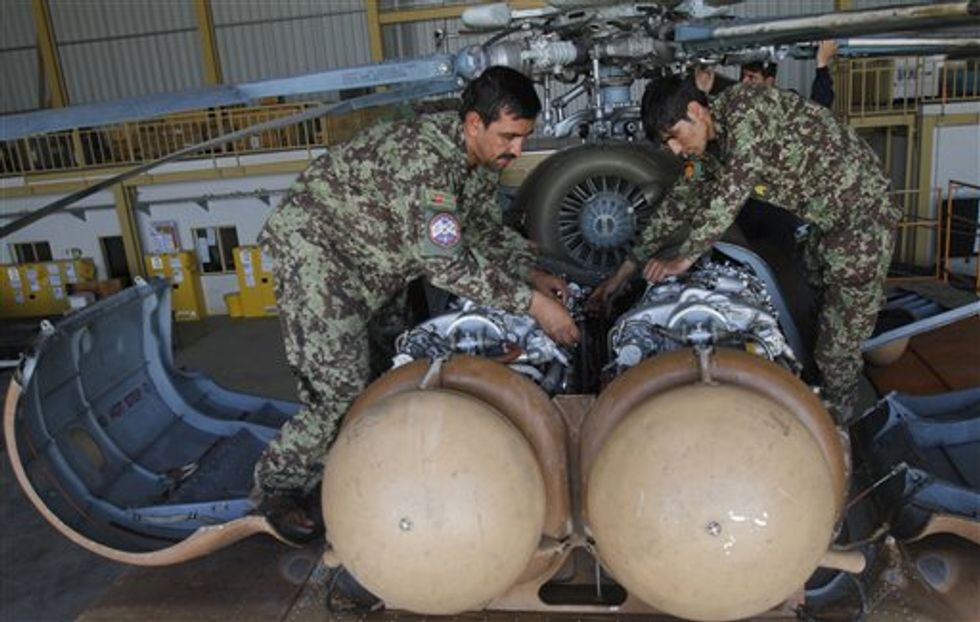 Afghan Air Force personnel fix a helicopter in Kandahar Air Base, near Kandahar city, south of Kabul, Afghanistan, Tuesday, Sept. 1, 2015. (AP Photo/Allauddin Khan)
Earnest based his objections to a Trump presidency on the fact that every president must take an oath to "preserve, protect and defend" the U.S. Constitution and therefore, the nature of Trump's statements would disqualify him.
Earnest should know what qualifies or disqualifies a president since he serves a president who has been touted with having committed 25 violations of law, mostly involving violations of our freedoms under the Constitution.
Ironically, while the mainstream media and even Great Britain got into the Trump sideshow with a petition that seeks to keep Trump out of the U.K. (the same injustice they are claiming Trump has cast upon Muslims) something else occurred that could have serious implications to our national security.
The event could also prove to be another embarrassment to the Obama administration and its defective vetting process.
Fortunately, for President Barack Obama, Trump provided a great distraction and the information was barely mentioned in the news.
What I'm referring to is the fact that two Afghan Air Force trainees at Moody Air Force Base in Valdosta, Georgia failed to report to work earlier this week.
U.S. military officials were quick to report that there is nothing to suspect that either of these men are a threat, however.
We're told by Air Force officials that "both men are assigned to the 81st Fighter Squadron and were screened prior to their arrival in February 2015."
There is no indication what was involved in the screening process but if it was similar to what the female terrorist in the San Bernardino shootings underwent then there is cause for concern.
After we were assured that there was no threat posed by these men, Air Force officials reported that there is a "well-coordinated effort among federal agencies to locate" the men "as quickly as possible and return them to the proper authorities." If there is no threat then why are federal agencies involved? Wouldn't the military police be able to locate and return them to base under ordinary circumstances?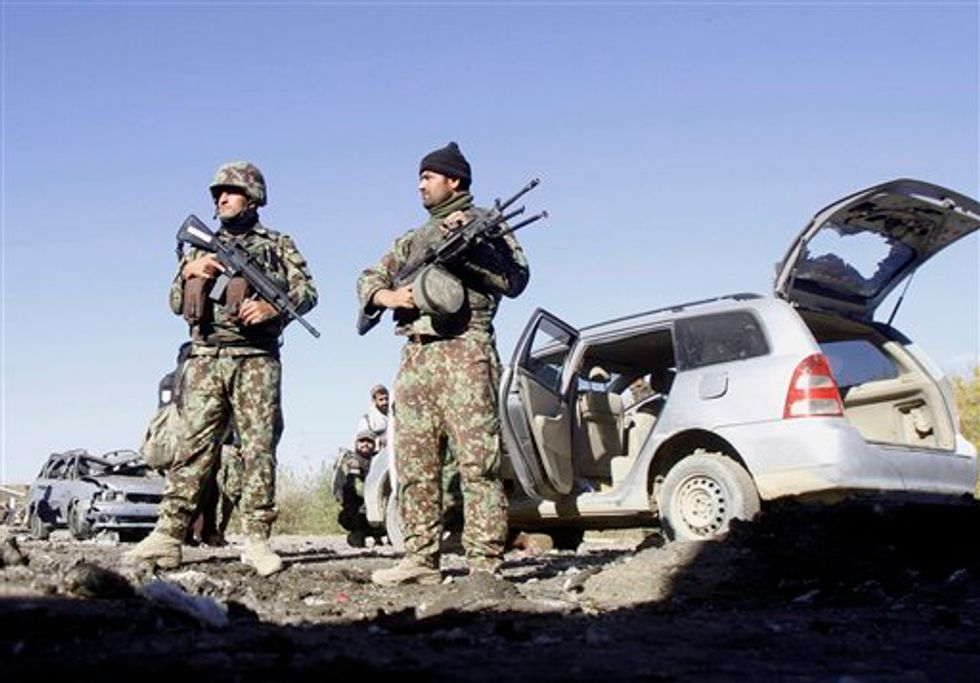 Afghan security forces inspect the site of a suicide attack on the outskirts of Kandahar city, Afghanistan, Thursday, Nov. 19, 2015. An Afghan official says a suicide car bombing targeting a government compound in the south of the country has killed one soldier and wounded four others.(AP Photos/Allauddin Khan)
The two men are purportedly a part of a program to train Afghan pilots and maintenance personnel who will be flying the A-20 Super Tucano fighter aircraft. The missing men were part of the maintenance crew, who were among nine pilots and 12 other maintenance crew members.
One of the men is a lieutenant and the other is a senior master sergeant within the Afghan Air Force, according to officials. They were scheduled to graduate from the program next week before returning to Afghanistan.
In an attempt to ease concerns, Americans are being told that this is not uncommon and not the first time Afghan trainees have gone missing.
According to reports, three Afghan National Army soldiers, who were training in Massachusetts in 2014 went missing after a trip to a shopping mall. All three men were higher ranking officers. They were found attempting to seek asylum near the Canadian border. This incident marked the second time in one week that Afghan trainees had gone missing.
The other incident involved two Afghan police officers training with the Drug Enforcement Agency disappeared during a sightseeing tour in Georgetown near Washington, D.C. They were located outside of D.C., but officials would not indicate where they were found. They had been part of group of 31 Afghan police officers who were attending a DEA training program on the U.S. Marine Corps base in Quantico, Virginia. Apparently, the men left because they did not want to return to Afghanistan.
Are the actions of those training on bases in the U.S. benign with no cause for concern or have we just been fortunate to this point? Are we certain that those training here are not part of a network in Afghanistan that could pose a potential threat to Americans?
As recently as Dec. 1, 2015, the U.S. Embassy in Kabul, Afghanistan, received a credible warning of an imminent attack. American citizens in the Afghan capital were warned to be cautious.
One expert believed that the threat was coming from the Haqqani network, which has ties to Pakistan's intelligence services and close ties to Afghan Taliban and Al Qaeda.
After 9/11, Fort Hood and the recent shootings in San Bernardino and elsewhere, is it time that this administration reviews its "screening" process, not only for refugees it wants to resettle here, but also for soldiers it allows into this country to train alongside of our military?
While we have been mainly focused on Syrian refugees coming into this country with the potential to cause us harm, perhaps there is another problem on the horizon that has the possibility to catch us off guard and pose a real threat.
Perhaps it's time to contact Josh Earnest and remind him that Obama took an oath of office to "preserve, protect and defend the Constitution," as well. However, I would complete the statement with the very important words that Earnest omitted, namely, that Obama took an oath to "preserve, protect and defend the Constitution against all enemies, foreign and domestic." Is Obama allowing conceivable "enemies" to infiltrate our borders because of an inadequate screening process?
In the meantime, I'm sure the administration will hope you stay focused on Trump.
–
TheBlaze contributor channel supports an open discourse on a range of views. The opinions expressed in this channel are solely those of each individual author.