Winston Churchill once described American diplomacy as "a bull who carries his own china shop around with him."
Say hello to Donald Trump.
I do not believe that Trump's careless rhetoric disqualifies him from running for president. Both parties have seen plenty of that and these things get sorted out. I do, though, wonder if Trump wants to be taken seriously.
Politics is a team sport. It is difficult to lead that team when you're insulting your teammates at every turn. And it is the teammates in Congress who must introduce and pass the legislation necessary to carry out a president's policy.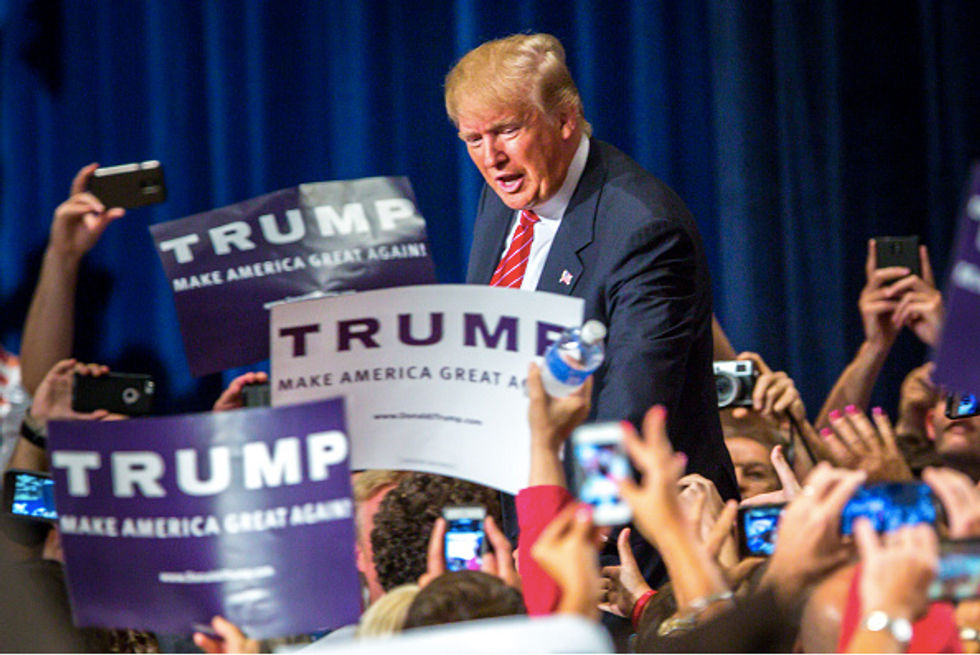 Republican Presidential candidate Donald Trump addresses supporters during a political rally at the Phoenix Convention Center on July 11, 2015 in Phoenix, Arizona. Trump spoke about illegal immigration and other topics in front of an estimated crowd of 4,200. (Photo by Charlie Leight/Getty Images)
President Ronald Reagan faced a Democrat majority in the House of Representatives in 1981. He convinced enough of them to follow his plan to reduce the government's role in our lives through tax cuts and regulatory relief.
As a result, you and your neighbors created 4 million new businesses and 20 million new jobs. You doubled the size of the economy from $2.5 trillion to $5 trillion. You doubled your contributions to the government from about $500 billion in 1980 to over $1 trillion in 1990.
And you doubled your gifts to strangers – people you never met – through charities, from $44 billion in 1980 to over $100 billion in 1990.
President Reagan didn't' get us there by insulting everyone who disagreed with him. He worked with them, and the generations that followed enjoyed the benefits.
Trump needs to think about who might be interested in being on his team if he ever moves into the White House.
Trump's recent polling strength comes as much from his blunt position on illegal immigration as it does from his leadership potential. It is curious to me why the other 70 or 80 Republican candidates fail to see what Trump clearly sees.
The one who does recognize the severity of the problem and proposes serious and tough, but respectful solutions will reduce Trump to a curiosity.
Trump's accusation that many of the Mexicans being "sent" here are drug dealers, rapists and murderers was immature and drew responses from his opponents.
Jeb Bush said, "…his views are way out of the mainstream of what most Republicans think,"
Did Trump take issue with Bush's assessment? No. He made a personal attack. "Jeb Bush has to like the Mexican illegals because of his wife."
He dismissed Sen. Marco Rubio (R-Fla.) as a liar.
That is not political argument. That is a demonstration of a lack of class.
President Bill Clinton once said, "Politics is about tomorrow not yesterday."
If you are seeking people's votes it's not enough to trash people and policy. At some point you're going to have to explain what you believe for our future.
If Donald Trump believes anything beyond trashing immigrants I do not know what it is. On many "hot button" issues he has been on both sides. He was for nationalized healthcare. He supported gun control. He was in favor of abortion rights. He supported and lavished praise on Mrs. Clinton. He now disagrees with all of those positions.
In an interview with Bill O'Reilly of Fox News, Trump insisted that we give the 11 to 30 million illegals a path to citizenship. We are left to wonder who might show up when the circumstances call for judgment rather than words.
Charles Krauthammer and George Will are both Pulitzer Prize winners and respected conservative intellectuals. They have criticized Trump's candidacy.
Trump's thoughtful response to their criticism was; "They're losers. They're just losers."
To dismiss those who disagree with you as "losers" suggests that you are unequipped to defend your position. It bolsters their argument not yours. It also shows a lack of class.
Sen. John McCain (R-Az.) said that Trump's visit to Phoenix "had fired up the crazies."
Trump's assessment of McCain was not only wrong, it was classless. Apropos of nothing, Trump said, "He's not a war hero."
Moderator Frank Luntz said, "He is a war hero."
Trump responded: "He's a war hero because he was captured." Then, gratuitously added, "I like people that weren't captured."
While John McCain was a prisoner of war in Hanoi, Donald Trump was receiving four student deferrals and a medical deferral to escape the draft.
I don't care whether Trump likes people who weren't captured or even whether Trump likes anyone at all. I do care if candidates for the highest office in the land act like adults.
It's time for Donald Trump to show some class and act like a serious man, if that is even possible.
–
TheBlaze contributor channel supports an open discourse on a range of views. The opinions expressed in this channel are solely those of each individual author.