Donald Trump just lost my respect. Some people may think I'm late to the party, but I have been willing to give him the benefit of the doubt—believing that his blunt, often very entertaining rhetoric might be a partial cure for the fear so many Americans have of speaking their minds.
Now, I see how destructive a person Trump actually is. Because, in attacking Ben Carson as permanently pathological due to his very early history of rageful behavior, Donald Trump just asserted that God never redeems anyone. And what's more, he has asserted that the work I do to turn around the lives of adolescents and teenagers and adults who struggle with anger issues (or depression or anxiety or an addiction) never really works at all.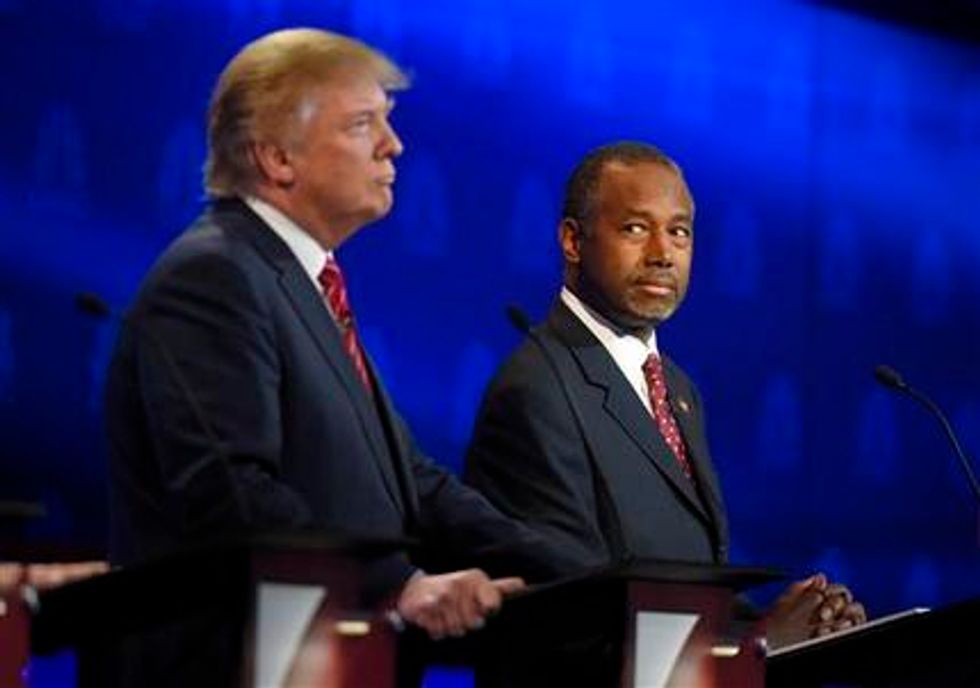 Ben Carson, right, watches Donald Trump during the CNBC Republican presidential debate at the University of Colorado, Wednesday, Oct. 28, 2015, in Boulder, Colo. (AP Photo/Mark J. Terrill)
Ben Carson tried to stab someone as a teenager and tried to assault his mother as an adolescent, but he was young and he is now remade. Donald Trump just did something infinitely worse, as an adult: He drove a stake into the spirits of millions of Americans who have had the courage to face adversity, look at themselves deeply, invite psychological or spiritual healing into their lives (which may be one in the same thing) and, ultimately, to vanquish their demons.
These brave folks are my tribe. Donald Trump just trampled upon them. They don't need me to stand up for them; so many have faced so much worse than Trump's assertion they are perpetually broken. But I need to stand up for them, because to not do so would be to sit idly by and watch a bully tell a massive lie about some of the most inspiring people I have ever met.
The idea that people cannot be changed by searing insights or by God's grace could be the most hopeless view of humanity I have ever heard.  It flies in the face of the teachings of every major religion—whether the story of Moses, a deeply flawed man, leading his people out of bondage, or the story of Jesus making redemption possible for all mankind, through his own death.
What's more, Trump's world view flies in the face of healing I have seen unfold in my office. I have seen heroin addicts not only put down drugs, but take up big challenges, like becoming attorneys or soldiers or good parents. I have seen a prostitute stop selling herself and become a social worker. I have seen career criminals start honest careers. I have seen people depressed for decades triumph over their illnesses and over all adversity. I have seen people remade. I don't need to ask Donald Trump if it happens.
Here's my final message for Donald Trump: Long ago, Ben Carson set aside his smoldering rage and his belief that contests or arguments can be settled through violence. You, Sir, have yet to take that journey. I wish you Godspeed.
-Keith Ablow, M.D.
Dr. Keith Ablow hosted a fundraiser for Dr. Ben Carson.
–
TheBlaze contributor channel supports an open discourse on a range of views. The opinions expressed in this channel are solely those of each individual author.