There have been a lot of questions surrounding who is "the real Donald Trump" recently.
From his policy positions on abortion to gun control to foreign policy, to questions about Trump's almighty dollar - including how much he is really worth and how much of that wealth he has contributed to Democrats - the nation is scrambling to find out where Donald Trump's loyalties lie.
It turns out that at least one trait runs in the family: donating to Democrats.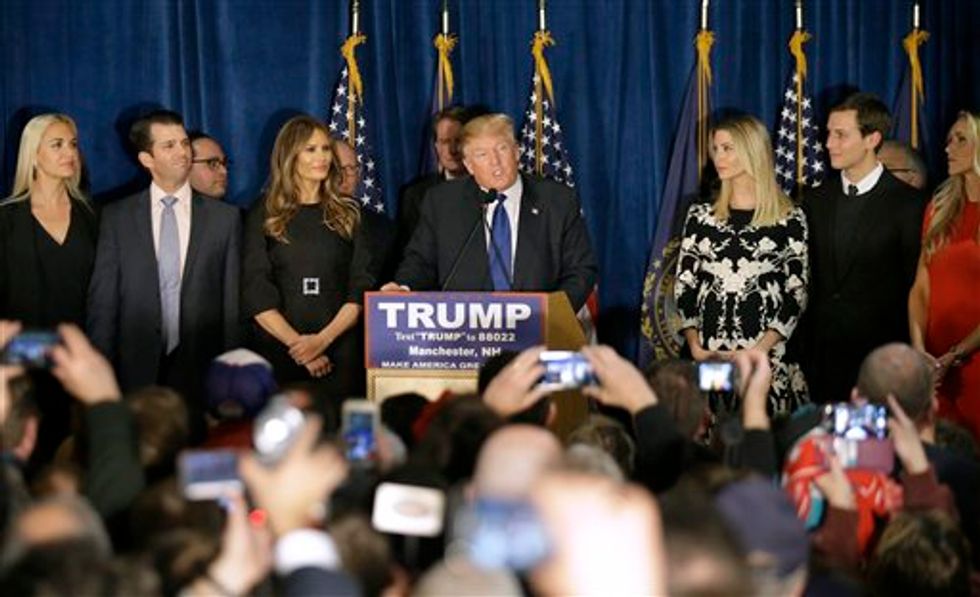 Republican presidential candidate, businessman Donald Trump speaks to supporters during a primary night rally, Tuesday, Feb. 9, 2016, in Manchester, N.H. At his side are his son Donald Jr., second from left, wife Melania Trump, third from left, and daughter Ivanka Trump, third from right. (AP Photo/David Goldman)
Normally, children would be off-limits on a presidential campaign. However the Trump children, aged in their 30s, are far from minors and have birthed children of their own. Also, Trump's adult family members have become fixtureson stage with him week after week which makes them part of the campaign, win or lose.
As sources around Trump suggest that his family provides a great deal of input on his campaign and that his daughter Ivanka is his most trusted adviser, it is worth inquiring which politicians and policies those family members have supported over their lifetimes.
An analysis of 20 years of campaign finance filings conducted with the nonpartisan Crowdpac data-mining organization reveal that Donald Trump's children have donated primarily to Democrats.
Ivanka Trump, who is sometimes referred to as "Anka" Trump in campaign finance filings, has contributed significantly to Democrats over the last decade. (To verify the two are the same person, we confirmed that Ivanka and "Anka" are listed at the same home address in New York City on campaign finance filings.)
Ivanka contributed $16,500 to Democratic Congressional Campaign Committee in the 2006 midterms when then-Speaker of the House Nancy Pelosi was fighting Republicans. She contributed $7,500 to Harry Reid's Democratic Senatorial Campaign Committee that same midterm election year. Ivanka also gave $8,000 to the Democratic Congressional Campaign Committee in 2008 during a presidential election year.
She has also contributed $4,000 to California's far-left Attorney General Kamala Harris; $17,500 New York's Democrat Gov. Andrew Cuomo; the Democrats' National Leadership PAC in 2006 and 2008 - an organization associated with the "Act Blue" 527 organization during years that Democrats were fighting against Republicans; and $7,700 to far-left Congresswoman Eleanor Holmes Norton, a pro-abortion feminist who supports protecting LGBT community members from illegal immigration deportations.
Other Democrats that Ivanka Trump contributed to are: Sen. Kirsten Gillibrand ($2,000); Hillary Clinton for U.S. Senate and president ($3,400); the Democrats' scandalous Eliot Spitzer for governor ($3,000); liberal Congressman Charlie Rangel; California's liberal Lt. Gov. Gavin Newsom ($500); democrat Sen. Chuck Schumer ($4,500) in 2014; and Democrat Sen. Cory Booker as recently as 2014 ($20,400).
It appears that out of more than 30 campaign contributions, Ivanka only contributed to three Republican campaigns - John McCain, Mitt Romney/Paul Ryan for president ($75,000) and Carly Fiorina. Her contributions to Republicans represents less than 10 percent of her contributions - the rest have been to Democrats.
Donald Trump's son-in-law Jared Kushner, who is married to Ivanka, is also primarily (no pun intended) a Democrat giver.
In recent weeks, Trump has highlighted Kushner at campaign rallies suggesting that Kushner enjoys the campaign trail even more than his career as a businessman in New York City.
The problem for Republican primary voters is that Kushner has donated nearly 100 percent of his life's political contributions to Democrats, to the tune of approximately $100,000. The only Republican that Kushner has ever given to is former New York City Mayor Rudy Giuliani for U.S. Senate run in 2000, which was 16 years ago.
Kushner is a committed Democrat who has contributed to hard-line partisan organizations including the Democratic National Committee PAC ($18,000); the Democratic Senatorial Campaign Committee's Building Fund ($26,250); and the New Jersey Democratic Party ($17,000).
Kushner has also donated to HillPac to elect Hillary Clinton for president ($5,000); Democrat Sen. Chuck Schumer ($2,000); Democrat Sen. Cory Booker ($10,400); and the Democrats' Committee for Working Families ($10,000).
Kushner also gave to the shamed former New Jersey Gov. Jim McGreevey ($4,700); the Democrats' New Millennium PAC ($10,000); Hillary Rodham Clinton ($4,000); democrat Jon Corzine ($4,000); and former Sen. Robert Torricelli ($12,000).
Kushner is not the only person to contribute politically in his family, either. His father, Charles Kushner, was arrested in New Jersey in 2004 for illegal campaign contributions and witness tampering and was later convicted of the charges.
As for Donald Trump's son, Eric Trump, he has given to a few Republicans including Mitt Romney, Paul Ryan and Sen. John McCain, but has given more recently to Democrats Sen. Chuck Schumer in 2010 and Bronx borough President Ruben Diaz, Jr. in 2014.
Melania Trump is also a bipartisan giver. Campaign finance records show that Trump's wife contributed to John McCain for president in 2008 and to Hillary Clinton for U.S. Senate in 2006, although she gave significantly more to McCain.
Donald J. Trump, Jr. is the only one in the group who appears not to have contributed to any politicians whatsoever.
Wherever Donald Trump's loyalties lie, one thing is clear: the propensity to contribute to Democrats during tough election years against Republicans runs in the Trump gene pool.
–
TheBlaze contributor channel supports an open discourse on a range of views. The opinions expressed in this channel are solely those of each individual author.