"Who is forgiveness supposed to be for? Whose interests is it supposed to serve?"
That's the question a friend asked me once when we were mulling the topic. It's a good one, particularly in light of the decision by family members of those killed by Dylann Storm Roof to forgive him, as well as Dzhokhar Tsarnaev's apology "for the lives I have taken" before being sentenced to death.
Forgiveness is a complicated idea with all sorts of moral, social, and religious dimensions. It might be the most unappreciated concept we have. While it's impossible here to investigate forgiveness completely, my friend's question is a decent place to start.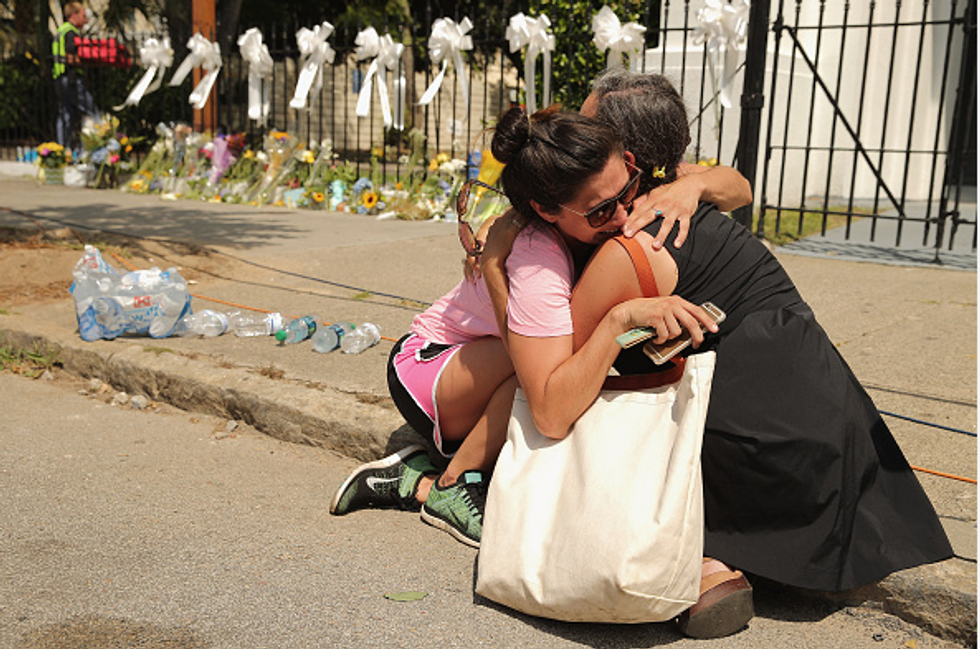 Maranda Mincey (L) of Charleston and Steward Watson of Baltimore weep and embrace outside the historic Emanuel African Methodist Episcopal Church, June 19, 2015 in Charleston, South Carolina. (Photo by Chip Somodevilla/Getty Images)
Generally, when one person mistreats another – that is, when a perpetrator harms a victim – forgiveness is the venue where the victim lets the perpetrator know that the wound has healed. We're capable of harming each other in all sorts of intangible ways – for instance, lying, insulting, and stealing – and there's not always a bandage that you can lift up to see if everything's fixed.
Saying "I forgive you" is a way for the victim to let the perpetrator know that the damage has been repaired.
On the other side, earning forgiveness is the means for the perpetrator to undo (or at least outweigh) the harm they've done. How you go about earning forgiveness depends a lot on how it is you hurt someone, and what your relationship with them is: Did you break a neighbor's window, show up late for a business appointment, or cheat on your spouse? They're all a bit different.
But, generally speaking, earning forgiveness means admitting what you did, working to reverse the harm it caused, and demonstrating that you're not going to repeat the offense in the future. At the end of that process, you can say, "I'm sorry. Please forgive me."
There are a few ways that forgiveness can go wrong. One is when we refuse to forgive somebody, despite the fact that they've done everything possible to repent. Withholding forgiveness becomes a way for the victim to keep punishing the perpetrator beyond what's proportionate.
Perhaps the more common ways for forgiveness to go wrong, though, is when it's given or demanded in the absence of any effort to earn it (see Mark Wahlberg).
For example, when Tsarnaev says that he's sorry for the lives he took in the Boston Marathon bombing, it doesn't bring the victims back to life. Granted, there's nothing he can do to revive those he murdered, but that's why murder is considered such a heinous crime. Broken windows can be replaced; the departed can't. His apology falls flat.
This combination of file photos shows brothers Tamerlan, left, and Dzhokhar Tsarnaev, suspects in the Boston Marathon bombings on April 15, 2013. (AP Photos/Lowell Sun and FBI, File)
And I think a mistake is being made from the opposite direction by those forgiving Roof for the nine people he killed in Charleston. Again, Roof can't do anything to revive his victims, but he hasn't even gone as far as Tsarnaev in taking responsibility for his crimes. So how does he deserve forgiveness?
I know that, for many people, there is a religious dimension to forgiveness that supersedes all other considerations. God, in a sense, loves and forgives everyone, including Roof, Tsarnaev, and a host of people who are far worse. And I understand that forgiving Roof is also an act of defiance. It's a way of saying, "No matter what you do, we're not going to collapse from the pain, and we're not going to give in to anger the way you have. Our lives won't revolve around your act of hate. We're going to keep filling our lives with love, and sharing that love with others."
In other words, forgiveness is important for more than one reason. There has to be a way for us to recover and repair our relationships with others when we inevitably screw up and hurt them. And there has to be a way for us to move on when we've been scarred by someone who can't even begin to fix the wound, and who maybe isn't even trying.
However, let's not confuse the two. The families of the victims in Charleston are moving on in the spirit of love, and I admire them immensely for that.
But, if there's anything that Roof and Tsarnaev can do to deserve to be forgiven for what they've done, they haven't come anywhere close to doing it.
–
TheBlaze contributor channel supports an open discourse on a range of views. The opinions expressed in this channel are solely those of each individual author.