"I forgive you."
Those were the words spoken by the daughter of Ethel Lance, one of nine people slain in a Charleston, South Carolina, church, to the man accused of pulling the trigger.
"I just want everybody to know, to you, I forgive you," Lance's daughter told Dylann Roof during his first court appearance Friday. "You took something very precious away from me. I will never talk to her ever again, I will never be able to hold her again, but I forgive you and have mercy on your soul. You hurt me, you hurt a lot of people, but God forgive you, and I forgive you."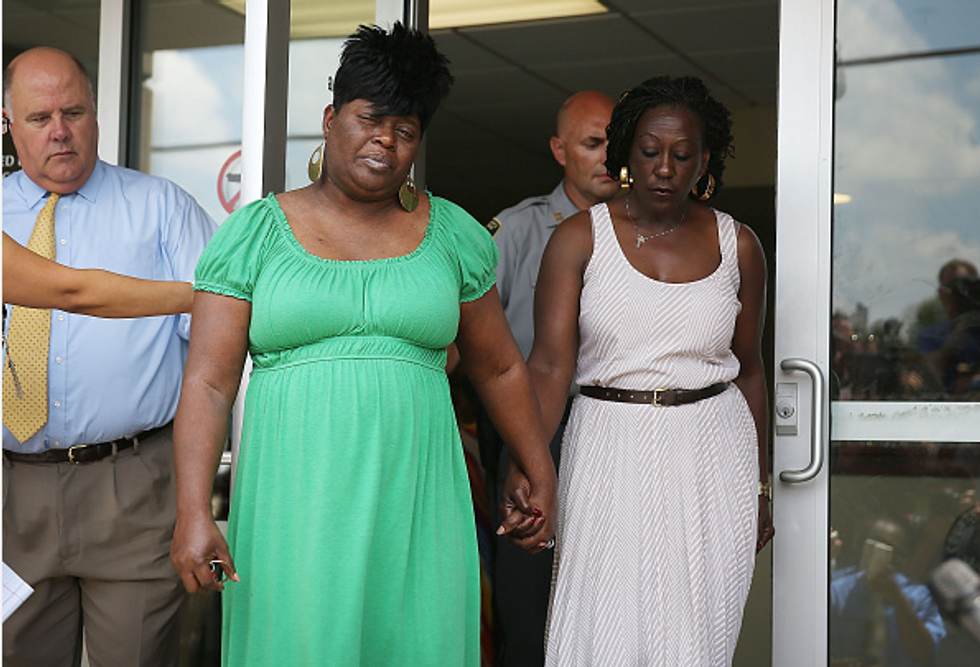 Nadine Collier, left, walks out of the Centralized Bond Hearing Court Preliminary Hearing Court after attending the bond hearing for Dylann Roof, who is accused of killing her mother, Ethel Lance, and eight others during a shooting at Emanuel African Methodist Episcopal Church, June 19, 2015 in Charleston, S.C. Roof, 21, is suspected of killing nine people during a prayer meeting in the church, one of the nation's oldest black churches in Charleston. (Joe Raedle/Getty Images)
Roof appeared in court via closed-circuit TV, two days after Wednesday night's massacre at Emanuel African Methodist Episcopal Church.
The Rev. Anthony Thompson, husband of Myra Thompson, offered this: "I forgive you and my family forgives you, but we would like you to take this opportunity to repent, repent ... give your life to the one who matters the most, Christ, so that he can change it and change your ways no matter what happens to you, and you'll be OK."
A judge set bond for Roof at $1 million for the weapon possession charge he faces. The 21-year-old is also charged with nine counts of murder.
Roof showed no emotion during the court proceeding, where he appeared on camera flanked by two guards. He is reported to have already confessed to the killings, saying he wanted to start a race war.
Affidavits released Friday said Roof was inside the church during Bible study for about an hour before he started shooting. He shot all nine victims multiple times, then stood over a witness and uttered a racial remark afterward, the Associated Press reported.
This post has been updated.