When disaster strikes, strong leadership is more necessary than ever.
Last week the world watched in horror as natrual-caused tragedy struck the nation of Nepal. This week, our collective sympathies are extended to the people of Baltimore, Maryland, where another violence, whose roots are manmade, is on the verge of subsiding and being replaced with demonstrations and rallies.
In both cases, the ordinary people who have to live with the consequences of an unfortunate new reality are understandably frightened and traumatized. Without strong leadership in these exceptional times, fear can easily give way to even more tragic actions. Indeed, it is in precisely these situations where without leadership, the very fabric of society can unravel as cities and communities are engulfed in flames.
[sharequote align="center"]As pastors and people of faith, it's our job to rise to the occasion and help guide our communities.[/sharequote]
Faith leaders of Baltimore are comporting themselves with dignity and doing honor to their various traditions. Not a moment has gone by when they have not been at the forefront of events, urging calmness and showing that cooler heads must prevail if there is to be a lasting solution to the city's problems. This is no small task.
Baltimore has suffered from decades of endemic poverty and its people are understandably frustrated. But leaders in the faith community have spoken with one voice: Violence is not the solution, even in light of the recent disclosure of the Freddie Gray nvestigation.
We have seen pastors guard businesses, march together with protestors and extend outreach from faiths of all kinds to those most affected. Following the past week of tensions, they have proven their leadership abilities by embodying what an American president and a man of profound faith, Abraham Lincoln, referred to famously as "the better angels of our nature."
Like Lincoln, leaders from the faith community see a nation at a crossroads and must repeat that leader's sober wisdom: "We are not enemies, but friends. We must not be enemies. Though passion may have strained it must not break our bonds of affection."
As pastors, it is not our job to assign blame but rather to give support and hope to all who need it and help the communities of Baltimore to continue on the path of healing. As people of faith, our job is to help mend wounds and bring communities that have been torn asunder back together.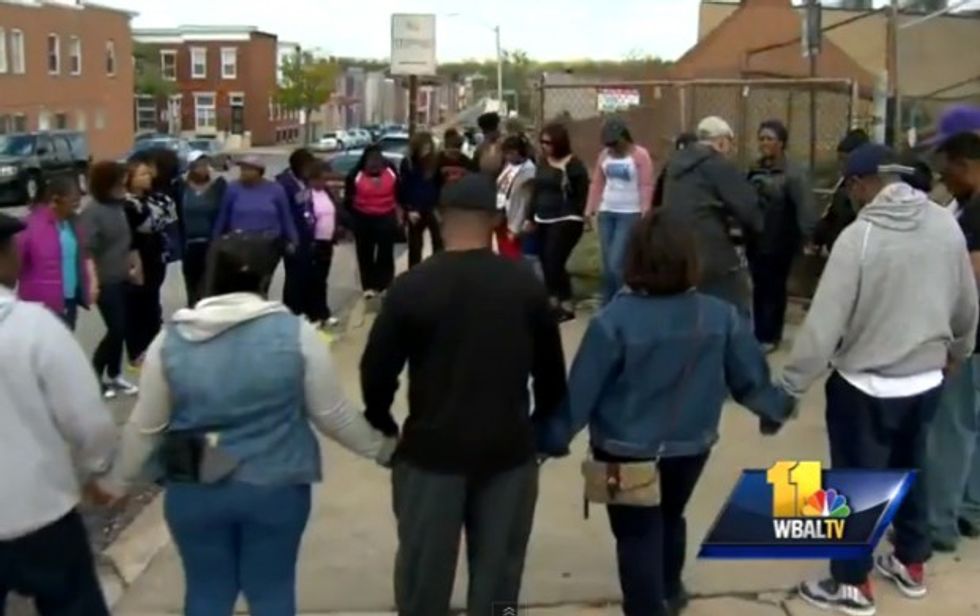 Residents gather in Baltimore for a prayer circle. (WBAL-TV)
The official title of the Pope, Pontifex Maximus, is thought by some to come from the Latin word for "bridge-builder," pons (bridge) + facere (to do, to make). One need be neither Catholic nor Christian to appreciate the message here. All people of faith, and especially their leaders, play the role of "bridge-builders" in their communities. They bring what was separate together and help foster community. This is something that is true of all leaders and is the test of their mettle.
As the smoke, mutual mistrust and suspicion continues to dissipate with the release of charges in the Freddie Gray death report, pastors and other clergy will remain front and center helping to alleviate the air breathed by all on the streets of Baltimore, be the police, protestors or bystanders.
People of faith must lead by example and show that violence is not the answer. It is the job of pastors to encourage dialogue between communities and to foster hope where there has been desperation. This is the highest calling of faith and a universal quality of all religions.
While we continue to pray for Baltimore, we carry the hope in our hearts that it will arise from recent troubles more unified.
William Vanderbloemen is the author of "Next: Pastoral Succession That Works" and President/CEO of Vanderbloemen Search Group, a for-profit startup that leads in in executive search for churches, ministries, and faith-based organizations.
–
TheBlaze contributor channel supports an open discourse on a range of views. The opinions expressed in this channel are solely those of each individual author.