Directly following the papal visit to the U.S., the editor of conservative journal First Things announced he sacked a writer after she wrote a column critical of Pope Francis.
The announcement from First Things editor R. R. Reno is revealing. Referring to Maureen Mullarkey, the writer whom he fired, he complains:
She consistently treats [Pope Francis] as an ideological propagandist, accusing him of reducing the faith to secular political categories. This is her way of reducing him to the political terms she favors ... the ones used by radio talk-show hosts to entertain the public with mock-battles against various Empires of Evil. I don't want First Things to play that game.
Nearly every word Reno wrote is straight out of a liberal playbook: Accusing conservatives of being lemming-followers of talk-radio hosts, putting on an air of intellectual superiority and even jeeringly alluding to President Ronald Reagan's use of the words "Evil Empire" to describe the menace of Communism, which drew snickers from the liberal intelligentsia of the time.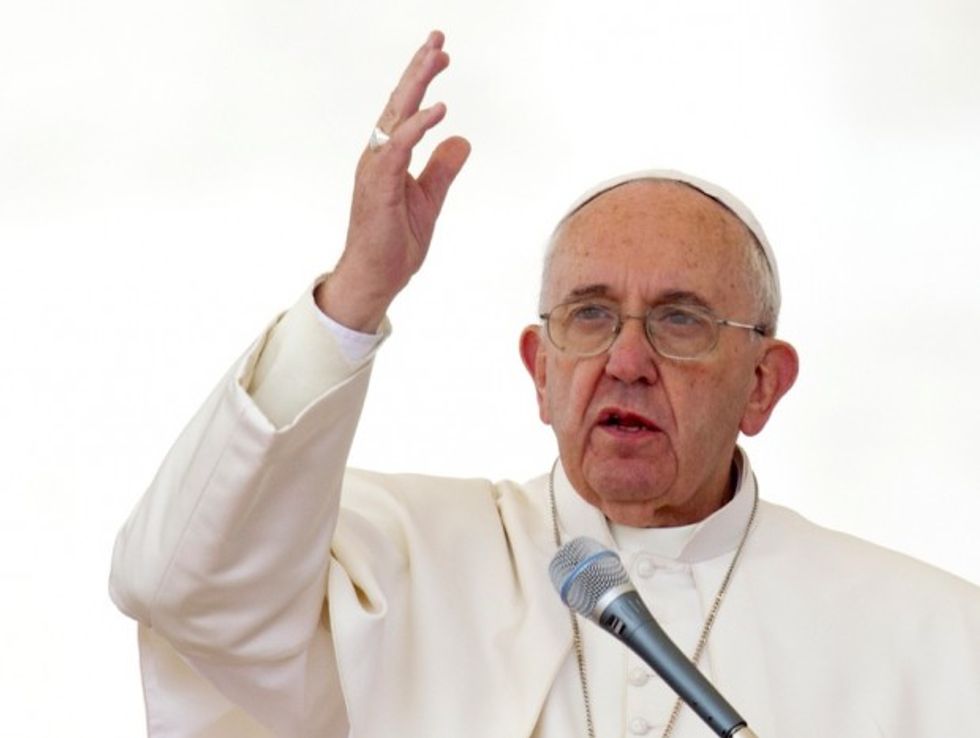 Image source: AP/Riccardo De Luca
It may surprise some that such anti-conservative clichés would come from a conservative publication like First Things. But Pope Francis' pontificate is having that effect on more and more Catholic publications.
Adam Shaw lost his position at Catholic News Service after writing a critique of Pope Francis's economic opinions. Patrick Archbold was sacked from National Catholic Register when he complained Pope Francis was alienating traditionalists. This writer was told to leave a Catholic publication after writing articles with a "tone" of "judgment" out of line with Pope Francis's message of "welcome."
It's almost as if publications that are owned by or beholden to the Church are treating the Holy Father's critics like whistleblowers uncovering an unsightly scandal. Perhaps because they are.
But whatever one might say of Reno's lack of professionalism and self-awareness (does he not see the irony in attempting to publically humiliate an employee in the name of maintaining civility?), his defense of Pope Francis is fitting.
After all, imitation is the highest form of flattery, and the Holy Father has sidelined his own share of truth-tellers, notably including Cardinal Raymond Burke, who opposed him at the beginning of the Synod on the Family in 2014.
Since then, the pope has been so inhospitable to conservative participants in the Synod that more than 200 bishops, archbishops and cardinals felt compelled to defy the wishes of his closest hand-picked advisers and intervene with Francis to maintain the Church's teachings on marriage and sexuality.
Meanwhile, thousands of leftists are passing around a petition in "support" of Pope Francis's supposed effort to undermine natural marriage and adjust Christian doctrine to match the opinion of Supreme Court Justice Anthony Kennedy.
According to a recent study from the Public Religion Research Institute, almost four in 10 Catholics believe that Pope Francis is pro-gay marriage, and more than half of Catholics agree with his supposed pro-gay marriage stance.
Defending Pope Francis against the fired writer, Reno contends that "we need to have the moral and spiritual generosity to enter into our adversaries' ways of thinking," apparently implying that his adversary Maureen Mullarkey's way of thinking is an exception to that rule.
And what rule is that? It is the "golden rule," which Pope Francis proposed during his recent address to Congress. But Pope Francis applies the golden rule to battles between truth and dangerous error — rather than between neighbors as the Gospel recommends — and so it serves only as a defense of error against the truth.
After all, when he spoke live to a world torn apart by error and moral chaos, what was the single "temptation" that Pope Francis said "we must especially guard against" in his address to Congress? "The simplistic reductionism which sees only good or evil; or, if you will, the righteous and the sinners."
Instead of praising saints and admonishing sinners, we must "confront every form of polarization which would divide [the contemporary world] into these two camps" in the first place, the pontiff said.
Perhaps this is why Reno would choose to publically excoriate Maureen Mullarkey for criticizing the political coalition Pope Francis is building with the left, instead of, say, First Things contributor Elizabeth Scalia — who was broadcasting the "Virtuous Pedophile" movement long before even Salon.com would touch it.
When Christ commanded "Do unto others as you would have others do unto you," He was addressing His faithful followers about how to treat their enemies. The assumption is that the "you" is someone who accepts the truth of things or, in the words of Pope Francis, someone who "sees" the "good or evil" in people and knows the difference between righteousness and sin.
Pope Francis seems to dispense with that "rigid" assumption, favoring a more "welcoming" Church and a "culture of encounter."
What will happen if Pope Francis expands the Lord's command? Will we do unto pro-abortion politicians and gay marriage activists what they would have us do unto them? Will we do unto liars — who distort the truth the Church is meant to protect — as they would have us do?
Do the math: As long as we agree on what the lies will be, this new golden rule will make liars out of all of us — minus those disagreeable folks who, like Maureen Mullarkey, lack the "spiritual generosity to enter into their adversaries' ways of thinking."
Read the article that got Maureen Mullarkey fired.
–
TheBlaze contributor channel supports an open discourse on a range of views. The opinions expressed in this channel are solely those of each individual author.