For years, Dan Aykroyd tried to get a third installment of his highly successful "Ghostbusters" francshise off the ground. After many false starts, mostly due to the reluctance of original star Bill Murray, Sony Pictures decided to move forward with a reboot of the franchise instead.
Back in October 2014 it was officialy announced that the Ghostbusters franchise would be moving forward, not with a sequel, but with a reboot and that it would be directed by Paul Feig and feature an all female cast. It was then announced in January of this year that the cast would be led by "Mike and Molly" star Melissa McCarthy. Fan reaction was immediate and negative. Even former Ghostbuster Ernie Hudson had some things to say on the subject.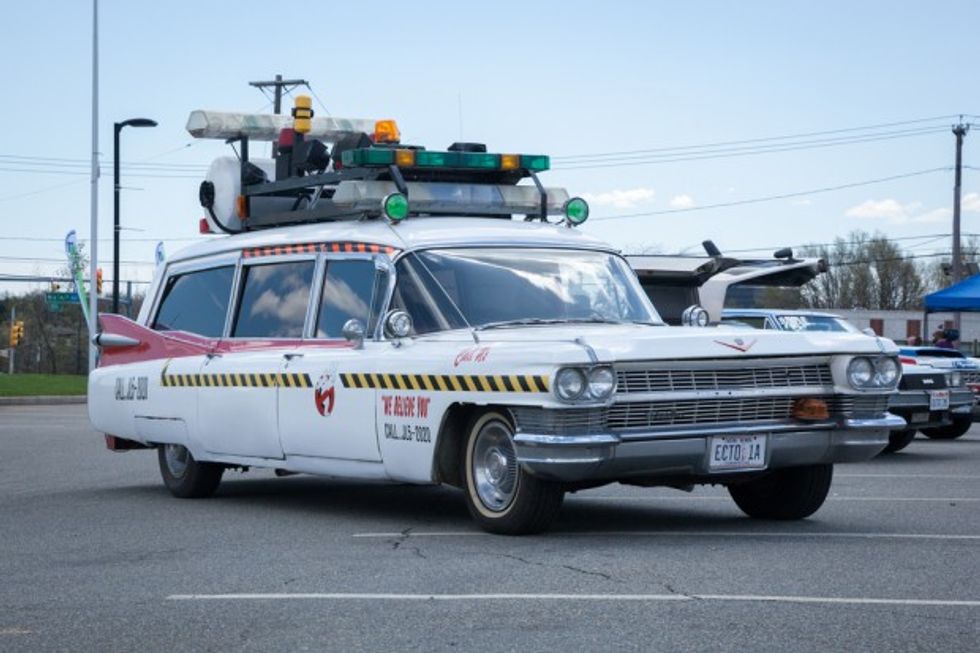 Photo Credit: Shutterstock
Feig's female Ghostbusters film is currently in principal photography, and Feig himself is releasing more and more information via his official Twitter account. Feig has posted photos revealing the Ghostbusters' uniforms, the new proton pack and, most recently, the new car.
A quick browsing of the comments on Feig's tweets show that reaction is very mixed, with the more passionate fans being opposed to just about everything the movie is releasing. Criticisms have ranged from the proton packs looking too "home made" to the car not being the classic 1959 Cadillac hearse used in the original. Of course, it hasn't taken very long to dismiss these criticisms as being nothing more than the whinings of pathetic, mysoginistic man-babies who are just mad because the Ghostbusters are now female.
To be sure, the obvious gimmicky pandering of Sony in making an all-female Ghostbusters team, advertising it as such - not just a Ghostbusters movie that happens to be about women, but blatantly bragging about it being an all female reboot and even casting alpha-male Chris Hemsworth - Thor from the Marvel Cinematic Universe - as the lady Ghostbusters' new secretary is something fans have railed against. It isn't the women these fans are decrying, however, it's the blatant and unapologetic hijacking of the franchise by feminists that's distasteful.
If this had been four female comedians who had secured the rights to the film themselves, wrote it themselves, and had put themselves truly into it the way Dan Aykroyd and the guys did back in the 80s, fans wouldn't have an issue at all. The ladies would have earned their place in those packs. That wasn't how it happened. This film was pre-packaged as an all-female vehicle, and it was handed to these women on a silver platter for no other reason than to serve an agenda-pushing Hollywood, and that agenda is decidedly anti-man.
It will be interesting to see how the film performs both critically and financially. While it is very possible the movie might end up genuinely being everything Ghostbusters fans could ever want, it would take strong word of mouth to reverse the already negative opinions being formed by fans. Likewise, fans aren't likely to take the words of critics on face value. Feminists are an extremely powerful, thug-like lobby, having already bullied Ernie Hudson into retracting his criticism of the film, so many critics may give the film a favorable review just so they don't have to deal with the backlash of speaking their true opinions.
Matthew Surprenant of Moviepilot made several interesting observations, not the least of which was that there is nothing original to see here.
"It's a knockoff at every level," Surprenant writes. "Rather than developing brand new characters as a whole, they've intentionally taken the mold and slapped new faces into previously existing roles. That means we're expecting the new cast to replace the old, not be new characters."
With everything that's been released thus far, it's hard to argue with Surprenant's assertions. And not only is the Ghostbusters reboot coming off as a knockoff, it's looking like nothing more than a cheap knockoff at that. There have been fan films that were more original, and more deserving of the "Ghostbusters" legacy, than what this movie is shaping up to be. No, it doesn't make you sexist to be wary of this film. All it does mean is that you're paying attention, and that you actually want it to be good. If only Sony and Paul Feig wanted it to be good as well, then everyone could be happy.
–
TheBlaze contributor channel supports an open discourse on a range of views. The opinions expressed in this channel are solely those of each individual author.