For those who have been living under a rock, Flint, Michigan is going through a massive crisis of its own government's making.
In an effort to save costs, the city decided to switch its water supply from Detroit to Lake Huron. A move, that most appear to believe, made good sense.
However, the Huron system wasn't ready yet and so in the interim, Flint decided to reopen the offline and outdated Flint water plant that relied on the polluted Flint River. This was the key mistake. That water was heavily contaminated with lead and other toxins leaving the entire, economically depressed town without a source of clean drinking water.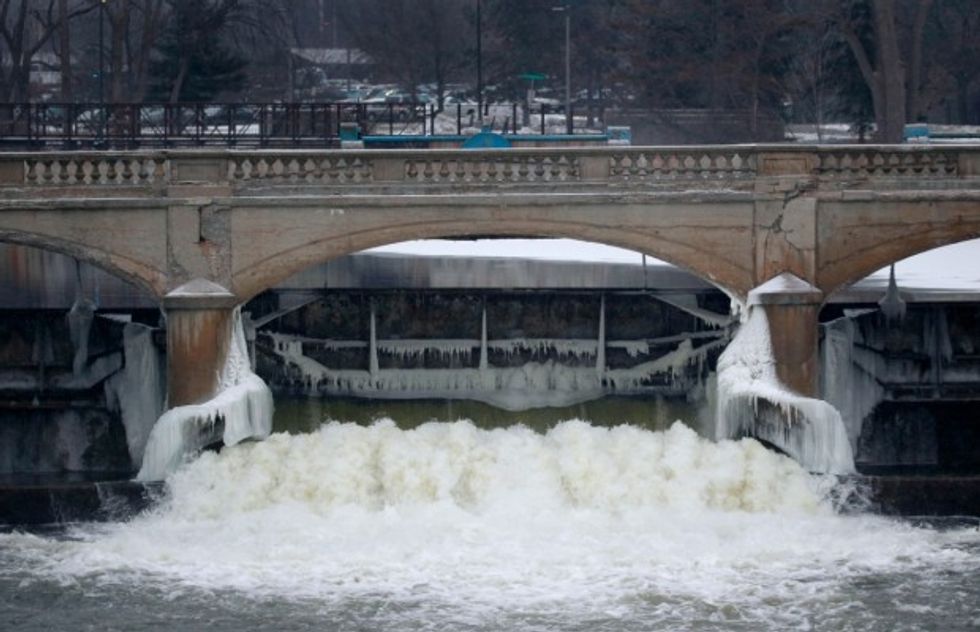 Water from the Flint River flows through the Hamilton Dam near downtown Flint, Mich., on Jan. 21, 2016. (AP Photo/Paul Sancya, File)
Not surprisingly, this tragedy has led to a public outcry. The left has been particularly vehement about it with Hillary Clinton blaming racism saying "If it had been a rich white suburb where the water was brown and smelly, people would have come immediately to the rescue of those families."
The left has been especially angry with Michigan Gov. Rick Snyder, but also with the supposedly free market policies that led to the disaster. I should note that "supposedly" is an extraordinarily kind way to describe their argument.
I'll let Paul Krugman some up the left's point of view here,
"Yet a funny thing has happened as hard-line conservatives have taken over many U.S. state governments. Or actually, it's not funny at all. Not surprisingly, they have sought to cut social insurance spending on the poor… What we see in Flint is an all too typically American situation of (literally) poisonous interaction between ideology and race, in which small-government extremists are empowered by the sense of too many voters that good government is simply a giveaway to Those People."
Or perhaps Vox's headline is a better summary, "Flint, Michigan, tried to save money on water. Now its children have lead poisoning."
Basically, people who believe in the free market cut spending drastically and that lead to the water in Flint being poisoned. Oh, and such people are racist too.
None of this is even remotely close to being true and is furthermore, easily checkable.
Indeed, while Gov. Snyder is a Republican – who also appointed a much-maligned emergency manager, who happens to be a Democrat, to Flint because the city was so far in the red – services such as supplying water are done at the local level. And Flint is pretty much completely ran by Democrats. Flint has non-partisan elections, but even still, it has been a long time since it has had anyone other than a Democrat as a mayor.
To say the least, Flint was not being run by a bunch of free market radicals.
And quite obviously, it wasn't the decision to switch to Lake Huron that caused this crisis; it was the ludicrous decision to use the old Flint plant that did. In other words, it wasn't the attempt to save costs, but just a very stupid decision on what to do in the interim.
And then came the dishonesty by Flint governing officials as they tried to deny the crisis. As Shikha Dalmia describes,
"Residents started complaining about the taste and color of the water right after the switch in April 2014. The city denied anything was wrong, but later discovered that the water contained a higher-than-recommended concentration of TTHM (trihalomethanes) — a byproduct that is generated when too much chlorine is required to disinfect the water. This, along with some other issues, prompted General Motors to quit the Flint water system after its auto parts started corroding. Yet Democratic Flint Mayor Dayne Walling was still telling residents the water was safe, even advising them that buying bottled water would be 'wasting their precious money.'"
But it gets even worse for the liberal narrative. As Dalmia notes elsewhere,
"…sources close to the situation at the time tell me that [the decision to approve Flint's plan] was essentially because Genesee County and Flint authorities saw the new water treatment as a public infrastructure project to create jobs in an area that has never recovered after Michigan's auto industry fled to sunnier business climes elsewhere. And neither Snyder nor his Emergency Manager Ed Kurtz nor the state treasurer Andy Dillon had the heart to say 'no,' especially since to hand Flint to DWSD would have made the whole project less viable."
So in other words, it appears this whole tragedy was actually a Keynesian stimulus program. So much for "small-government extremists."
It's all the more ironic that given the current situation, private companies such as WalMart and Coca-Cola have stepped up to provide water to Flint for free filling the gaping hole left by a reckless local government It's also noteworthy that there wasn't much outcry from liberals when the EPA accidentally dumped 3 million gallons of toxic chemicals into the Animas River in Colorado and turned the water a very toxic-looking orangish brown.
I guess blaming that on "small-government extremists" would have been even more of a stretch.
But that is neither here nor there. What has happened in Flint is a terrible tragedy, without question. But it is also, without question, a tragedy brought on by government mismanagement, not the free market.
–
TheBlaze contributor channel supports an open discourse on a range of views. The opinions expressed in this channel are solely those of each individual author.