This story has been updated.
–
Never sign a contract with a rooms attrition clause before a travel boycott unless you have $80,000 to lose.
Because I did it, and now the JW Marriott Indianapolis has my nest egg. And the irony of all? My convention, the National Grief & Hope Convention 2015, is a bereavement event designed to offer comfort, healing, and hope. And it's scheduled for later this month in the very state famous for Hoosier Hospitality: Indiana.
But that was before Indiana Gov. Mike Pence signed the Religious Freedom Restoration Act into law on March 26, 2015.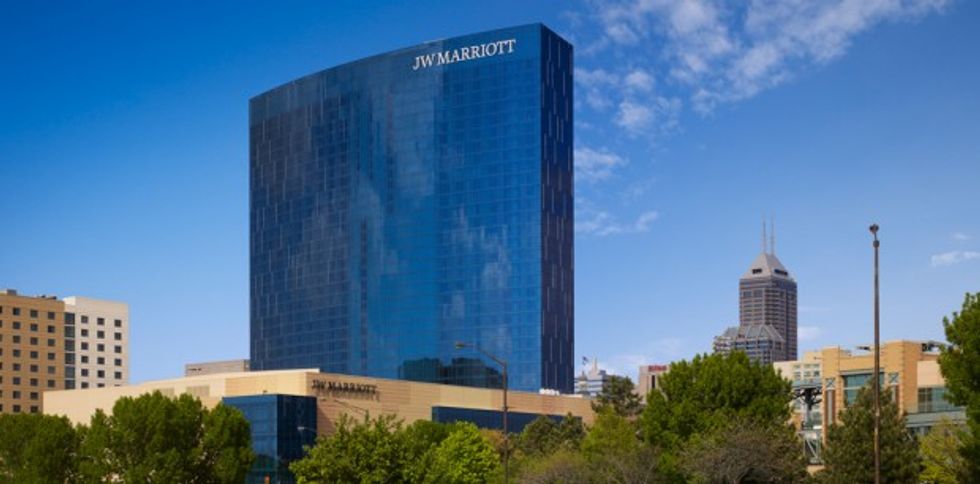 JW Marriott Indianapolis. (AP Photo)
Some believe that the Indiana law gives religious business owners carte blanche to discriminate against same-sex couples. As a result, the opposition, screaming over a gross loss of rights for gays and other groups, has targeted the entire state of Indiana. Taking aim at the heart of Indiana's hospitality reputation, a national protest called for a travel boycott upon the entire state, leaving those of us who are just weeks away from our long-planned events to suffer the fallout.
Whether one agrees with Indiana's new law or not, a travel boycott hurts thousands of innocent people. And, in my case, it also inadvertently exposed the dark underbelly of the hospitality industry known as rooms attrition.
And here's how.
Last year I set out to coordinate a bereavement event for people in need. Calling it the National Grief & Hope Convention 2015 and shooting for April 2015, I chose the crown jewel of the hotel chain known for impeccable service: the majestic JW Marriott Indianapolis.
Signing a contract with the hotel last June, visions of a very special event danced in my head. I dreamed of broken souls coming for comfort and healing, and leaving with renewed hope for a future filled with peace and maybe even joy.
Details fell into place and national speaking personalities came on board. All of my carefully orchestrated event planning went smoothly until three months ago when the hotel suddenly demanded nearly $80,000 up front for something called rooms attrition.
Rooms attrition is that little clause in the contract where the hotel agrees to hold a certain number of rooms for the attendees of your event. In exchange, the hotel drastically drops the price of the facilities you plan to use. In my case, the $22,000 rental fee for the Grand Ballroom would drop to $3,900 if the hotel set aside a certain number of rooms for my attendees. A bargain, right?
Here's the catch: If the block of rooms they hold for your event don't get reserved, they make you pay for them. Even if you release rooms back into the hotel's inventory pool, any rooms that aren't sold by the hotel are still your responsibility.
If the hotel happens to sell its entire room inventory, only then do you get a refund.
So in February with just three months to go, the JW Marriott Indianapolis decided I needed to pay up front for rooms attrition, the rooms they were holding for our convention attendees. And the amount was staggering: nearly $80,000.
Calling it abandonment of contract, the hotel threatened to cancel my entire three-day affair if I didn't pony up. If I wanted to move forward, I had to pay their demand. Crossing my fingers and banking that the hotel would sell out, I withdrew the funds from my husband's retirement and wired it to the JW Marriott Indianapolis.
And then, on March 26, 2015, when Gov. Pence signed the controversial Religious Freedom Restoration Act into law, the protest was swift and loud. And sparked a travel boycott against the entire state. With my convention just two weeks away, that could only mean one thing: JW Marriott Indianapolis faced the very real possibility of not selling its inventory, leaving me high and dry.
Holding my breath, I reviewed the convention contract for clarification, and found what I was looking for: In the event of circumstances beyond our control, including that brought about by government regulations, I was released from liability for rooms attrition.
It seemed cut and dry: the hotel couldn't fairly hold us responsible for empty hotel rooms resulting from a travel boycott brought on by government regulation. So last Friday, citing the national protest against the Hoosier state, I requested a refund on the rooms attrition deposit.
But I believe in playing fair so I offered the full price tag for using the ballroom. It was a reasonable offer for services rendered.
And, after reading an article in the Indy Star written by the vice president of Indianapolis Marriott East voicing concern over the travel boycott and its damage on the hotel industry, I felt certain JW Marriott Indianapolis would do the right thing.
But they didn't.
Stating that the protest doesn't prevent the hotel from being open for business, they planned to still hold me responsible for empty rooms stemming from the travel boycott.
On April 3, 2015, Gov. Pence revised the language of the Religious Freedom Restoration Act with hopes to appease the social protest and ease the travel boycott.
But the damage has been done. The hotel still has cancellations from angry protestors.
And the JW Marriott Indianapolis, the very hotel most famous of all for Hoosier Hospitality, is holding me responsible.
Update on April 8, 2015:
In response to yesterday's article, the JW Marriott Indianapolis reached out with an agreement that we have accepted.  I personally thank the hotel for working with us prior to Religious Freedom and Restoration Act, during last week's protests brought about by the law, and today when we reached an agreement.
Whether one agrees or disagrees with Indiana's new bill, the resulting travel boycott hurt thousands of innocent bystanders including local business owners who work to put food on the table.  The ripple effect from such fallout is incalculable and tragic.
The National Grief & Hope Convention 2015 will come to Indy next week as planned, and I personally invite you to come join us in a candlelight vigil led by Martin Luther King's daughter to promote hope around the world, starting in the very heart of Hoosier Hospitality:  the great city of Indianapolis, Indiana.
–
TheBlaze contributor channel supports an open discourse on a range of views. The opinions expressed in this channel are solely those of each individual author.