For the better part of his relatively young career in the United States Senate, Ted Cruz (R-Texas) has been one of the most beloved and hated politicians in Washington, D.C. Few have obtained such a passionate group of followers or an equally passionate gaggle of haters. Love him or loathe him, the man knows how to get people talking.
A little more than two years ago, in September 2013, everyone—and I mean everyone—was talking about Cruz. He had just finished a 21-hour marathon speech on the Senate floor in a hopeless-but-well-intentioned attempt to defund Obamacare. Cruz was vilified by President Barack Obama's supporters and Democrats across the nation, but Tea Party activists praised Cruz for being a hero of the modern conservative movement.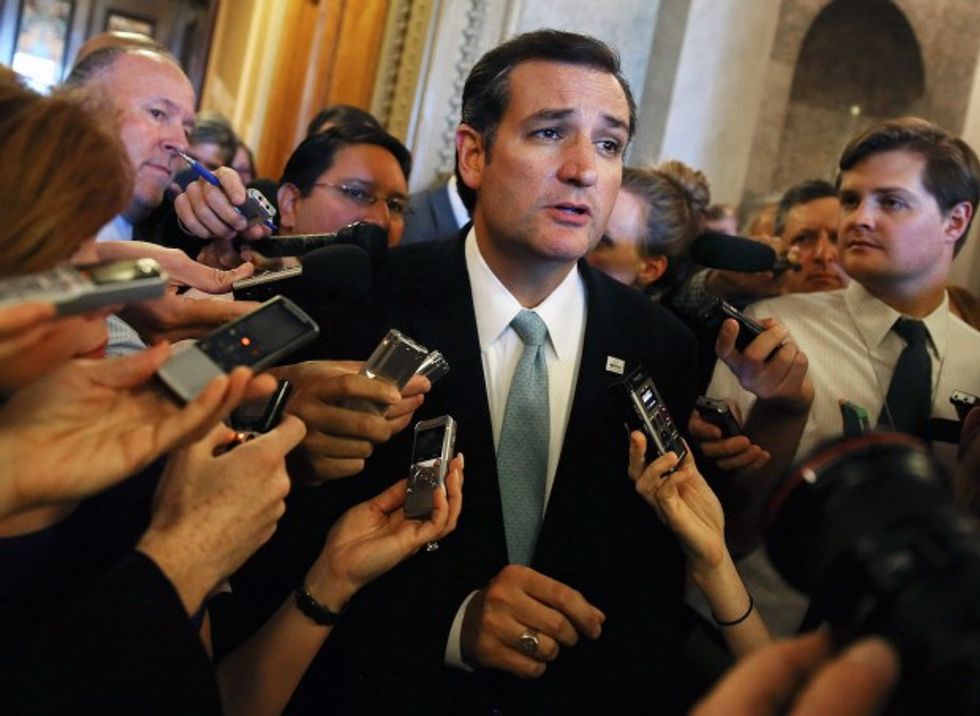 Photo by Mark Wilson/Getty Images
Part Benjamin Martin (Mel Gibson's fictional character from "The Patriot"), part "Mr. Smith Goes to Washington," Cruz' effort to bring attention to the faults of the incredibly destructive Obamacare boondoggle was the kind of move many conservatives only dream about.
Just one month before the marathon speech, business tycoon Donald Trump was questioning Cruz' eligibility to be president on ABC's "This Week" and subtly suggesting (again) Obama may not have really been born in America.
Trump's political past makes Democratic presidential candidate Lincoln Chafee look like a rock of stability. At one time or another, Trump has supported Hillary Clinton, Nancy Pelosi, partial-birth abortion, single-payer health care, and a variety of other far-left causes.
And yet, just a handful of months prior to the start of the GOP primaries, Trump remains at the top of the Republican heap, and the distance between him and the conservative champion Cruz is staggering. According to Real Clear Politics, Trump's average level of support is roughly 27 percent of Republicans, compared to only 8 percent for Cruz. Trump is leading in virtually every single state, and if the primaries were held today, Cruz would likely lose in every state.
Some might think Trump's support must be coming from the moderates in the Republican Party—the same group that carried Sen. John McCain and former Massachusetts Gov. Mitt Romney to victory in 2008 and 2012—but all the available data suggest Trump is doing very well amongst Republicans who identify as "conservative" or as members of the Tea Party.
After starting out with a record-breaking fundraising effort, Cruz has faded into the background for the first time in what seems like forever. In short, Cruz, along with conservative heroes such as Wisconsin Gov. Scott Walker and Sen. Rand Paul (R-Ky.), has been abandoned by the very same conservatives who he has spent his political career defending. From zero to hero ... just like that.
Any political analyst with half a brain will tell you the reason for the shift has little to do with Cruz and everything to do with wanting to send a message to the Republican establishment.
"We're sick and tired of John Boehner, Mitch McConnell, and Jeb Bush," says basically every conservative in America.
I'm sick of them too. I'm tired of looking weak, political pandering, and giving in to far-left Democrats who will never—not in a billion years—work to promote freedom. The word "compromise" these days really is just establishment Republicans' political jargon for "surrender."
In an effort to send a message to Republicans conservatives hate, they have abandoned one of the few people in Congress who have consistently refused to abandon conservatives. Where I come from, that's called "betrayal," and it's hard to explain.
This may very well be the least competitive group of Democrats in 50 years. The eventual Republican nominee will almost certainly face off against either an unlikable failed former secretary of state embroiled in countless scandals and lies, a grumpy old socialist from a state with virtually no political clout, a former governor of Rhode Island who seemingly switches parties every year, or two other candidates with such poor name recognition I'm not even going to waste time talking about them.
A conservative Republican not only has an exceptional chance of winning this election, it may be the best opportunity conservatives have had since Ronald Reagan to set things right. The next president will likely get to replace two Supreme Court justices, which means conservatives could very possibly control the Supreme Court and return the Constitution to its rightful place as the chief law of the land.
It's obvious conservatives are sick of losing one political war after another with leftists, but does anyone really believe Cruz is part of the "establishment"? Does anyone really think Cruz is a liberal-in-disguise sellout? Cruz is a man who stood on the Senate floor for 21 straight hours to defend liberty, and now conservatives are abandoning him.
After spending years of accusing Republicans of betraying conservative values, conservatives are betraying conservative values by turning on one of the few people who never turned on them.
–
TheBlaze contributor channel supports an open discourse on a range of views. The opinions expressed in this channel are solely those of each individual author.