California Assemblywoman Shannon Grove (R-Bakersfield) recently introduced AB 2229, which would allow law-abiding citizens with a concealed carry permit, a valid certificate of eligibility or those who already own a registered firearm to pick up their newly purchased gun without having to wait the customary 10 days. Currently, the only time a firearm does not have to go through the 10-day waiting period is if the firearm is being transferred from one family member to another, like when my dad transferred a pistol to me.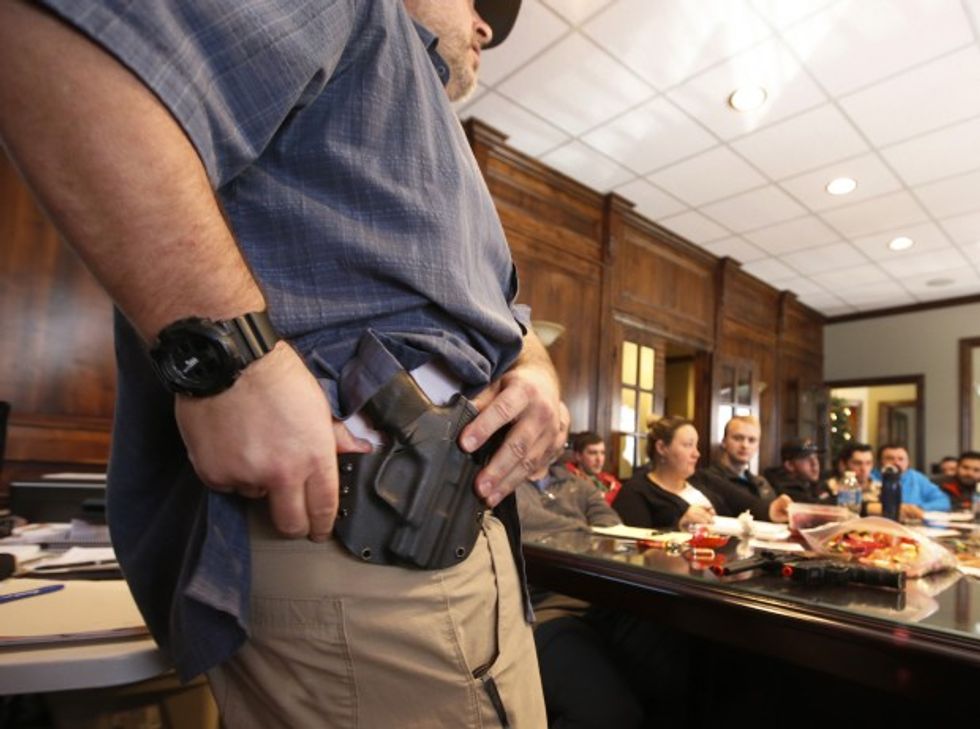 Damon Thueson shows a holster at a gun concealed carry permit class put on by 'USA Firearms Training' on December 19, 2015. (George Frey/Getty Images)
And yes, even the private sale of a firearm requires a 10-day waiting period. As it is, most private sales have to be completed at a gun store. The paperwork is filled out at the gun store and the store holds onto the firearm for the 10-day period before the new owner is able to possess it. It doesn't matter if they already own and operate a firearm or if they have a concealed carry weapons permit. They are treated as though they have never purchased a firearm before.
According to the Firearms Policy Coalition, "AB 2229 stems from a decision made by the U.S. District Court in Silvester v. Harris, a case litigated by The Calguns Foundation." The case was heard in Fresno in late 2011, where the plaintiff claimed – and successfully argued – the 10-day waiting period violates the Second Amendment. Although the State of California acknowledges this, they continue to deny law-abiding citizens their Constitutionally protected rights by demanding they wait the 10 days.
Assemblywoman Grove's proposed legislation, if passed, would be a huge victory for gun owners across the nation.
If California, one of the strictest states on gun possession and concealed carry, passed AB 2229, it would mean other states would have to reevaluate their stance on firearms. If those states with strict gun laws fail to reevaluate their take on the Second Amendment, chances are, gun owners – and the National Rifle Association – will challenge them in a court of law. By precedent, gun owners would win.
Although gun control advocates will argue the 10-day waiting period makes little difference in the grand scheme of things, their attitude is misguided. Think about it. Yes, the 10-day waiting period makes sense if you're purchasing a firearm for the first time. You should be heavily vetted. You should undergo scrutiny because a weapon has the power to harm and even kill someone. You shouldn't have to undergo the same stipulation time and time again if you already possess a firearm and have a clean background.
Assemblywoman Grove's proposed legislation makes sense from a logical point of view. Why should we, the law-abiding citizen, have to jump through hoops? It has been statistically proven that those who break the law, especially gun laws, are criminals. If they want to possess a weapon, they're going to find a way to get their hands on one. Chances are, they aren't going through the legal channels to obtain the weapon. Why place scrutiny on the average person instead of the criminal?
It's refreshing to know a legislator from my home state is working to protect the rights of its citizens, although those rights are Constitutionally guaranteed. I truly hope this piece of legislation makes its way through the legislative process without being squashed by gun control advocates.
Beth Baumann is outreach specialist for Alien Gear Holsters, a concealed carry holsters company. She is also a contributor to PolitiChicks.
–
TheBlaze contributor channel supports an open discourse on a range of views. The opinions expressed in this channel are solely those of each individual author.