This week my family and I gathered in a court room to finalize the adoption of my second adopted child, Haven Miles. We finalized the adoption of my son, Moses Miles, in October. The courtroom was warm with smiles as the judge presiding welcomed us.
I stood in a trance-like state, wanting to say and do exactly as the law dictates, in an effort not to jeopardize the end of the exhaustively long adoption process. I stood with my husband, our other children in tow, answering the questions asked by our attorney. Together, we made an oath to care for Haven as if she were born to us. The mood in the courtroom was full of tension, as we waited for the court to grant the adoption.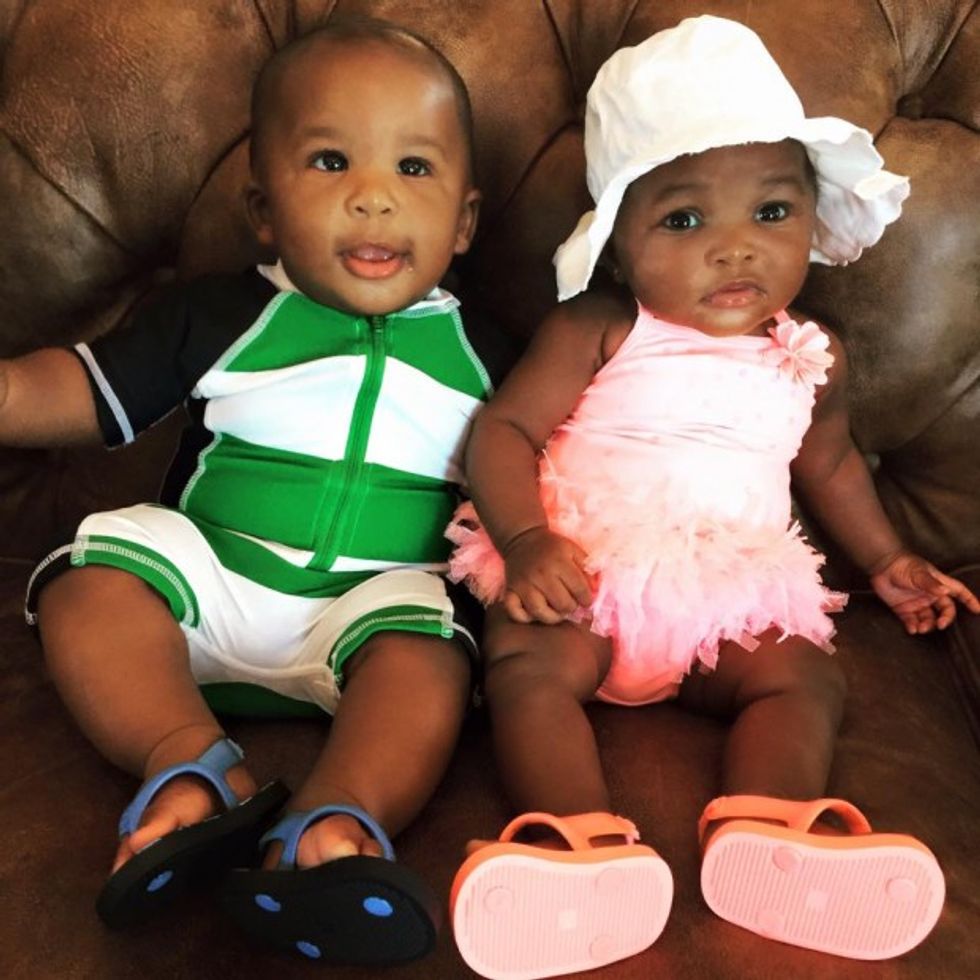 The author's two adopted children, Moses and Haven. Photo courtesy of author.
Then it happened! The judge looked at us with a smile and said, "The court has determined with convincing evidence that adoption is in the best interest of the child, and that she, Haven Miles, should be placed with you. Therefore, the court grants the adoption." With that, cheers erupted from our family and friends as the process started more than three years ago finally concluded.
I am full of joy holding my daughter, who is officially mine forever, but I haven't forgotten how difficult the years leading up to this moment were. I want to offer hope to those that may be in the midst of that long and grueling process. You may have fears or insecurities that are hard to voice to others who aren't in the same situation. Odds are, I've been there, and hope is just around the corner.
1. How Will We Pay For This?
Adoption is extremely expensive. Many couples have the desire to adopt, but they let finances stand in the way of their adoption. However, there are organizations that offer financial assistance for adoption, such as ShowHope. Although applying for a grant is tedious and time consuming, this is money people have offered to help you accomplish your adoption.
Another option is starting a GoFundMe campaign. Some families choose to offer a t-shirt or coffee mug to gain financial support for their adoption, but most people just want to help and do not care about the trinket you are offering. Selling goods costs money that could be used to fund the adoption. Most of those around you, especially those who have walked with you through your desire to adopt, are waiting for an opportunity to help out. Making this available to them will allow them to participate in the adoption and contribute to your child's life. Get over the fear of asking people for money, especially if you don't have it!
2. Will I Love The Child As My Own?
When we first began our adoption journey in 2012 we already had two biological children. As any parent knows, the love for a biological child is deep with intensity – it's a love that is hard to describe. Knowing the love I have for my children, I processed the probability of loving an adopted child as much as a biological child.
I felt I couldn't voice this fear to anyone, but I know many adopted mothers who have all felt the same way. I processed this fear until the moment I laid my eyes on Moses. As he rolled by in his translucent hospital bassinet, my fear disintegrated.
It was an irrational fear, though I didn't know it at the time. If God places adoption on your heart, I believe that whatever child you adopt was created for you, just like a biological child. God just uses a different vessel to bring you together.
When Haven was born, I felt the same way I did with Moses. As soon as I met her, she was mine. The fear may be there as you wait for your child, but don't give it too much air time in your mind, for you will find you were worried for nothing. Moses and Haven are loved with the full intensity that my biological children are, and it is as if they were born to me.
3. Is The Process Worth The Wait?
When my husband and I started the adoption process, we were hopeful that we would be scooped up in no time by a birth mother who saw us as the perfect parents for her child. Two years later, after experiencing a heartbreaking adoption fraud, we were still waiting.
I remember days when I would cry simply because the desire was so strong to have the long-awaited child in our home. I would daydream about feeding the child. I would walk into a baby store and get teary eyed, not knowing when the wait was going to end. I would have adopted anyone! But God in His wisdom knew the exact children He wanted for our family.
Because the desire was so strong in our hearts to adopt, I knew the perfect baby/babies were at the end of our wait. I can say with 100 percent certainty that I would have waited longer, if need be, for Moses and Haven. Incredibly, their personality traits fit in perfectly with my family. We often laugh at how Moses is so much like my older daughter Grace, and Haven is much like my older son, Jude. Yes, the long process will lead to an end that will be life changing, and you will be glad you waited.
4. Will My Biological Children Transition Well?
I know this is a strong fear for those who have biological children. My advice is to bring your biological children in on the entire adoption journey. We included my biological children in just about every decision, including whether we adopt at all. We knew that this would change their lives just as much as it would change ours. We didn't want there to be any jealousy or ill will if we could help it.
With our family in agreement we would move forward from one step to another. This made the transition with the adopted two completely seamless. Include and empower the children your have to feel a part of the process, and when it comes time to welcome a baby into your home, they will be your biggest supporters.
5. What If I Am Adopting a Different Race?
My husband and I adopted Moses and Haven, who both are of African-American descent. We have been overwhelmed with support from those of all racial and ethnic backgrounds, who see the love in our bi-racial family. Of course, there will be those who disagree with your decision; however, no amount of bullying from anyone would change how we feel about our perfectly designed family. We are confident that having a bi-racial family is exactly what God designed for us. And you should be too, as you consider the calling of adoption.
This week, the state of Texas caught up to our hearts and we are beyond grateful for the blessing of all four of our children. Every trial we have experienced in our adoption has led to an incredibly beautiful story, one which I pray encouraged you.
–
TheBlaze contributor channel supports an open discourse on a range of views. The opinions expressed in this channel are solely those of each individual author.